Been and gone: The queen of cosmetics and Roy Orbison's saviour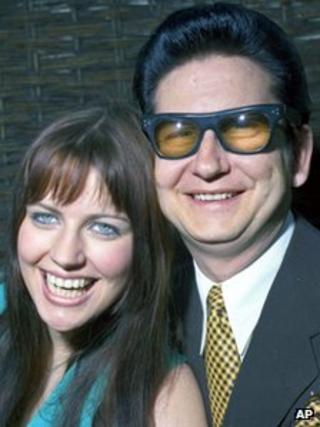 Our regular column covering the passing of significant - but lesser-reported - people of the past month.
Barbara Orbison was credited with rebuilding the life and career of her husband Roy after the singer had suffered a series of personal tragedies. His first wife, Claudette had died in a road accident in 1966 and two of his children perished in a house fire just before he met Barbara Jakobs, a German fan who had travelled to Leeds to see him on an English tour in 1968. The pair married within a year and she brought some much-needed support and stability into his life. In the 1980s as his manager, she became the driving force behind his return to fame, producing his music and TV specials. By this time he was being cited as an influence by performers such as Bruce Springsteen and Jackson Browne. After his death in 1988 she kept his legacy alive, producing a box set of his work as well as a stage musical based on his career.
His appearances on screen were sometimes brief but Bill McKinney managed to bring a real air of menace to many of the roles he played. His most famous was probably that of Mountain Man in John Boorman's classic film, Deliverance, in which his character assaulted that of Ned Beatty. He went on star in seven Clint Eastwood films including a chilling performance as the evil Captain "Red Legs" Tyrrell in The Outlaw Josey Wales. But he could also could turn his hand to comedy, playing the Viking-helmeted biker in Every Which Way But Loose and Any Which Way You Can. McKinney had a tough upbringing and served in the US Navy before training as an actor at the Pasadena Playhouse in California where one of his classmates was Dustin Hoffman.
Unlike many bluesmen, Hubert Sumlin was neither a singer nor a songwriter, but his prodigious talent made him one of the most respected blues guitarists of his generation. For more than 20 years he was the mainstay of Howlin' Wolf's backing band playing on classic cuts such as Smokestack Lightning and Spoonful. That he survived so long was due both to the Wolf's recognition of his ability and the fact he would stand up to the towering frontman who was well known for letting his fists settle any dispute with his players. When Howlin' Wolf died in 1976 Sumlin became a freelance musician. He was not entitled to any royalties from the records on which he played but his many admirers, including Eric Clapton and Keith Richards helped to support him. "What a pleasure to play with Hubert," Richards once said. "All the top hands are gentlemen."
Some of the best TV and radio comedy has been written by duos and Ronald Wolfe together with his partner Ronald Chesney produced a string of hits. Wolfe first worked with Chesney on the BBC Radio programme Entertaining Archie which featured the unusual concept of a ventriloquist act on radio. The show later transferred to ITV. In 1961 the pair created The Rag Trade, a BBC TV sitcom which detailed the ongoing battles at a dress making company between the union, led by the strident Paddy, played by Miriam Karlin, and Peter Jones and Reg Varney as the beleaguered management. Varney was to return as the star of the pair's most successful creation, On the Buses, which again featured workplace conflict, this time between the bus crew and Inspector Blake at Luxton and District. The series ran for four years, attracted audiences of more than 20 million and produced three feature film spin-offs.
The success of the pink ribbon as the symbol of the battle against breast cancer owes much to Evelyn Lauder, a member of the cosmetics family, who herself had been diagnosed with the disease. When she was approached by campaigners anxious to get more publicity, she agreed to allow ribbons to be given away at Estee Lauder counters in shops across the world. She also recruited Elizabeth Hurley, then the face of Estee Lauder, to add further weight to the campaign. Born in Vienna in 1936, her family fled Nazi persecution and moved to the US where she met and married Leonard Lauder - the son of the formidable Estee - with whom Evelyn had a fractious relationship. A shrewd businesswoman, she helped propel the company from small beginnings to a global cosmetics empire. She was responsible for some of the company's best-known scents and founded the beauty brand, Clinique.
There are few roles as dangerous as that of the war photographer and Steve Bent was perhaps one of the most tenacious of the breed. When many foreign journalists left Iraq following a wave of kidnappings and beheadings in 2004, Bent continued to file pictures from the conflict, often at great risk to himself. His most famous image was that of Ali Ismail Abbas, a little boy who had lost both his arms and his family in a US air strike and who said by some to have become "the face of the war." Bent began his career working for a photo agency before selling his possessions in 1980 to fly to Afghanistan to cover the Russian invasion. He was invariably to be found in the world's hot-spots, not least in Iraq from where he and his journalist wife, Hala Jaber once had to be airlifted after they learned they were about to be captured and executed by insurgents.
Among others who died in December were the North Korean "Supreme Leader," Kim Jong-il; the multiple murderer known as The Black Panther, Donald Neilson; writer and polemicist Christopher Hitchens; country and western singer Billie Jo Spears; and the man dubbed the best midfielder in the world the Brazilian footballer, Socrates.