Who would sell their hair for cash?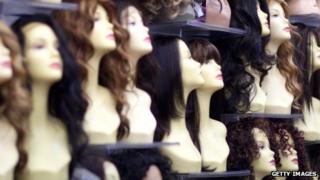 A 12-year-old girl from Brazil is planning to cut off her five-foot cascade of hair and sell it to wig suppliers for more than $5,000 (£3,100). Could selling hair in the UK be a similar money-spinner?
Brazil, along with India, has long led the way in the lucrative global market in human hair. Natasha Moraes de Andrade - nicknamed "Rapunzel" - from one of Rio's many favelas or shanty towns, is hoping to cash-in on the demand for luscious extensions.
She is hoping that her tresses, which have never been cut, could fetch more than $5,000 - a figure that she has been quoted as saying might "give [her] a new life".
Some of it could, theoretically, end up in the UK. In the past few years, demand from UK businesses for human hair extensions has increased significantly, according to industry reports. The UK is now the third-largest buyer of human hair worldwide, behind the US and mainland China.
Most of the human hair is imported, but could there be a untapped source in the UK?
Sixty-six-year-old Jo Winter from Cardiff said she managed to sell 19 inches of her "mousey brown" hair.
"I cut it last September," she says. "But I sold it for £50 and gave the money to my granddaughter because she needed to pay some bills."
Quality is an important factor. What is known as "virgin hair" - hair that has not has any treatments or colouring - is the most sought-after. A lot of Indian hair - known as remy hair - falls into that category, and has long been popular in the US, China, the UK and other parts of Europe.
Recently, however, there has been an increase in the appetite for "European hair".
According to experts, it is difficult to get natural, adult hair that is blonde, and the rarity of the hair colour will dictate the price. Blonde hair can cost up to three times as much as dark hair.
The UK's biggest supplier of wigs to the NHS, Trendco, says there is a shortage of the "softer" European kind.
"European hair is finer in density and texture than Asian hair and so is very popular for human hair wigs and extensions, especially in EU countries where this integrates better with a client's own hair," says company spokesperson Emma Furlong.
'A valuable commodity'
The problem is such that the Institute of Tricologists says it's getting an increased number of complaints over about hair sold as European, when it actually hails from Asia.
"As the demand outweighs supply, the price for the hair has increased," Furlong adds, "Which is one reason more people consider selling their hair as it is now considered a valuable commodity."
Trendco, which also supplies wigs to salons, including Toni and Guy, say it has noticed an increase in the number of people making enquiries.
"The enquiries have risen over recent years," Furlong says, "from the occasional call maybe two or three times a month to five or six per week."
Thirteen-year-old Ben Roobottom from the Isle of Man cut off his hair last September. "I just wanted a change, it was down to the bottom of my back and I'd been growing it for five years," he says.
His 36-year-old mother, Helen, wasn't too pleased when Ben cut his locks. "I wanted him to keep it, but he wanted it off. We did measure it when we sent it off but I can't remember how long it was."
Roobottom said her son got about £50, which he put into his savings account.
'30 years growth'
The decision to cut his hair was a difficult one for 55-year-old Phill Greaves from Bideford in North Devon, who had been growing his hair for 30 years.
"It took me three attempts to get it cut," he says. "The first time I'd booked and then cancelled an appointment, then got to about 600 yards from the hairdressers, before turning around. The third time I actually walked in and said if it doesn't happen now, it isn't going to."
Last summer, Phill and his two brothers had planned to take part in a 180km trek across Europe. He says he was worried about keeping his hair clean.
"When I got it cut, I asked for it in a ponytail, so I could sell it. And I thought someone else might like to wear it. I got £30 because I'm a gardener and it was sun bleached, so they had to take quite a lot off at the wig-maker because of the damage."
"Half the money went on the haircut, the other, I imagine, I spent drowning my sorrows."
Graham Wake, owner of Bloomsbury Wigs in central London, says he has noticed a two-fold increase in the number of people from the UK selling their hair for money.
"Last year we bought well over £20,000 [worth] from the British public. This year we're forecasting in excess of that amount."
But Wake adds a note of caution. It's not as simple as just having long hair to sell, he says. "A 10in ponytail could, theoretically, be worth more than a 20in ponytail because of the quality.
"No-one is going to want to buy a dry coarse wig," he says.
Graham added that salons across the country have been getting in contact offering hair from their clients.
"It's important to keep it in a ponytail because if you let the hair drop on the floor it's worth nothing, it's finished. You have to keep the hair root to tip correct.
"We get them in jiffy bags. Salons notice the hair and say to the client, 'Oh you could get some money for that, can I send it off?' and then they do. They know how to do it."
But Nick Allen, sales director of one of the country's wig-making supplies companies Banbury Postiche, says the company has not noted much of an increase in people in the the UK offering their hair.
"Ninety-five per cent of our human hair is imported. In terms of Europe, a lot of it is sourced in Poland and Italy.
"In the UK, there generally isn't a culture of people growing their hair to sell." Some people, he says, may donate their hair if, say, they have known someone who has had cancer.
"They don't want the hair that they, themselves, have had cut off to to waste," he says.
But, at the end of the day, he says. The most someone is going to get for their hair is about £20.
"It's not exactly going to put food on the table."