Who, What, Why: Where has all the tarragon gone?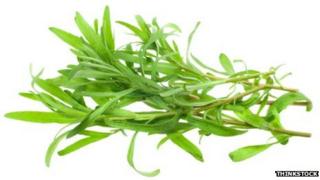 Amateur Jamie Olivers everywhere can't do without it, but British shops are facing a shortage of tarragon. Where has the humble herb gone?
Three of the big four supermarkets have confirmed they have felt a pinch with the global supply of this season's tarragon.
Sainsbury's, Asda and Morrisons all say their suppliers have noticed their imported products were down, but hope, with the UK season about to start in April, supplies will be back to normal.
What's being blamed for the shortage? The weather, of course. Countries that grow tarragon in winter have been affected by the climate, says Mathew Prestwich, the owner of R&G Fresh Herbs, which supplies Waitrose.
"There's been very adverse weather in Israel with very low temperatures and high winds, and tarragon needs very long day lengths, and high temperatures to grow," he says.
"We grow some in Tenerife and [mainland] Spain, but again they've had unusually bad weather which means it's been slow."
Prestwich says French tarragon, which is the type largely imported to and grown in the UK, is a slow-growing plant, which can only be grown from cuttings, not seeds. "So if there are any problems with any of the crops, it takes a long time to replenish."
He adds that they had seen growth for about three weeks and then nothing for a couple of weeks, while the herbs re-grew. "All UK products are very, very low," he says.
The tarragon plant is part of the daisy family and goes by the name "little dragon" because of the hot effect of the oil in its roots.
It was also once thought to cure toothache and be a sleep aid if taken as a cup of tea.
Watts Farms supplies Asda stores. Five months out of the year, it is dependent on foreign suppliers from Spain, Turkey and Israel. But, for seven months it grows the herb at its Bedfordshire and Kent farms.
The company says it is working hard at increasing the length of their UK season: "All three of these countries have experienced unusually cold temperatures since Christmas. Tarragon is very temperature sensitive and cold temperatures slow growth and quite commonly causes leaf quality issues.
"This has meant availability has been very difficult and has reached a point now where there is limited product available possibly for two to three weeks."
Organic herb farmer Jekka McVicar, who sits on the Royal Horticultural Society's fruit, veg and herb committee, highlights the fact that the herb is seasonal.
"It's herbaceous, so it's bad in England with wet, damp, cold soil. It really doesn't like that."
McVicar started her organic herb farm in South Gloucestershire 27 years ago, because a friend wanted to cook with some tarragon from her garden.
"It's all to do with our light levels," McVicar explained. "It's a plant which grows beautifully outside.
"It needs the sun, because the sun brings its oils to the surface of the leaf, which accentuates that anise taste."
But she cautions against using artificial light to help grow the plant, as it halts the journey of the oils, making it a lot less pungent and, therefore, less tasty.
Records show that during the time of a downturn in the UK economy, an interest in herbs increases, as do their sales. Prestwich agrees with McVicar the very same is true of the current climate.
Having been in the business for 20 years, he adds this isn't the first time there has been a shortage of tarragon, but adds his company has "never been in a position of non supply for this length of time".
There are other factors at play regarding this year's poor harvesting. One was the uncertain fate of Israel's largest exporter of produce, Agrexco, which represented hundreds of growers there. The company went into liquidation but has been re-established after a purchaser came forward.
At the time, however, suppliers stopped their own speculative planting and cultivations over fears of not being able to sell them on.
Prestwich says the answer for him is to turn to the crops being grown in the UK. Because of a mild weather of late, he predicts suppliers will start growing earlier.
"We've got crops in the ground from last season. Demand is greater but there isn't enough product around."
Sainsbury's is one of the supermarkets affected, a spokesperson for them said: "Tarragon is out of season in Britain at the moment so we're sourcing from overseas.
"But due to tougher growing conditions this year there is a temporary shortage in supply.
"We expect to see fresh tarragon back in stores in the next couple of weeks."
There are alternatives to flavouring their food, says Prestwich.
"Dill has the aniseed flavour, but it's obviously not a substitute."
There is also Russian tarragon which, unlike its French counterpart, is grown from a seed.
But McVicar says it is harder and tougher than its more popular cousin.
"If you ask me Russian Tarragon tastes like upper-class grass," she adds. "It's tough and woody and doesn't have the taste."
By Chi Chi Izundu