Henry Moore in Moscow: Modern art arrives at the Kremlin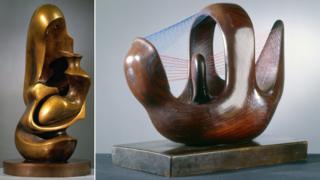 For the first time ever, the Kremlin is hosting a display of modern art - and it's by the British sculptor Henry Moore.
After decades of being banned by the Kremlin and decried for "distorting the human body", Henry Moore's abstracts, once called degenerate here, are now on display inside the very stronghold of power.
There are 80 of the world's most famous bronzes, marbles, carvings, tapestries and drawings.
It is the first time any modern art has ever been shown in any of the Kremlin's museums, which are better known for their lavish historic collections.
For his six most productive decades, from Stalin to Gorbachev, Henry Moore and his Western colleagues were barred from the Soviet Union. The history of Western art in Russia stopped with Stalin.
The newspaper Izvestia's art critic Dmitry Smolev looks round in delight: "We can catch up. We've been deprived so long."
The fact that this exhibition is happening here, now, inside the Kremlin, is largely thanks to a remarkable woman named Elena Gagarina.
She is the director of the Kremlin Museums, a powerful figure and a respected art historian.
She is powerful also as the daughter of Soviet hero Yuri Gagarin, the first man in space, immortalised by being buried here in the Kremlin walls.
In a country where museum directors are usually elderly political appointees, Gagarina counts as a dynamic reformer - only in her 50s and mad about Moore.
"I have always loved him and British art," she says.
"His sculpture is not aggressive. He was very British and a real humanist. He was against war and wanted peace."
You're making a political statement by showing him here in the Kremlin, I suggest.
"Yes, but politics is not just about power or war - but about cultural relations," she replies.
We all know this exhibition is not just about art, but about diplomacy.
A second famous daughter is here for the launch - Henry Moore's daughter, Mary, on her first visit to Moscow.
Her mother, Irina, was Russian, though she never came back after settling in Britain.
"My mother starved and suffered so badly during the Revolution that she never wanted to return," Mary says.
"So this is a terrifically historic moment. My father would have been thrilled."
The political relationship between the UK and Russia has been strained since at least 2006 after the poisoning of Alexander Litvinenko.
Then in 2007, the Russian authorities closed down 13 British Council offices.
But when David Cameron met President Medvedev in the Kremlin six months ago, they both promised to support cultural ties to strengthen bilateral relations.
The arts are today upheld as neutral areas of trust and exchange. Henry Moore is a peace pawn.
Relations between Moscow and London may be fragile but huge UK-Russian cultural collaborations are planned - there will be shows featuring the works of Shakespeare and British composer Benjamin Britten.
Paintings by the Pre-Raphaelites will be displayed. There will be fashion shows - overseen by none other than the once-maligned British Council.
At the exhibition launch, its head Martin Davidson, described this as a "golden era" of cultural relations between Russia and Britain.
That may be so, but there are Russians who feel their own authorities should be doing more to promote the arts.
They talk of a chronic neglect of heritage - buildings need to be modernised, money needs to be spent on security, and fund-raising and public relations need to be developed.
Against this backdrop, there is an official propaganda attempt to underline the value of Russia's heritage.
Vladimir Putin recently spoke of creating lists of inspirational Russian cultural leaders and 100 books all Russians should read.
But there is a brave and dissatisfied minority of young artists, intellectuals, internet start-up people and entrepreneurs demanding reform and support.
Ironically, it may be Russia's wealthy oligarchs who are providing it - possibly bored with buying newspapers and football clubs, some are turning to culture.
Roman Abramovich, the Russian businessman and owner of Chelsea Football Club, has been buying art for years. His girlfriend Dasha Zhukova is to set up an arts centre in Moscow's Gorky Park.
Matthew Stephenson, Managing Director of Christie's Russia, says the biggest change has been the "internationalisation" of the Russian market.
"It's opening up and letting the world in. Henry Moore in the Kremlin would have been unthinkable 20 years ago!"
Galina Andreyeva from the Ministry of Culture is another enthusiastic Moore fan. This show, she points out, has been part-funded by the Kremlin but three-quarters by Russian business.
"In Soviet times we had a big budget. A lot of artists were spoiled," she says.
"Today we need to generate income. I meet many rich people and they ask me what high quality project they can support. Arts patronage is seen as a sign of prestige."
And in a very modern twist, last month, one of Henry Moore's reclining figures was sold by Christie's for a record sum. It was bought… by a Russian collector.
How to listen to From Our Own Correspondent:
BBC Radio 4:A 30-minute programme on Saturdays, 11:30 GMT.
Second 30-minute programme on Thursdays, 11:00 GMT (some weeks only).
Listen onlineordownload the podcast
BBC World Service:
Hear daily 10-minute editions Monday to Friday, repeated through the day, also available tolisten online.
Read more orexplore the archiveat theprogramme website.