Burmese savour taste of democracy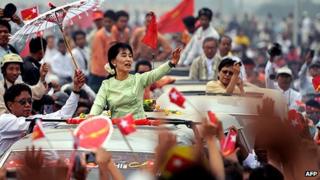 Only a small proportion of Burma's parliamentary seats are being contested in by-elections in April, but with opposition leader Aung San Suu Kyi standing for the first time, the campaign has considerable significance. On a recent holiday, the BBC's Caroline Hawley saw how reforms are changing the mood in the country.
There is a joke they like to tell in Burma about a man with terrible toothache.
He goes to a dentist in neighbouring Thailand who asks: "Aren't there any dentists in your country that you can visit?"
"Yes, there are," replies the man. "The problem is that in Burma you're not allowed to open your mouth."
But now the Burmese are opening their mouths and, after nearly half a century of military rule, they will make their voices heard at the ballot box next weekend.
The poll will not change the balance of power here, of course, but there is little doubt that, if the voting is free and fair, Aung San Suu Kyi will be taking up a seat in parliament.
By happy coincidence, we flew into Mandalay shortly after she arrived there on a campaign stop.
It felt like everyone had turned out to see her - from women in conical hats taking a break from the rice fields, to city workers and shaven-headed monks on motorbikes.
There was even a Burmese rock band there, young men with long hair in black jeans and T-shirts, waiting to clap eyes on the much bigger star.
In the hotel - when we eventually got there - I met a young man, a jade dealer who had returned to Burma last year after 12 years in the US.
"Everything is changing," he said. "We used to have a dictatorship. Now we have a parliament."
But not everyone trusts the government - "old wine in new bottles" is how one man described it to me.
And at a pagoda in Rangoon, a 67-year-old man with missing teeth looked around nervously to check for informers, as he told me of the hundreds of monks who had been arrested in the past from surrounding monasteries, and of the hopes he had in "The Lady", as Aung San Suu Kyi is known.
Many worry about her security. She does not have the heavily armed soldiers guarding her that we saw being disgorged by the boatful to protect the president as he visited a famous pagoda on Burma's beautiful Inle Lake.
What she does have is the respect, the reverence of vast numbers of Burmese who cannot wait to vote for her National League for Democracy.
At party headquarters, crowds of supporters were busy buying up T-shirts of her and key rings - actions that only a few months ago would have landed them in jail.
And suddenly visitors are everywhere. Burma is bursting with tourists, enticed by its ancient temples, its myriad gilded Buddhas, its generous, gentle people and the fact that political change is finally afoot. The opposition is encouraging responsible tourism, rather than package holidays that are likely, they say, to benefit the government and its cronies.
Mind you, you will need the patience of a devout Buddhist to use the internet in Burma. You will have to bring money as there are no cash machines and your mobile phone will not work.
Visiting Burma is like travelling back in time.
Power cuts are frequent and running water a luxury for many Burmese. And I learned a little about the country's healthcare system when I got toothache myself - an agonising throb from an abscess that threatened to ruin my stay on Ngapali beach, a palm-fringed paradise on Burma's west coast.
At the charity-run clinic which dosed me up with antibiotics, I heard that people even have to pay for their own anaesthetic in hospital.
The generals - fond of their golf and their surreal, spanking-new capital Nay Pyi Taw - have not managed to find much money to spend on their people.
Sewage flows by the roadside, even in some smart parts of the former capital, Rangoon.
So scarce are the streetlights that we were advised to take a torch to avoid falling into potholes.
And if you wonder why there are so few motorbikes in Rangoon, well I was told that in 2007 a bike crashed into the car of a senior Burmese general who banned them on the spot.
But this is a place with stunning sights, from Rangoon's magnificent gold-plated Shwedagon Pagoda - said to house hairs of the Buddha - to Bagan which has been likened in scale and grandeur to Cambodia's Angkor Watt.
We watched as the sun set a glowing orange over a dusty plain studded with temples dating back almost 1,000 years, before cycling back to our hotel in the cool of the evening with our guide cheerfully singing "Country roads, take me home."
I am back home now with my memories of fishermen and floating gardens on Inle Lake, of bare-shouldered monks emerging from their monasteries in the morning mist with lacquered bowls for people to put donations in.
And of the kindness and warmth of the Burmese we met.
Among the many highlights was being given a ride by smiling strangers to Aung San Suu Kyi's rally in Mandalay.
Later a monk, living in an isolated lake-side monastery, told me how lucky I was to have caught a glimpse of her.
 How to listen to From Our Own Correspondent:
BBC Radio 4:A 30-minute programme on Saturdays, 11:30 GMT.
Second 30-minute programme on Thursdays, 11:00 GMT (some weeks only).
Listen onlineordownload the podcast
BBC World Service:
Hear daily 10-minute editions Monday to Friday, repeated through the day, also available tolisten online.
Read more orexplore the archiveat theprogramme website.