A Cambodian American who can never 'go home'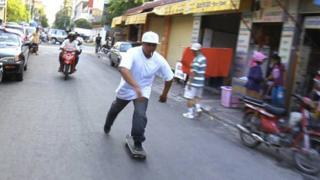 Immigrants taken to the US by their parents as young children grow up as Americans - but on paper they remain foreigners. This means they can be deported if they commit a crime, and condemned to a life of permanent exile.
Sam's first memory is riding a sledge in the snow on the way to primary school in New Hampshire.
His favourite film is Scarface and in breaks during our conversation, he raps Tupac lyrics. He loves skateboarding and going to the gym.
There are millions of American 20-somethings just like Sam but unlike them, Sam can never set foot in the US again.
Two-and-a-half years ago, Sam was deported from the US to Cambodia, a country he had never even visited before. A land of chaotic traffic, fermented fish and endemic corruption.
In the late 1970s and early 80s, in the aftermath of the Khmer Rouge regime, the US granted asylum to thousands of Cambodians fleeing the anarchy in their home country.
They set up home in places like Lowell, Massachusetts, and Long Beach, California. They got jobs, went to school, learned the language and became, in all but name, Americans.
Given permanent resident status, many never thought of applying for citizenship but in March 2002, in the wake of 9/11, the US and Cambodia signed an agreement allowing any non-citizen refugees who had committed felonies to be deported back to Cambodia.
Since then several hundred have been returned. Today they are stranded and lost, a long way from home.
I first met Sam in Phnom Penh 2010, just a few months after he'd arrived in Cambodia. Since then we have met several times to talk about what has happened to him.
Born in a refugee camp in Thailand, he arrived in the US one month old, with his mother, brother and sister.
Sam is proud of his childhood. Thrust into a bewildering, new world, things were not easy but he still talks happily of how he and the few other Khmer kids stuck together. And even though they were smaller than the rest, they would look out for each other and hold their own in fights.
After high school, Sam did a range of jobs, mainly factory work. He had a stint in juvenile detention for refusing to help a police investigation and a couple of other short stays in prison, including one for stealing a car radio and speakers.
But by 2009 he was working, living with his girlfriend and caring for his young son. That was when the immigration authorities took him in.
His earlier robbery of the car stereo made him liable for deportation at any time. After several months in detention, he was forced on a plane to Cambodia.
Last week, as we sat in a cafe Sam told me about what it was like arriving in the country.
"First day I get off the flight, officials surround me like vultures, because they think I got money. I got no money? They were talking to me in Cambodian, but I couldn't' understand."
Rubbing his head intently, as though still unable to process his experience, he continued: "Then we get out and it is hot. Hot! And all I've got is the clothes on my back and 28 cents in an envelope. And I was like, 'What the hell am I going to do? What the hell am I going to do?'"
Fortunately for Sam, the organisation RISC, which helps new returnees, picked him up from immigration at the airport and gave him a bed for a few nights. But this support is unusual. Most Cambodians have not warmed to the returnees.
"People die every day to try and go to America and for you to come back here? They think you're some kind of terrible person," Sam says.
Being a returnee is not something that's easy to hide. Sam has spent a long time in the gym in the US, he's twice the size of most Cambodian men, he has tattoos and speaks the language with a strong American twang. Blending in is not a possibility.
At first he spent a lot of his time with fellow returnees. Now he says he doesn't want to - that it doesn't help him settle in.
Many, already suffering from drug dependencies and untreated mental illnesses, find themselves drawn back into crime. It is not uncommon for returnees to end up trapped in Cambodia's bewildering and brutal penal system.
Sam has tried to get work but in a country where the average monthly salary is considerably under $50 (£32) a month it's not easy to find a job to support himself. Whenever we talk he tells me he feels like he's in a "daze", a feeling that he can't shake, a sense of bemusement. Although he knows it to be true, he can't accept that America has shunned him so completely. That it won't forgive him. Ever.
In the two years since I first met him, things have got a little better. He has joined a church which seems to provide him with a sense of belonging, his Khmer language skills have improved and with the help of friends and family in the States he can afford to rent an apartment.
But when I ask him if he might ever feel at home in Cambodia, he is adamant: "NO! Never! Definitely. Never ever! No matter how long I'm here. The feeling of being home is when you're really home. I'll never have that feeling again."
  How to listen to From Our Own Correspondent:
BBC Radio 4: A 30-minute programme on Saturdays, 11:30 BST.
Second 30-minute programme on Thursdays, 11:00 BST (some weeks only).
Listen online or download the podcast
BBC World Service:
Hear daily 10-minute editions Monday to Friday, repeated through the day, also available to listen online .
Read more or explore the archive at the programme website .