10 stories that could be April Fools pranks but aren't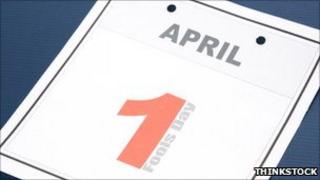 April Fools Day is a time when mischievous fictional news stories suddenly pop up in newspapers and other media. But there are some bizarre ones which, upon investigation, turn out to be true, or seriously intended at least.
Here is a round-up of some of the day's seemingly hoax reports which were actually genuine.
1.The England football teamare likely to have their preparations for Euro 2012 severely disrupted by a traditional bugler yards from the team hotel in Krakow. The Hejnal Mariacki bugle call, which lasts 30 seconds and rings out every hour, commemorates the Mongol invasion of 1241.
More details: (Daily Star Sunday)
2.Russian leader Vladimir Putinhas given the go-ahead for guns that turn victims into "zombies" by targeting their central nervous system.
3. A 20-year-old "superhero" who calls himselfthe Knight Warrior, but was born Roger Hayhurst, is hoping to be the first elected mayor of Salford. He promises to tackle crime.
More details (The Sun on Sunday)
4.Prime Minister David Cameronhas contributed a recipe for spicy sausage pasta for the Eton Cookbook, which is to raise money for underprivileged and sick children. Westminster insiders say this is the ninth time he has contributed the same recipe to a charity cookbook.
More details (Sunday Times - subscription only)
5. Children will be made to readfake wordslike "terg", "fape" and "ulf" in an effort to gauge their reading levels. The bogus words will be mixed with real words in tests to be taken soon.
6.Scientists at Oxford Universityare applying for government approval to put the first driverless car on British roads. The modified BAE Wildcat will use cameras and lasers to calculate its location.
More details (Sunday Times - subscription only)
7. The mystery of"beer goggles"- the phenomenon by which people find other people more attractive after drinking alcohol - has been solved. Scientists at Roehampton University found the ability to judge whether faces were symmetrical - a key measure of attractiveness - is severely impaired by alcohol.
More details (The Independent)
8. A hiker who was about to be mauled to death by amountain lionwas saved by a bear. Experts are yet to confirm the report from a shaken Bob Biggs.
More details (Daily Star on Sunday)
9. A traditionalPalm Sunday donkey paradewas cancelled because of health and safety fears. Eastleigh Borough Council in Hampshire received objections from police about traffic management, signage, road safety, risk assessment and insurance.
10.A stuntmanis to attempt to fall from 2,400ft on to a pile of cardboard boxes using a "wingsuit". Gary Connery, 42, will hurtle towards the 350ft long and 40ft wide landing strip at 60mph.