New York's pastry master reveals his secrets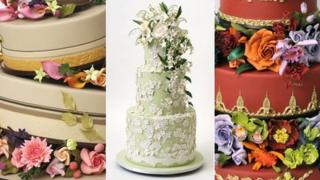 Weddings are getting bigger and so are the wedding cakes. Reggie Nadelson meets a cake-making supremo.
"RON BEN-ISRAEL CAKES" says the modest sign on the SoHo loft building.
The word "cakes" is deceptive, for Ben-Israel's work is to ordinary cake as the Chrysler Building is to a condo.
Upstairs in his loft, Ben-Israel produces edible architectural, floral, even comic fantasies for weddings and celebrations. In these matters, Ben-Israel is a genius of cake.
In the office area, a young bride-to-be and her mother are poring over books of photographs: cakes in blue and pink, covered in edible lace; Art Deco cakes in black and silver; cakes with roses and lilies and golden orchids; cakes with seven tiers, or floating tiers, the flowers tumbling out with an impossible disregard for gravity.
For these days, the cake's the thing. After the dress, the cake is central to the current ubiquitous obsession with weddings, with brides and grooms ready to drop 10, 15, even 17 grand ($17,000) on a Ben-Israel design.
"I don't follow trends. I make each cake for a particular wedding, or event," says the witty, Israeli-born Ben-Israel, who can charm the most obsessive bridezilla and turn her into a little girl with visions of confection dancing in her head. Or boy. Apparently there is a trend in male bridezillas (call them bridezillos?), among whom Russell Brand was the most infamous.
Among Ben-Israel's newer clients are also gay couples; this delights him both because, like most New Yorkers, he considers the legalisation of gay marriage a good and just law, and also he knows that it's good for business, good for new ideas.
"For one couple I made a cake with two sugar trees intertwined at the top. For another, one from San Francisco and one from New York, I made a cake with landmarks of both cities. Some younger couples don't mind if the cake's too big. They donate the leftovers to City Harvest (a food service for the needy). They want to share their good fortune. So nice!".
Even the royals get a look in.
One gay couple ordered four cakes - two grooms' cakes, a special cake for the brunch the day after and, of course, the wedding cake.
Ben-Israel grins. "It was inspired by the British royal wedding cake."
His cheery cheeky charm belies a stainless steel discipline. Before he was a baker, Ben-Israel was a dancer. "After I quit dancing, I tried a lot of jobs. But I could always bake," he says. And it was cake, gorgeous, fanciful, cake (glorious cake) that was his destiny.
"It is a lot like dancing," he says. "It is very time-consuming. Repetitiveness and discipline are the secrets of cake decorating. The art comes from the meticulous technique, the way it does for a dancer."
At a table in the work area, as focused as watchmakers, four young apprentices create and paint sugar flowers; exquisite, edible exacting copies of the real thing. Most of the decorations for Ben-Israel's extraordinary wedding cakes are bespoke, but it's always useful to have flowers at the ready. And so these young people work.
"They write to say, 'this is my dream.' I want to do what you do,'" he says.
In plastic boxes stacked to the ceiling there are crimson roses, yellow roses, roses in blush, fuchsia, orange, white. White orchids, green and purple orchids, orchids in edible gold. Hyacinths, hydrangeas, lilacs, hot pink tulips and deep blue and red anemones.
The smell of sugar and butter makes me feel high - and greedy.
It's not surprising to see couples sampling cake in the workshop. Ben-Israel's cakes are as delicious as the decoration is gorgeous. This is a work-intensive business, everything done by hand.
First the cake layers are baked. Then comes the fondant, which is rolled into a sheet as thin and flexible as fabric, and spread over the cake. After that, the decoration, the addition of edible lace, or jewels, the bowers of flowers, the bling, the bows - all edible - the stuff, no doubt, of future wedded bliss.
But it's not just flowers, or weddings either, for that matter. For the re-opening of the Plaza Hotel, Ben-Israel produced an exact replica of the hotel; for a 50th birthday, he made a huge pair of platform shoes. He has done cakes as Chanel bags and Manolo shoes.
By and large, Ben-Israel takes inspiration from the wedding or party plans, the dress, the venue, the flowers. One five-tier cake, lemon inside with raspberry and lemon curd buttercreams, is covered with fondant and involves motifs from the wedding dress in cream and champagne. On top, his gorgeous feathers trailing down the cake, is an edible blue and green peacock.
Another cake has floating tiers, and between each are orchids, sweet peas, dahlias, and roses. For Francois Payard, a master patissier in his own right, and Ben-Israel's pal, he made a spicy chocolate cake with topsy-turvy layers, decorated with sugar ivy and calla lilies that evoked the vineyard where the wedding was held.
Another is gold and black with a vase of calla lilies on top, all to reflect the Art Deco décor of the Waldorf Astoria where it was served.
A few years ago, the first time I was to meet Ben-Israel, he called to cancel. "Elton John's people called and asked me to make his birthday cake."
What kind of cake? "Elton John is very romantic," he says. "He adores flowers, and keeps his own florist; we based his cake on that. Of course, it was Elton, so I couldn't resist adding a few edible sapphires and diamonds."
Edible jewels and gold are popular with Russian brides. But cake will travel. Ben-Israel has transported cakes across the world. He once took a seven-foot cake to Sri Lanka. It was covered in hot pink and orange and purple flowers, to match the saris and the bride's jewels. "I had said I always wanted to ride an elephant, and they had one at the airport for me."
He shows me one of his masterpieces, a sky-high creation that makes your jaw drop.
Four tiers of pale blue fondant on top of a multi-tier cake, covered in exquisite gold curlicues and flowers, all edible, and topped with the couples' initials in edible jewelled letters.
This is a wedding cake for a Catherine the Great, an imperial cake. I think, isn't it a pity to cut into this beautiful thing and destroy it? (I'd probably keep mine forever, like some crazed Miss Havisham.)
"Oh, not at all," says Ron Ben-Israel. "That's the beauty, that's the fun of it. Make it, look at it, then eat it. The beauty of the ephemeral."