Burt Reynolds nude: 10 facts about the Cosmo centrefold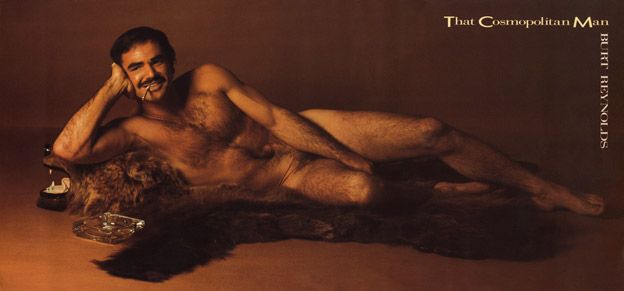 UPDATED: 6 September 2018. Burt Reynolds has died, reportedly in a Florida hospital after a heart attack. Read his obituary here.
It's 40 years since a nude Cosmopolitan centrefold of actor Burt Reynolds broke a taboo and launched a new era of women's magazine publishing.
"At last a male nude centrefold - the naked truth about guess who!!" screamed a banner on the front page. Cosmopolitan editor Helen Gurley Brown saw it as a victory for women whose "visual appetites" had been ignored by male magazine editors and proprietors.
It also boosted Cosmopolitan's circulation and turned Burt Reynolds into a 1970s sex icon. So what was the story behind the photograph?
1. It began on a TV show. Burt Reynolds was standing in for Johnny Carson as presenter of the Tonight show on NBC, and Helen Gurley Brown was his guest. "He was handsome, humorous, wonderful body, frisky," she told James Landers, author of a book on the first 100 years of Cosmopolitan. "During our conversation I asked him if he would pose for us." He agreed.
2. It could have been Paul Newman. Gurley Brown had approached him, before putting the question to Burt Reynolds, but he had refused.
3. It made Burt Reynolds into a celeb. The day after the magazine hit news-stands, he was mobbed by women asking him to sign their copy. Reynolds also noticed a change in the behaviour of theatre audiences from "polite to boisterous". "Standing ovations turned into burlesque show hoots and catcalls. They cared more about my pubes than they did about the play," he wrote in his 1994 autobiography, My Life. Gurley Brown said: "He had been a movie star, now he was a celebrity."
4. It made Cosmopolitan notorious. "At the time, you know, men liked to look at women naked. Well, nobody talked about it, but women liked to look at men naked. I did," Gurley Brown told Landers, who noted that the photograph pushed Cosmopolitan across a threshold, in the public mind, from a mainstream magazine "to a sex magazine".
5. It spawned Playgirl magazine. Douglas Lambert, owner of the Playgirl Club, decided to launch the magazine after seeing what a "winner" the Burt Reynolds centrefold was. "It came to me, that's what women want. If a woman says she wants to see a man's smile, his eyes, I say 'Don't lie to me,'" he was quoted as saying.
6. Reynolds chose the picture. A number of shots were taken. The choice of which would be published was left to the model.
7. The bearskin was a humorous touch. "I think that's probably a joke," says New York-based fashion portrait photographer Max Vadukul. "This is a very macho statement, a real bloke, full on, and totally confident," he says. He reckons Reynolds would have been happy going further, and removing the artfully placed arm from his lap.
8. You won't see this in 2012. It would be a tough photograph to take in 2012, Vadukul says, because of the "commodity factor" - the actor's publicists would be concerned about damage to his brand, among some members of the public. "It's a very modern picture, it would still be a very talkative picture. Who would be the equivalent of this guy - George Clooney? It's very far ahead of its time, from that period when anything goes, people swinging partners non-stop..."
9. The photographer was the celebrated Francesco Scavullo. Scavullo shot most Cosmopolitan covers over a 30-year period, and was involved in controversy again when he took photographs of a young Brooke Shields that some considered too sexual. He died in 2004, on the day he was due to photograph CNN anchor Anderson Cooper.
10. Arnold Schwarzenegger was the next but one centrefold. Cosmopolitan did not do these very often. It took two years for the next to appear, and Schwarzenegger made his appearance in 1977. Another man to grace the centre pages was Scott Brown, now a Massachusetts senator, but in June 1982 a law student who had entered and won the magazine's America's Sexiest Man contest. He posed for the cameras days before his final exams.