The Bin Laden family on the run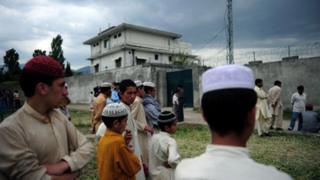 The Bin Laden letters released on Thursday provide an insight into the workings of the mind of the slain al-Qaeda chief, but they reveal precious little about his family life during the years in hiding in Pakistan.
We know from other sources though, that during their 10-year stay he and his family travelled all across the country, had access to medical and maternity services, and were in constant communication with the outside world.
Nearly two dozen women and children were recovered from the compound in Abbottabad where the world's most wanted man was killed in the raid by US Navy Seals a year ago.
After being held by the Pakistani intelligence services for more than nine months in secret confinement, some of them were tried for illegally residing in Pakistan. Then last week, all the members of Bin Laden's family - some 14 of them, including three wives - were deported to Saudi Arabia .
But there were others living in the compound too.
Bin Laden's son, Khalid, was killed in the raid as were his Pakistani host and trusted courier, Ibrar alias Arshad Khan alias Abu Ahmed al-Kuwaiti, and Khan's wife, and his brother, Ibrahim alias Tariq Khan. Other members of his family survived, their present location being a closely guarded secret.
Since none of these witnesses have spoken publicly, what we know about the Bin Ladens and their life in Pakistan is pretty sketchy.
We do know that Osama Bin Laden spent six years in a house which CNN's Peter Bergen - the only journalist to have been given a tour of the compound in Abbottabad - describes as a squalid, "long-term but makeshift camping site".
He was surrounded by cooped-up children, only rarely allowed out to play cricket, and possibly bickering wives.
The youngest wife, Amal Abdal Fattah, a Yemeni citizen, gave a sketch of her life with Bin Laden to Pakistani interrogators.
In their report, recently leaked to the media, she is quoted as saying that she married the al-Qaeda chief in the Afghan city of Kandahar in 2000, and lived there with his two other wives until the 9/11 attacks.
At that point, the family split and she went to Karachi, where she stayed with her baby daughter until the middle of 2002, when she rejoined Bin Laden.
Brigadier Shaukat Qadir, an ex-army officer who conducted an investigation into the Bin Laden killing, writes that in 2002 the couple spent some time in a village south of Peshawar.
Bin Laden was treated there for a medical condition, Amal told investigators, and received a visit from Khalid Sheikh Mohammed, the Kuwait-born Pakistani now on trial in the US for masterminding the 9/11 attacks.
Bin Laden, Amal and Amal's children appear to have moved to Shangla, near Swat, some time in late 2003 or early 2004. Then, in the summer of 2004, they moved to Haripur, before finally settling at the Abbottabad compound in late 2005 or early 2006.
Amal told her interrogators that between 2003 and 2008 she gave birth to four more children - all delivered at government-owned hospitals.
Less is known about the travels of Bin Laden's two other wives, after the family split up in 2001.
According to Brigadier Qadir, Shareeja Seeham, a Saudi citizen, and her three children, joined Bin Laden and Amal in Haripur in 2004, and stayed with them until Bin Laden's death.
She was the mother of Khalid, aged 24 when he was killed along with Bin Laden in the raid on 2 May last year.
Brigadier Qadir writes that she is a teacher by profession, and stayed with the family to "ensure that children were not denied education, since they were not going to enter any educational institution".
Bin Laden's eldest wife, Khaeriah Sahaba, also a Saudi citizen, appears to have drifted into Iran along with her five sons when the family split up in the wake of 9/11, and was taken into custody in 2003 or 2004.
She was released in September 2010 as part of a prisoner swap involving an Iranian diplomat, Hashmatullah Atherzadeh, who had been kidnapped by militants in Peshawar in 2008.
While her sons dispersed to unknown locations, she made her way to Bin Laden's top lieutenant, Attiya Abdur Rahman, in the Waziristan region of Pakistan. She then joined Bin Laden in Abbottabad in early 2011.
According to Brigadier Qadir, she was known to be extremely jealous of the youngest wife, Amal.
"OBL, by this time, was bedding [sleeping with] only Amal," he writes.
"Why therefore should Khaeriah choose to brave another hazard to rejoin a husband she had been separated from for many years and no longer had any relationship with?"
He suspects that she might have played a role in leading the Americans to Bin Laden's lair.
It seems Pakistani investigators may have found it hard to get any useful information from her, though. Qadir quotes one ISI investigator as saying: "She is so aggressive that she borders on being intimidating. Short of torturing her, we cannot get her to admit to anything."
Bin Laden was able to leave the crowded Abbottabad compound at least once, as he strove to assert authority over an increasingly unwieldy organisation with wayward affiliates.
In May 2010, the BBC has learned, he even ventured out to the Waziristan region . This was at a time when drones were raining missiles there and several operations by the Pakistani military were under way.
He apparently went to touch base with his operational commanders and assess the situation first-hand. He then penned an assessment of the region in a long memo to Attiya Abdur Rahman, advising him to shift operatives to a safer location.
The memo, written in October 2010, is among the documents declassified by the US military on Thursday.
These documents also suggest that he was wary of the Pakistani intelligence services, and advised extreme caution when Khaeria made that possibly fateful trip from Waziristan to the compound in Abbottabad.