Is Buckingham Palace ugly?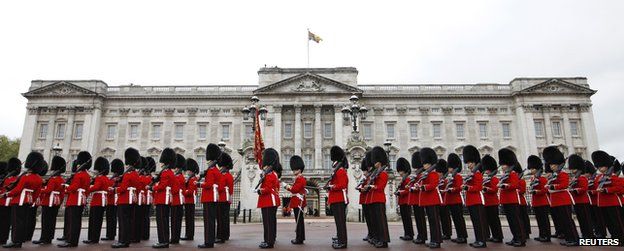 Buckingham Palace will be a focal point in the Queen's Jubilee celebrations, 250 years after work started to make it into a royal residence. But is this famous landmark an attractive building or a carbuncle, asks Sophie Robehmed.
Taj Mahal. Empire State Building. Sydney Opera House. Buckingham Palace feels at home in that list of the world's most recognisable buildings.
Every year countless tourists flock to have their picture taken in front of its cast-iron gates.
But how does the palace - originally named Buckingham House when built in 1705 as a residence for the Duke of Buckingham - stand up next to other classic British buildings like the Palace of Westminster and St Paul's Cathedral?
"It is a mongrel of early 19th and early 20th Century elements around an early 18th Century core," says Elain Harwood, English Heritage's leading expert on 20th Century architecture. "But it doesn't matter as it occupies such a very important place in the public imagination. Indeed, nobody ever seems to notice. It works."
There's a curious sense that people do look differently at landmarks as opposed to more mundane buildings that they judge wholly on their architectural merits.
And it's often been remarked that many royals have not enjoyed living at the palace.
It was originally purchased by George III to serve as a comfortable family home near to St James's Palace, which hosted most of the ceremonial events.
In 1762, work began on transforming the house to the King's requirements, masterminded by Sir William Chambers, for the sum of £73,000. Thus started the first in a series of redesigns and additions that have left us with today's palace.
But even after George IV employed John Nash, the noted Regency architect, to transform Buckingham House into a palace during the 1820s, he still chose to spend most of his time at Windsor Castle. But that may have been because of the high cost of living in London and fear of the mobs causing havoc at the time.
Following in his footsteps, Queen Victoria was hardly at Buckingham Palace and even less so after Prince Albert died in 1861. So rarely was she there that a passerby hung a notice saying "to let" on the gates.
Edward VII tried to transform Buckingham Palace into something that matched the palaces of his European rivals and relatives with the help of architect Sir Aston Webb, says architectural critic and writer Jonathan Glancey.
"Sir Aston Webb's monumental Neo-Classical facade, completed in 1913, was - and remains - very dull indeed, a kind of huge provincial Edwardian bank with the interior of a railway hotel blown out of proportion.
"Edward VII might have spent a lot of money on the palace, but he, too, was very rarely there, spending much of his year in Sandringham, Biarritz, Cowes, Balmoral and Marienbad. Meanwhile, I think it's fair to say that the Queen's real home today is Windsor Castle."
Edward Blore finished the East Wing in 1847, which enclosed a quadrangle, but it is Webb's facade that tourists the world over associate with the building.
The Queen normally spends every weekend at Windsor Castle. In addition to hosting state visits for various presidents and monarchs throughout the year, she also takes up official residence at the castle for a month for Easter Court, and a week in June to attend the Royal Ascot race meeting and the service of the Order of the Garter.
But the tendency of monarchs not to live exclusively at Buckingham Palace may not be down to its aesthetic appeal or functionality.
Ingrid Seward, editor of Majesty Magazine, believes it's because the Queen sees Buckingham Palace as an office.
"It's a workplace. Being the official head of state's residence, it's a very big, formal, draughty place with a lot of mahogany wardrobes. It's like a huge hotel. Not remotely cosy or a home by any means."
For many years, the palace has been the focal point for celebrations and commiserations. "Buckingham Palace is a symbol of the monarchy, the capital and Great Britain," says Seward.
Perhaps that's why it doesn't matter that the palace is not regarded as an architectural masterpiece. Glancey argues the palace has played - and continues to play - an important role in the UK's national consciousness.
"It was from the balcony of Sir Aston Webb's facade that Winston Churchill waved to the crowds at the end of World War II. It was where Charles and Diana and William and Catherine kissed for the crowds at the time of their marriages.
"Of course, the Mall and Buckingham Palace - first opened to the public in 1993 - are great tourist attractions, but they are also somewhere at the heart of a sense of what it means to be British, a sense played out to Elgar and with the roar of Merlin engines - the Lancaster, the Spitfires and Hurricanes that fly overhead on special occasions."
There are, of course, plenty of people who like the effect of the palace. Among them is architect Maxwell Hutchinson.
"Buckingham Palace plays an important part in an exquisite composition of urban stagecraft.
"With the grandness of the Mall, Duke of York column and steps, the austere Carlton House Terrace, St James's Palace, Marlborough House - built by Christopher Wren - and Victoria memorial, it's a really good bit of urban theatre."
As with any building, perhaps the final word should be left to the neighbours.
"Buckingham Palace is peculiarly British in that it's a bit of a letdown. It is dutifully ducal rather than impressive and imperial like the Louvre, Madrid's Palacio Real or Vienna's Schonbrunn," says Pol Fergus-Thompson, membership secretary for the Residents' Society of Mayfair and St James's and a local for 12 years.
"Although we get frustrated when the traffic slows for the changing of the guard, most of the people who live nearby appreciate the daily morning pomp and diminishing ceremony. What the palace represents means more than what it is."
Related Internet Links
The BBC is not responsible for the content of external sites.