The cult of lawn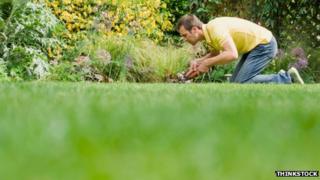 Thousands are thronging Chelsea Flower Show, but for many people all their garden dreams are summed up in the form of a small, manicured, neat-edged patch of grass. They are adherents to the cult of the lawn.
For some, satisfaction is a perfect stripe.
Others find happiness in the smell of cut grass, or the pleasant springy feeling that comes from walking on perfect, 3cm-deep turf.
"A striped lawn reminds us of lovely things like cricket and bowls," says Mike Seaton, editor of the lawn advice website Grass Clippings.
"I grew up with a large back garden and I was weaned into lawn mowing from a very early age. It was the first useful job I could do for my parents and I took a real pride in it.
"There is a huge passion for lawns and everyone loves a stripe."
But this year is set to be an annus horribilis for lawn lovers in some parts of the UK. The drought has brought a hosepipe ban, and that spells misery for grass growers. The challenge of keeping that perfect square of green has never required such ingenuity.
At an event like the Chelsea Flower Show, the emphasis might seem to the casual eye to be on walled gardens, exotic plants, blazing blooms and water features.
But for many people, the garden just means a patch of grass, in which to pour their heart and soul.
It's reflected in the money spent. About £400m is spent on lawn care in the UK each year, says Seaton. In the US people spend even more.
And while all gardeners will be moaning over the summer, it is the lawn where their anguish will be most visible. Frustration manifested in brown, dried grass - scratchy underfoot and smelling of mud - or, if the rain holds off, dust.
The perfect lawn, according to Seaton, should be mowed once a week from March to October, fertilised every three months, and should have grass between 2.5cm and 4.5cm in height.
To achieve a true green, lawns like to be watered, but they can survive without - albeit inelegantly.
"Grass is tougher than it looks, which is good considering we're in the middle of the wettest drought ever," he adds.
"If your grass looks dried and brown, it's more than likely that the base will still be OK."
But the cult of the lawn is about green. Lush, green grass is a display of health and success - it is competition between neighbours and gives a delicious sense of satisfaction.
It was the aristocrats of 17th and 18th Century Europe who started the cult. Louis XIV of France included large squares of tapis vert, or green carpet, in his Versailles gardens. This became a sign of prosperity and style and soon crossed the Atlantic.
But for those who want the perfect verdant lawn, without effort, there is another option. Fake grass, similar to Astroturf, is filling back gardens across the world, and it even makes an appearance at Chelsea.
It is Seaton's nemesis.
But even the National Trust has resorted to artificial grass, laying it in the garden at Cliveden, near Maidenhead.
"You have to get very close to see that it's not real," says Ian Wright, consultant gardener for the National Trust. "It's in an area that is well-trodden and the emphasis is very much on keeping the green colour. But it seems to have gone down quite well."
And garden designer Tony Smith has used fake grass in his latest effort at the Chelsea Flower Show , which has won gold for best fresh garden.
Stuart Hedgecock's company Perfectly Green lays fake grass, of various colours, textures and lengths, in about 10 gardens each week.
"The only thing is that it doesn't smell of grass, but I've heard rumours that someone is developing a grass-smelling spray, so that might be solved soon."
Until then, lawn purists should continue to mow and fertilise if they want to achieve the fresh-scented, lush green that their gardening dreams are made of.