News tweets: SpaceX, Piers Morgan and Reagan's blood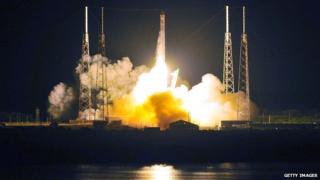 For the week of 20 May, here is the news - condensed into 10 topical tweets, some more serious than others.
1. BREAKING: Cory Booker Tries to Pull Political Career from Burning Building
Comedy writer Andy Borowitz (@ BorowitzReport ) after Newark Mayor Cory Booker apologised for labelling attacks by fellow Democrat President Obama on Mitt Romney's work at Bain Capital as "nauseating".
2. So many of America's problems could be solved if Republicans & Democrats would just sit down together & drink some vials of Reagan's blood.
Journalist William Wolfrum (@ Wolfrum ). A vial of President Reagan's blood was put on auction last week. The vial was later donated to the Reagan library instead.
3. The inventor of the TV remote control has died. He will be buried in the last place you think to look.
Head writer of the Daily Show Tim Carvell (@ timcarvell ) commemorates the death of inventor Eugene Polley, who died on Tuesday at 96.
4. The ashes of Scotty from Star Trek are on board the launched SpaceX Dragon. Take that, Tupac hologram.
Graphic designer Sarah (@ 3x1minus1 ) commenting on the first private company to launch a capsule into space.
5. Don't worry guys, I know how to settle this. "Siri, did Mitt Romney's time at Bain prepare him for the presidency?"
Washington Post writer Ezra Klein (@ ezraklein ) tries to pick up where Cory Booker left off.
6. Jeremy Paxman claims Piers Morgan gave him phone hacking tips. Could've been worse. He could've given him TV presenting tips.
Writer Neil Mayham (@ MinutesofMayham ) on the latest revelations from the UK's Leveson inquiry into media sleaze.
7. I'm surprised David Cameron is opposed to prisoners getting the vote. Very soon a lot of his best friends could be in prison. ‪#bbcqt‬
Satirist Carl Maxim (@ carlmaxim ) watches the BBC's Question Time (bbcqt) with interest.
8. Facebook may not make great stock, but they sure do have a neat website!
Comedian Mike Birbiglia (@ birbigs ) looks on the bright side of Facebook's tanking stock price.
9. RIP Obama now trending... I'm sure he's fine. Twitter kills more people than crack
Morning DJ Puddin (@ iampuddin ) responds to a trending topic on Twitter. The president was far from dead, and instead had been answering questions via Tweets that same evening.
10. Bristol Palin's baby daddy, Levi Johnston is now broke living with his mom & knocked up another girl. He is ready to be on #TheBachelor
Comedian Susan Alexander (@ SusanKAlexander ) takes a shot at the popular reality dating show.