The 'love commandos' protecting young Indian couples
By Anu Anand
BBC, New Delhi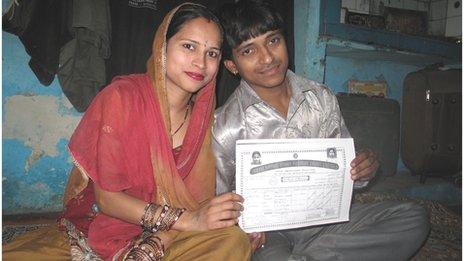 In India, "love" is still considered by many to be a dirty word with most marriages arranged by parents along religious or caste lines. But a group of "love commandos" are increasingly stepping in to protect Cupid and his targets.
Rajveer Singh is a handsome young man of 23. He has large, earnest eyes and hair that falls over his forehead. He is well-built, quiet, thoughtful.
When Rajveer was 12, a new family moved into the house across the narrow alley. The first time he saw Madhuri, who was then 14, he says he fell in love. "I thought to myself 'this is the girl I want to marry'. She was mischievous, she had a beautiful smile, and I knew she would look after me."
Madhuri, a petite, bright-eyed woman with a winning smile, says she felt the same. Over the years, as Rajveer and Madhuri went to school together and shared their best hopes and worst fears, they fell utterly in love.
You know what happens next. This is India, where parents vet a potential marriage partner like Nasa scientists checking a space shuttle before lift-off:
caste
complexion
horoscope
height
character
qualifications
family
eating habits
Love just does not get a look in.
So when Rajveer and Madhuri told their families they wanted to marry, the answer was a resounding "no". Rajveer's family are Thakurs, or landowners. Madhuri's are Banias, or traders. Apparently incompatible.
But they were undeterred. As Madhuri's family took her back to the village to forcibly betroth her to a more suitable boy, Rajveer hatched a plan. He called the Love Commandos.
Perhaps you are picturing them now - tall, chivalrous men in tights, wielding swords and roses. Well, not quite. A group of aging businessmen and journalists, the Love Commandos began 10 years ago as a movement to protect lovers from harassment by both Hindu and Muslim hard-liners.
One of their co-founders, Sanjoy Sachdeva, is a rumpled, white-haired hack whom I met after a series of phone calls. "Come to the Imperial Cinema. Come alone. One of my commandos will meet you."
Down a fly-blown alley in Paharganj, near New Delhi railway station where backpackers sip mixed fruit juice at cheap open stalls and disembowelled televisions are repaired on the street, I met Sanjoy in one of the Love Commandos' secret shelters.
It had all the charm of a broom closet. But in India, where falling in love is a provocative social and political statement, a safe broom closet can come in very handy.
Sanjoy explained that the image of a commando is central to the helpline he and his colleagues operate. Indian lovers need protection and they need to believe that they will receive it.
Madhuri managed to escape from her relatives' house in the village, and met Rajveer at the train station, knowing they were guaranteed sanctuary back in Delhi.
That same evening, they arrived at the Love Commandos' shelter to find flowers, clothes and some simple jewellery for Madhuri. More importantly, they found smiles of encouragement and good wishes.
Within hours they were man and wife.
On paper it is very Romeo and Juliet - or the eastern equivalent Laila and Majnu - but in reality, rescuing lovers is expensive and difficult. In Delhi alone the Commandos' monthly operation costs up to $5,000.
After pontificating about love over a cigarette, Sanjoy pins me with his green eyes and says, plaintively: "We need money. We are broke. Our friends are broke. I'm not sure how long we can sustain this."
Still, he and his Commandos fervently believe that the only way to change India's caste-riven society is through love marriages. They hope that the children born of such unions will be freer and more equal.
But, if Rajveer and Madhuri's story is any barometer, change will come grudgingly and violently.
Last year, after the couple dared to move back to their old neighbourhood, Rajveer was held at knife point by four men. They drove him to a secluded spot, tied him up and beat him severely and left him for dead.
At first, the police refused to act. With the Commandos' help, they did eventually file a report. No one has been charged. Madhuri is convinced her own family was involved. She says someone recently toppled a pile of bricks from a shared rooftop onto the couples' bed. Luckily they were not in it.
According to Unicef, nearly 40% of India's billion-plus population is under the age of 18. Falling in love here is not easy, but more couples are choosing to brave the consequences. For the Commandos, love is war.
And as long as they can afford it, they do not intend to surrender peacefully.
How to listen to From Our Own Correspondent:
BBC Radio 4: A 30-minute programme on Saturdays, 11:30 BST.
Second 30-minute programme on Thursdays, 11:00 BST (some weeks only).
Hear daily 10-minute editions Monday to Friday, repeated through the day, also available to listen online.