Airtime appeal: Do we really want to talk to strangers?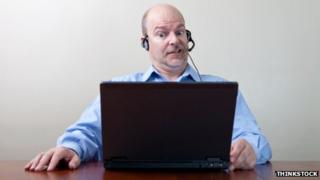 Airtime, a site that allows users to video chat with strangers, launched last week. But do we really want to talk to people we don't know, asks Sophie Robehmed.
A bus driver. A shop assistant. A fellow commuter you bump into. City dwellers talk to strangers every day.
But apart from these brief interactions, genuine conversations with random people are rarer.
The stereotype is that older people feel happier engaging the strangers they encounter.
But the young also do it, albeit that the stereotype is that it's often only when they're chatting each other up.
Small talk with strangers can be met with surprise or even suspicion. More often than not, meaningful relationships are not formed from a random interaction, just like friendships might not really be formed on Facebook.
The launch of Airtime is yet another attempt to try to build on the concept of random interaction. On one level, the former Facebook president Sean Parker's site merely enables users to talk to their Facebook friends. It joins the hugely successful Skype service and a raft of others .
But the supposed twist of Airtime is the "talk to someone" button. Users are connected with each other based on criteria like mutual interests or that they are friends of friends.
Parker is trumpeting Airtime as injecting "serendipity" into our online lives. But others have described it as "Chatroulette without the nudity", referring to the last high-profile service to try to connect random people for video conversations.
Chatroulette was widely mocked for the prevalence of lewdness.
But even if any new site manages to remain flasher-free, do people actually benefit from random conversations?
"Talking to strangers enables you to discover other possibilities. It's always through others that we achieve our goals," says David Topus, author of Talk to Strangers: How Everyday, Random Encounters Can Expand Your Business, Career, Income, and Life. "The more people we meet and know, the more possibilities exist."
But do friends of friends, or people with mutual interests, really count as strangers? "Airtime is connecting people," says Topus. "It's not quite as random as my definition of a stranger in which you strike up conversation with someone who you don't know or have a reason to know.
"People with common interests have been affiliating for centuries. With Airtime, both parties have agreed ahead of time to communicate, which makes it easier. Saying that, it feels a little awkward to me to be on the receiving end of an Airtime conversation."
I know exactly what David means when I log into Airtime for the first time. I don't like seeing a blown-up version of my face on my screen let alone a stranger seeing it on their screen too.
The first conversation I have is with a man in Edinburgh. I find it hard to focus on talking, as I scan the bottom of the screen to see what we have in common.
It turns out we both like the same newspaper. I am apologetic when my phone rings but I am also relieved the conversation is over.
The next day, a woman wearing a headset enters my screen. She's talking to me from her workplace, a call centre in San Francisco. I ask her about her experience of Airtime so far. "People are using it to network, offering each other jobs," she suggests.
Any perverts? "Nothing like that so far," she says.
Next I speak to a guy who is working in video production in London. We end up talking about the online company he works for and when he finds out I'm a journalist, he tries to sell the company as a product to me. It turns out I'm already signed up.
He insists he's met some "really interesting people" from the UK, US and India, and even makes it sound fun for a moment.
That's if you can muster the inclination and can get past feeling self-conscious. But does all this satisfy a human need?
"It undoubtedly does," says clinical psychologist Oliver James. "Whether it's curiosity, loneliness or getting off on it, it's interesting to meet strangers.
"A lot of people who use Airtime will be lonely and wanting someone to talk to in a similar way that people ring Samaritans. They can't talk to anyone they know because they would be restrained in a way but they also don't want to see a therapist either."
Feeling increasingly disconnected with the world led one man, known as Fletcher or "People Person", to start his Talk to Strangers blog nearly two years ago. "Things that were supposed to be getting better weren't. Fewer friends, less fun. Being in your twenties isn't all it's cracked up to be so I did something about it," he says.
What started as an experiment for the LA-based blogger in July 2010 "to reconnect with humanity one stranger at a time" has since transformed his life.
"I met a lot of people, made new friends, even got girlfriends. I started becoming a different person, not so cynical and judgemental. I liked who I was becoming."
The blog proved popular with a small but loyal group of followers. He would get emails from readers saying how much the blog was helping them to get the courage to overcome shyness and to try talking to strangers themselves.
After meeting the woman who became his girlfriend, now fiancee, Fletcher wrote a farewell blog post last month in the run-up to his wedding. But that hasn't stopped people getting in touch.
"I still get comments every day from people who have taken my simple idea and ran with it. Everyone is lonely. Almost no-one would rather sit in silence than talk to a friendly person."