Mitt Romney's Mormon roots in northern England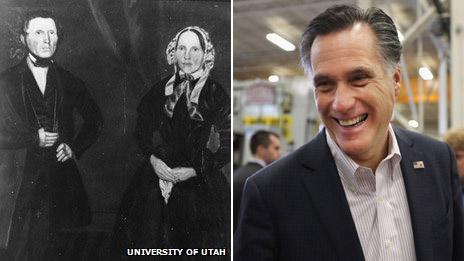 It's well-known that Republican contender for the US presidency Mitt Romney is a Mormon - but not that his family was converted in England. He doesn't mention it on the campaign trail, but his great-great-grandfather, a Preston carpenter, became one of the first British Mormons, 175 years ago.
"This is the spot - this is where it all started," says historian Aidan Turner-Bishop pointing down to a small, unmarked and unprepossessing, shingle beach.
The sun is just starting to set over the banks of the River Ribble in Preston. The birds are singing gently. It is an idyllic scene.
"On a hot summer's day, this is where the kids come to play," says Turner-Bishop.
This is the site where the very first Mormon baptisms outside North America took place.
And it is almost certainly the spot where the Romney family were baptised into the Church of Jesus Christ of Latter-day Saints (LDS) in the late 1830s, at the start of a wave of 19th Century Mormon conversions in England.
"In order to compete to be the first people to be baptised, some of the men began to run, to race each other, down to the little beach… People were just carried away by the sheer excitement of it," says Turner-Bishop.
"There would be crowds on top of the bridge and crowds around here. It was a big event. And they'd stand and watch these exciting, unusual American evangelists baptise people in full immersion in the waters of the river."
The church, founded in the US in 1830 by Joseph Smith, faced intense persecution in its early years, so it was a bold move, when - just seven years later - it sent missionaries across the Atlantic Ocean.
The first country they came to was England, and the first place they preached was Preston, in the summer of 1837.
According to a family history, one "fine day" as Mitt Romney's great-great-grandparents, Miles and Elizabeth Romney, were on their way to the market, they saw a crowd gathered around a Mormon preacher, and stopped to listen.
"They beheld a group of people assembled on a street corner," wrote Thomas C Romney, their grandson, in 1948.
"Their curiosity led them thither and they discovered that it was a religious gathering and that the preacher was a Mormon Elder from America... They were much impressed with the message delivered."
It was this chance encounter that set off a chain of events that has culminated in Mitt Romney's challenge to Barack Obama in November's US presidential election.
CLICKABLE
Miles Romney
Miles Romney and Elizabeth Gaskell were both born in Dalton-in-Furness in England. They married in 1830, and gave birth to two children in Dalton, before moving to the village of Penwortham, outside Preston.

They first heard Mormon missionaries preach in 1837, and converted soon after. They left for the US in 1841, settling first in Nauvoo, Illinois, and later St George, Utah. Miles was a carpenter who worked on the temple in Nauvoo, as well as the tabernacle and temple in St George.

(Picture: Special Collections Department, J Willard Marriott University Library, University of Utah)
Miles Park Romney
Miles Park Romney was the sixth child of Miles and Elizabeth. Like Miles, he worked as a carpenter (just as Miles' father George had before him). He also, like his father, went to England as a missionary.

His first wife, Hannah Hood Hill, was born in Canada. But he had three additional wives and a total of 30 children. The family left for Mexico in 1885 to escape US anti-polygamy laws, and helped establish a Mormon colony in Chihuahua.

(Picture: Special Collections Department, J Willard Marriott University Library, University of Utah)
Gaskell Romney
Gaskell Romney was the fifth son of Miles Park Romney and Hannah Hood Hill. He too worked as a carpenter, and followed his father to Mexico, returning to the US at the time of the Mexican Revolution.

He married the grand-daughter of Parley Pratt, one of 12 apostles chosen to lead the church in 1835. After she died, he married her sister.

Gaskell held a number of positions in the Mormon Church and in 1931 stood for the post of Salt Lake County Commissioner as a candidate for the Republican Party.

(Picture: Special Collections Department, J Willard Marriott University Library, University of Utah)
George Wilcken Romney
George Wilcken Romney, the fourth son of Gaskell and Anna, was head of American Motors, governor of Michigan from 1963-1969 and a contender for the Republican presidential nomination in 1964 and 1968. After the 1968 election, Richard Nixon made him secretary of housing and urban development.

Romney's wife, his childhood sweetheart Lenore LaFount, had a brief career as a Hollywood actress before her marriage. She ran unsuccessfully for the US Senate in Michigan in 1970, as the candidate of the Republican Party. Willard Mitt Romney was their fourth and last child.

Willard Mitt Romney
Mitt Romney is set to become the Republican Party's candidate to challenge Barack Obama in November's presidential election. He was governor of Massachusetts from 2003-2007, and co-founder of the private equity firm Bain Capital.

As a young man, Romney worked as a Mormon missionary in France. He later served as bishop in Belmont and stake president in Boston.

He and his wife Ann Romney (nee Davies) met as teenagers in Michigan - she converted to the LDS Church in order to marry him. Diagnosed with MS in 1998, she continues an active life. They have five children.
Family tradition has it that the preacher Miles and Elizabeth heard was Orson Hyde, one of the Mormon Church's top leaders, known as apostles. What he said that so impressed the Romneys is unknown, but a description survives of the persuasive skills of another of the missionaries, fellow apostle Heber C Kimball.
"Come my friend, sit down, do not be in a hurry," he would say, according to one contemporary account. He would then begin to preach, in clear and simple language. Finally, he would ask: "Now you believe this? You see how plain the gospel is?... Come, let us go down to the water."
Within two weeks, they had baptised 28 people.
Preston at the time was a desperately poor and dirty place, dominated by the cotton mills.
"There were cholera epidemics. There was a lot of very bad housing - classic images of open sewers and pits running through the streets, so it was a pretty nasty place," says historian Aidan Turner-Bishop.
"Think of it a bit like the favelas on the outskirts of Rio de Janeiro, or places like the suburbs of Nairobi today. It was a pretty hard, pretty rough life, and there was a lot of infant mortality."
Another of the first missionaries, Joseph Fielding, wrote in his journal of his shock on arrival in Preston to find "souls… fainting for lack of food in all parts".
"I was much affected to see the slavery that is there endured," he wrote after a tour of a factory. "The dust, the bad smell of oil… the deafening noise… We felt a great desire to see them delivered out of such captivity and bondage."
The area was a hive of religious activity, with the Methodist Church and all manner of non-conformist churches growing rapidly at the expense of the Church of England.
Many workers were disillusioned and dissatisfied with their lot as - while they struggled to survive - factory owners prospered.
There was a lot of drinking too. Preston was one of the centres of the Temperance Movement in England. The Mormon Church, which also preached a message of abstinence from alcohol, shared its meeting place - the Cockpit (a former cockfighting venue).
In many ways, the faith was similar to mainstream Christianity at the time, says Douglas Davies, Professor in the Study of Religion at the University of Durham. Rituals such as baptism of the dead came later.
But in at least one way, it was very different - the Mormons believed that Jesus had visited America, and that he would return there soon.
"The message was, 'Jesus is coming - he's coming to America. We'll help you get there,'" says Davies.
The US already had a reputation in England of being a country where anyone could make it if they worked hard, and the idea of emigration as an escape from poverty and disease may have been attractive.
"It was a combination of the promise of economic advancement with salvation - so you got two for the price of one," says Davies.
Many in the established church felt threatened, and saw the Mormons as unwelcome intruders.
"The establishment did not like these guys at all. They thought it was false… [and that] this was an American intrusion," says Douglas Davies.
There were "rabid anti-Mormons," he says, who did all they could to disrupt Mormon gatherings, throwing turf and printing anti-Mormon posters and literature.
Miles and Elizabeth were evidently not easily put off.
They are said to have regularly hosted missionaries at their home in Penwortham on Sundays.
George Romney, their eldest son, later recalled walking the two miles to Preston with his parents to attend meeting after meeting, with Miles and Elizabeth taking it in turns to carry his two-year-old sister.
"In the morning we attended a meeting, and, at 11 o'clock, at two o'clock and at seven o'clock, and returned home again the same night. This kept up for years," he said.
Originally from the Lake District town of Dalton-in-Furness, where they married in 1830, the couple had moved to Penwortham in the mid-1830s, between the birth of their second and third children.
"It's fields and fields and fields," says Penwortham historian Elizabeth Basquill as she runs her finger over an old map from the era.
"There weren't many roads, and what roads there were would have just been pure mud."
There was just one bridge joining it to the big city with its hubbub of factories.
It was home to some of the poorest in the area, but also some of the wealthiest - John Horrocks, one of the leading figures in the cotton industry, had a home here, for example.
As a carpenter, Miles Romney's status would have been somewhere in between these two extremes.
He may have worked on one of the grand houses in the area, says Basquill, or perhaps have made farm machinery or frames for the many hand-loom weavers in the area.
"Carpenters were in big demand then, because everything was made of wood… there would have been a lot of work for him in this area," she says.
It was 1840, three years after the first baptisms, when the emigrations began.
The journey from Preston to Nauvoo in Illinois, at that time the base of the Mormon Church, cost around £5 - about a quarter of the average tradesman's annual wage.
Stories of people selling off all they owned to afford the trip were common. One man on the Romney boat had to sell his clothes to secure his place.
The day before their departure, 34-year-old Miles met Brigham Young, the man who would soon become the head of the Mormon Church, at a meeting in which Miles was selected to be counsellor to the president of the Mormon contingent on the ship.
Conditions on board the emigration ships were dire.
"You've got to imagine yourself going off into a dark hold of the ship," says Aidan Turner-Bishop, "three-storey bunks, rolling around in the Atlantic - oh, it was pretty grim, you'd be glad to get out the other end."
The Romneys sailed first to New Orleans, and then up the Mississippi River in a steamboat.
As counsellor to the president of the ship, it was part of Miles' job to deal with disputes on board.
According to first-hand accounts from the journey he had plenty to keep him busy - there were three deaths and two births during the journey, and one man was "taken for murder".There were also Mormon services on board, with Miles acting as one of the preachers.
When they finally arrived in Nauvoo, a full 10 weeks later, Miles was said to be so ill he had to be carried ashore.
"While passing up the Mississippi, Miles Romney's life was despaired of and upon arriving at Nauvoo… [he] was too weak to walk and had to be carried on a blanket to the house," wrote Thomas C Romney, in a biography of his father, Miles Park Romney (Miles Romney's sixth son, and Mitt Romney's great-grandfather).
"Through careful nursing and the blessings of the Lord he was finally restored to health and vigour."
One theory is that he was suffering from malaria, which took a heavy toll on the Mormon community in Nauvoo at the time.
One of their daughters, Ellen, died a few years later at the age of six.
Miles' skills as a carpenter proved, after his recovery, to be of great value. He was appointed master mechanic for the building of the temple in Nauvoo (later burned down when the Mormons were forced out), and went on to help design and construct the tabernacle and the temple in St George Utah , a striking white building, which is now the oldest operating Mormon temple.
They endured hardships, fleeing from Nauvoo to Iowa and then Missouri, to avoid persecution, before saving the money to follow Brigham Young to Utah by ox-cart.
Once in St George, Miles is said to have built a comfortable eight-roomed house for the family, planting a long row of trees around it.
Elizabeth was described by one of her grandchildren as someone who was always reading, always had a smile, and was always impeccably dressed. Miles was said to wear a white collar and a tie.
He returned to England in 1858, this time as a missionary himself, and presided over Mormon conferences - worldwide gatherings of church members - in Preston, Liverpool and Manchester.
He was said to be an excellent preacher - so much so, that when his son, Miles Park Romney, went on a mission to England in 1865, he is reported to have worried about living up to his father's reputation.
It is still very much part of Mormon tradition for young men and women to spend 18 months to two years as a missionary abroad. Mitt Romney went to France for his mission in the 1960s.
At the age of 70, Miles Romney died after a fall from a window of the St George tabernacle, where he was working. Elizabeth lived a further seven years, but was said to be so grief-stricken she barely left the house.
The early British missions proved to be absolutely crucial to the future of the church, says David Pickup, an expert on the early history of the church. He argues that had it not been for these early converts from overseas, the Mormon Church might have died out during the years of persecution.
By 1870 about 100,000 people across the UK had converted, about half of whom crossed the Atlantic.
"Without the support of the British converts," and later also converts from Scandinavia "objectively speaking, the church may not have survived in the US," says Pickup, author of The Flower and Pick of England: The Illustrated Story of the Mormons in Victorian England.
The role and the history of the Mormon Church in the UK is, he says "astonishing," but "virtually unknown".
Preston is in fact the oldest continuous unit of the church anywhere in the world, because the US church was forced to move so often in its early years, before settling in Salt Lake City in 1847.
These days, the clearest sign of Preston's ties with Mormonism, is the vast Preston England Temple at Chorley, about 10 miles away. Completed in 1998, it is the largest Mormon temple anywhere in Europe , its tall spiky spire, topped with a golden statue, visible for miles above the rolling Lancashire hills.
In among the rows of neatly arranged filing cabinets at the temple's family history centre, lies a microfilm containing the Church Membership files for the Romneys.
According to that document, Miles and Elizabeth Romney were baptised into the Mormon Church on 11 November 1837 (the entry for Miles says 11 November 1835, but this cannot be correct).
It lists the baptism date of their eldest son George as 16 August 1839, two days after his eighth birthday - the earliest possible date according to Mormon tradition.
Miles Romney is listed as having nine children with Elizabeth, and a total of 12 wives.
But the 11 wives after Elizabeth are not wives in the usual sense of the word - all were dead by the time of the marriages, in 1872, five years before Miles died.
Most, if not all, appear to be dead relatives of Miles and Elizabeth from Dalton-in-Furness.
Jan Shipps, one of the leading experts on the early Mormon Church, says these were most likely "proxy marriages" - the "proxy" referring to the fact that one party to the marriage was not physically present, and would have been represented by a stand-in.
"For a Mormon man, the more wives he had, the higher he stood in the hierarchy. This would have given Miles Romney more standing in heaven," says Shipps.
Such unions were "fairly common practice at the time," adds Todd Compton, Mormon historian and authority on polygamy within the church.
In day-to-day life it would have meant "almost nothing", he says, but Miles had nevertheless made "a very serious commitment that he would be a polygamist in the afterlife".
Craig Foster, a genealogist and historian in Salt Lake City, and co-author of The Mormon Quest for the Presidency, interprets it as "an act of love" on Miles' part.
"I firmly believe that what was in his head was an act of love - he was concerned for his departed ancestors who did not have the chance of marriage. I seriously doubt he ever considered them full wives."
Proxy marriages and baptism of the dead are still part of Mormon practice - a way, Mormons believe, of ensuring that families can meet and be reunited to live together in the afterlife. But proxy marriages, where one is dead and the other is alive, are now "absolutely uncommon" says Foster.
One of Miles' sons, Miles Park Romney - Mitt Romney's great-grandfather - did however practise polygamy in the traditional sense . He had four wives and 30 children, and fled to Mexico in the 1880s when US anti-polygamy laws began to be seriously enforced. A large contingent of the family still live there.
The Mormon Church banned polygamy in 1890, though it did continue, in secret, for some years after that.
Who knows how things might have turned out had Miles and Elizabeth Romney not stumbled upon a preacher that day 175 years ago in Preston? Maybe Mitt would have been called Michael or Malcolm? Maybe he would be working as a carpenter like so many of his ancestors, and speaking with a Lancashire lilt?
There are more than 5,000 descendants of Miles and Elizabeth Romney, according to one estimate, but the Romneys who stayed at home and remained in the Church of England, seem to have all but died out.
The last to live in Dalton-in-Furness - a line dating back to 1642 - died in 1915. Miles Romney's youngest brother, William Romney (born 1827) was also a carpenter, renowned in the town for building his own coffin, says local historian James Walton.
He was buried at St Mary's Church in Dalton - the same church in which Miles and Elizabeth were baptised as babies, and where they were married.
The Romney name still resonates in the town, thanks to George Romney, a first cousin of Miles' grandfather, who was one of Britain's leading portrait painters in the 18th Century, a rival to Joshua Reynolds.
A primary school is named after him, and two streets also bear the Romney name - Romney Park and Romney Avenue. His prestige would have rubbed off on the whole family, Walton says.
"Anyone living in the town with the name Romney would have been respected."
Today, the electoral roll lists only 102 Romney households in the whole of the UK, and only a handful in the north of England.
One of them is Janet Romney, who is retired and lives down a quiet suburban cul-de-sac - by chance, just down the road from the Mormon temple in Chorley.
Her favourite pastime is bowling. Politics is not really her thing.
"I've never really followed American politics, so I don't know much about it," she says.
She has seen Mitt Romney on the news, but struggles to conjure up an image of him in her head.
"All I know if he's got the same name as us, and my son thinks that comical and so do a lot of other people!" she says with a laugh.
So far as they can tell, neither Janet nor her son Paul are descended from the same line of the family as Mitt, but that has not stopped Paul from buying himself a Romney bumper sticker and a T-shirt to wear down the pub, which Janet dutifully irons.
"I'm very good at ironing, so they say!"
There are some living relatives of Mitt Romney in England, however, in Barrow-in-Furness, just a stone's throw away from the family's former home of Dalton.
Jennie McPoland, a 70-year-old former clothes factory worker, has the same great-great-great grandparents as Mitt Romney, making her Mitt's fourth cousin.
She likes knitting and spends her time looking after her grandchildren. But how does she feel about being related to Mitt Romney, the possible future president of the United States?
"It's the first time I've heard his name," she admits. "It's great - I'm really excited!"
Her grand-daughter Maria Nash, Mitt Romney's fourth cousin twice removed, shares this enthusiasm.
"It's really quite astounding," she says. "I hope he does well. I should pay more attention… it's not every day your relative turns out to be a candidate in America."
The family connection was discovered by Maria's husband Simon Nash, a keen genealogist, whose day job is to "wander around in a fluffy outfit" as the mascot for Preston North End football club.
US politicians often make great play of their ancestral roots, however distant - particularly if those roots happen to be Italian, or better-still Scots or Irish .
Mitt Romney's wife, Ann, has spoken about her Welsh roots - her grandfather was a coal miner from a small village in the south of Wales - but Mitt rarely, if ever, mentions his English heritage on the campaign trail.
But why not? One might think the story of his great-great-grandfather, a carpenter from the poor North of England, who took the bold step of moving his family across the Atlantic and became a pioneer in the American West, might be one he would want to highlight.
"There's a humble story, but it's not one that sits comfortably because it involves Mormonism," says Tim Stanley, a writer and historian specialising in US politics at Oxford University.
There are more Mormons than Jews in the world , and according to the LDS it is the fourth largest Christian church in the US. But it remains little understood and is regarded with suspicion by many US voters.
Or maybe Mitt Romney has chosen not to highlight his English roots, because England does not strike quite the right chord with the US public.
"No-one says I'm English-American. It's the great hidden identity in America," says Stanley.
"And there's no political gain in saying my ancestors came from Preston - who cares?"
That is not to say that Mitt Romney himself doesn't hold his English roots close to heart though.
According to The Real Romney, a biography by two Boston Globe journalists, a portrait of Miles Romney used to hang in Mitt's home, alongside those of other key ancestors, when he lived in Belmont, Massachusetts.
And Mitt Romney does mention his great-great-grandfather in one of his own books, Turnaround.
"Romneys are, by nature, an adventurous breed," he writes, referring briefly to Miles' conversion and emigration, as well as the family's move "west across the plains to Utah" and later to Mexico.
"He's not hiding it… it's part of the story of his origins," says Michael Kranish, co-author of The Real Romney.
It was, after all, a very long time ago, and the story of Mitt's English roots has been overshadowed, says Kranish, by the great drama of his ancestors' move to Mexico.
"I can't speak for Mitt," says Yvonne Romney Dixon, who is a cousin of Mitt's late father George.
"But if he was brought up anything like the way I was, and had the same kinds of things drummed into him, then he'd see his English roots as very important," she says.
Yvonne, who lives in an upmarket part of Washington DC, takes a keen interest in her English heritage - she has traced the family tree, as well as visiting Dalton-in-Furness and other sites connected with the Romney family in England.
One of the oldest buildings in Penwortham is St Mary's Church - the mother-church for the parish at the time the Romneys were in the area.
It's a classic picture-postcard English church at the end of a quiet street, surrounded by a green grass and crooked old gravestones.
The vicar there, Chris Nelson, has become well-versed in Mitt Romney's family history - ever since he discovered a connection to the Republican candidate, he has been piecing together as much of the story as he can.
He is convinced that, before they joined the Mormon Church, the Romneys would have attended services here.
The church was central to community life, and social norms at the time made church attendance virtually compulsory.
"As this is the ancient church, and the Church of England church, they would have passed through here in worship… the walk, the pathway, the journey to this church would have been very familiar to the family," he says.
Clearly savouring the thought, he smiles as he imagines a future that could see Mitt Romney elected president of the United States.
And he jokes: "I can just imagine him flying into Manchester airport, driving up the M61 with a cavalcade, dropping off at Chorley to see the Mormon temple, and then popping into Penwortham for a quick cup of tea with the vicar!"
"Although it's a different faith, and that might cause issues in the United States - it doesn't cause issues here," he continues.
"We'd be very pleased if he was to acknowledge his English descendants because, sure enough, we would acknowledge him as being a true Lancastrian in the White House, if he was to make it.
"It would be good to have the red rose [symbol of Lancashire] flying somewhere in the White House - a banner from his heritage."
Related Internet Links
The BBC is not responsible for the content of external sites.