London 2012: Are green and pleasant Games a real reflection of the UK?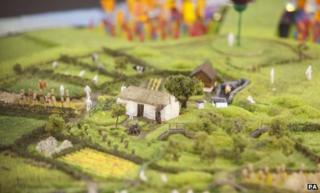 Meadows, fields, rivers, farmers tilling the soil and people playing cricket on the village green. It's the British countryside the Olympics opening ceremony will beam around the world. But is this rural idyll a realistic representation of the UK?
On 27 July the Olympic Stadium is to be transformed into country scenes as part of artistic director Danny Boyle's vision of a "Green and Pleasant" land .
He says the show was inspired by Shakespeare's play The Tempest and is about a land recovering from its industrial legacy. It will be a "reflection of part of our heritage" as well as a look to the future.
It is also meant to evoke William Blake's poem Jerusalem, which is seen as an emblem of Englishness.
But at a time when large-scale infrastructure projects such as HS2 and Heathrow's third runway are high on the political landscape, along with nuclear power stations and wind farms, and a rising population, is this rural idyll really recognisable?
For the Times' leader , the image of British life that instantly springs to mind is a somewhat different one.
"No! Not queues at Heathrow passport control and opportunistic entrepreneurs hawking 50p umbrellas for a fiver outside rainy Underground stations.
"It will be a portrait that brushes aside the workaday dust of daily life to reveal a country as recognisable to Caliban [from The Tempest] as his isle 'full of noises, sounds and sweet airs, that give delight and hurt not' as it is to John Major as his 'country of long shadows on cricket grounds, warm beer, invincible green suburbs, dog lovers and pools-fillers'," it says.
But it goes on to say Boyle has "rightly, interpreted his task as a celebration of what gives this country tang, a celebration that he aims to be idyllic, but not naive" - noting clouds, that can produce real rain, will hang over the stadium to bring the UK's signature summer weather to the proceedings.
The Daily Mail's Paul Harris is not so generous. He thinks people "could be forgiven for thinking it looked more like the land time forgot".
"Or for wondering, perhaps, if someone had unwittingly recreated Tinky Winky's Teletubbyland instead of Blake's Jerusalem," he goes on.
The Teletubby theme continues in the Daily Express, which thinks " the opening extravaganza is all a bit Laa-laa ". "All it seems to need are Tinky Winky, Dipsy and Laa-Laa from the TV series," it says.
The Independent's Grace Dent is even less impressed. "Ducks force-fed shortbread, teens drunk on cider, petrol vigilantes... that's the real countryside, Danny Boyle," she says.
Dent also has a cautionary word about the nation's glee levels potentially dropping to "mild elation".
"You know that bit when the lights go out at the O2 and Kanye West emerges on a 50ft pink neon sugarcube? We want that. You know when Coldplay give out 40,000 LED Xylobands that pulsate right through Hurts Like Heaven when you're two drinks in? That, give us THAT," she says.
So is this vision of a green and pleasant land really the best way to show off the UK?
Rupert Uloth, the deputy editor of Country Life magazine, says it is "wonderful" that the UK is being celebrated through its countryside as it is "one of the most precious and valuable assets we have as a country".
"Lots of visitors come here to see it. For people who live in cities in Britain, it might be a bit of a dream or ideal, but people love getting out to the countryside, which is why we have national parks and a wonderful network of walkways and bridle paths.
"It is great that Danny Boyle is using it as a totem because everyone is aware of it," he says.
For Uloth, using the British countryside as a national emblem is "clever" because it is so unique.
"Because of its hedges, green grass, dairy cows and native trees, it couldn't be any other country in the world. And although cricket is played in other places, the context of a village green is very English," he says.
Uloth agrees projects such as HS2 and Heathrow's potential third runway are topical issues, but he says the fact they are so controversial only accentuates how special the countryside is, and "how worried people are about losing it".
Ellis Cashmore, professor of culture, media and sport at Staffordshire University, thinks Boyle is "a bit of a romantic" and takes an aspirational stance.
"I suppose we have to understand that this is not meant to be a graphic representation, but a satisfying vision of a perfect Britain - the place we'd all like to inhabit, not the actual place where we live out our daily lives," he says.
But he also makes the point that a more urban, or troubled, theme, might not be very picturesque.
"In fairness to Boyle, he wouldn't be expected to design a landscape where there are feral youths rioting in inner cities, or football fans spitting out racist abuse.
"His concession to youth is the moshpits. Are these still current? I thought they were very nineties," he says.
But what of Blake's "dark Satanic mills"?
"Well, it isn't quite William Blake, but it embodies many of the Chariots of Fire ideals," says Cashmore.