Lance Armstrong case: Can doping be permitted in sport?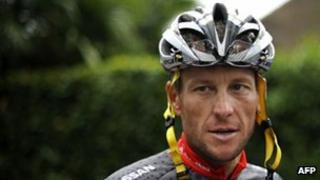 Seven-time Tour de France-winning cyclist Lance Armstrong and three doctors have been charged in a doping scandal. If doping is as widespread in sport as it seems, is it time to look for a way to permit it?
Armstrong has denied the charge that he used banned substances and medical techniques to increase the amount of oxygen-bearing red blood cells in his body. But he has already been barred from competing in triathlons, and could be stripped of his cycling awards.
Whatever the outcome, Armstrong's case, as well as other athletes' testimony, previous criminal cases and media accounts show that doping and performance enhancing drugs pervade the highest levels of sport across the world.
The current "war on drugs"-style anti-doping climate has done virtually nothing to curb use of illicit substances, critics say.
"This is not a prescription for drug-free sport," says John Hoberman, a historian at the University of Texas who has written extensively about doping in sport.
"The activity itself has become pharma-dependent. And the idea that the best-intentioned people at the World Anti-doping Agency are going to make this go away is a dream."
Anti-doping rules and testing may not have driven drugs from sport. But they do encourage false-positive results, stigmatise the "bad apple" athletes who are caught, and tilt the playing field toward the best-financed athletes and teams that can afford the best doctors, critics say.
The anti-doping climate creates a lucrative market for skilled doping doctors who can help high-level athletes avoid detection.
"There will always be a market for the smart doctor, and the harder on drugs you become the more the smart doctor will gain," says Verner Moller, professor of sport and body culture at Aarhus University in Denmark.
"His market value will improve with the improvement of the anti-doping system. The harder it is to beat the doping system, the more interest there will be in the ability to circumvent this."
Doping testing encourages athletes and their medical teams to experiment with drugs that are untried or unauthorised for use on humans, and to buy drugs where their manufacture is not subject to regulatory oversight, critics say.
"We are living in a world that is constantly developing new and efficient doping," says Moller.
Some critics of the anti-doping culture say it's morally arbitrary to allow training at high altitude, permit ultra-high tech uniforms, specially engineered diet, and medical treatments such as anti-inflammatory drugs, while banning some pharmaceuticals on a list.
"They're virtually all unnatural means to enhance performance," says Norman Fost, professor of paediatrics, medical history and bioethics at the University of Wisconsin.
"The notion that something is perverse or immoral to enhance performance is bizarre. I could list for you 50 things athletes do to enhance their natural ability."
Moller of Aarhus University in Denmark recommends ending the current drug testing regime and replacing it with a system in which sport bodies set an upper threshold for blood levels of hormone or of red blood cells.
Under his proposal, any athlete whose, say, testosterone ratios are suspiciously out of whack, or who has an unacceptably high concentration of red blood cells, would be temporarily suspended from competition for the sake of his health. But the athlete would not be tarred as a doper or otherwise penalised.
"You would have a level playing field," Moller says. "Everybody would know what they can do, and it will be less important who has the best doping doctor. You would also see that we would get rid of those false positives, the bad publicity, the doping hysteria."
Or, performance enhancing drugs that are currently banned could instead be regulated by medical authorities like the US Food and Drug Administration, with their use vigilantly monitored by medical personnel and sport authorities, proposes Fost.
"We should have it done on the table instead of under the table," he says. "Stop the criminalisation."
The United Nations and 190 countries agree that anti-doping measures are crucial to protecting athletes and fairness in sporting, and the World Anti-Doping Agency (WADA) vigorously opposes measures to weaken them.
"You're putting people health at risk," says Gary Wadler, former chairman of the World Anti-Doping Agency's prohibited list committee. "You're telling people cheating is OK."
However, the only way to end doping in sport for good is to reduce the incentive to cheat, says Hoberman of the University of Texas, "to literally reform high performance sport into a less compulsive and competitive activity."
"The current model has been corrupted," he says.
With reporting by E D Cauchi