Euro 2012 England loss: Five ways to cope with a disappointing defeat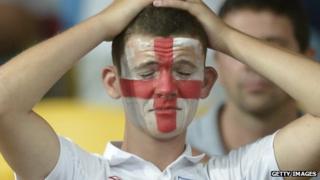 England have yet again slumped out of a tournament at the quarter-final stage on penalties. But what's the best way to deal with such disappointments?
England football fans have had plenty of practice at learning how to cope with defeat after losing penalty shootouts in 1990, 1996, 1998, 2004, and 2006.
But for any fans who pour their heart and soul into the idea of winning - and for the players themselves - there are some ways to cope afterwards.
It's only a game
Many fans, wallowing in defeat, can become annoyed when a non-fan trundles up and chirrups, "Cheer up, it's only a game, mate".
And yet gaining a sense of perspective after a loss is something sport professionals have to do.
"[Former world snooker champion] Dennis Taylor said after a loss he thought of people with terrible ill health and it put things into focus," notes Matthew Syed, sports writer and former Commonwealth table tennis champion. "But when he begins to practise again for eight hours a day he has to flip that perspective, of course."
When Syed suffered a defeat he went through a similar process of rationalising things.
"I would go out at night and look at the stars and in the scheme of things it all seemed hilarious. It seemed ridiculous I was getting upset about a lost game of ping-pong on a small rock circling the Sun."
Read some philosophy
And if you struggle to provide your own perspective, why not go to an external source? The Oxford English Dictionary gives one of the meanings of "philosophical" as "characterised by uncomplaining acceptance of adverse circumstances; wise, calm, stoical".
"At university when I had lost I would go off and read a bit of Plato or Hume," says Syed. "Hume in particular is a rather wonderful read."
The Stoic philosopher Epictetus might have encouraged England fans to change their attitudes. He wrote: "Freedom is secured not by the fulfilling of men's desires, but by the removal of desire."
Fans of other football nations are often keen to point out that much of the hand-wringing that normally surrounds a defeat is underpinned by the incorrect assumption that England should be winning things.
"People fall back on the law of averages," says Daily Telegraph sports writer Jim White. "But Portugal have been in European finals and semi-finals and haven't won it."
Treat it like a little tragedy
While to non-fans getting upset over a football match seems bizarre, little unhappy events can have a cumulative effect, suggests self-help expert Gael Lindenfield.
It's not a genuine tragedy, but the process of recovery can be treated in the same ways, says Lindenfield, the author of The Emotional Healing Strategy: A Recovery Guide for Any Setback, Disappointment or Loss.
"What you need to do is go through a process. A lot of people don't. They get straight into positive thinking and say let's get on and forget about this.
"It's the same process as if you had lost somebody you have loved."
Lindenfield advocates a four-stage process.
"Find a safe outlet. It can be swearing or talking about it or slamming something down on the table. The next stage is comfort - getting a hug from someone or someone making you a cup of tea."
Then the disappointed person can move on to getting things in perspective before finally seeking out compensation - something that will make them feel better. A new hobby or interest might be helpful.
The real tournament begins
Even among the most ardent of armchair fans there can sometimes be a confession that the hype around England, the sheer strength of feeling, can slightly mar the appreciation of the tournament itself.
"A tournament is much more enjoyable once the raw emotions of partisanship are taken away," suggests White.
Now England fans can praise the attacking play of Germany and the calmness on the ball of Spain in an entirely dispassionate manner.
Moreover, they can watch the semi-finals without gnawing fingernails or hoping that the worst team wins so England have an easier ride in the final.
Blame the system, change the system
England are used to penalty shootout exits from major tournaments, often accompanied by a sense of injustice that the "better team" had lost.
But their defeat by Italy has widely been viewed as entirely justified in the light of the poverty of England's play.
"Normally there is a sense of injustice but Roy Hodgson has been so grown-up about it. We can't say 'we wuz robbed'," says White.
Instead, England fans can get annoyed by a coaching structure and culture of football that has apparently left the national team without players who competently pass the ball.
"The usual recourse is that we can complain about our system," says White. "There are something like 10 times as many age-specific coaches in Spain and Germany."
The same process goes on over Wimbledon and would follow a disappointing Olympics.
It's already been noted that other nations have responded positively to embarrassing eliminations. When Germany were knocked out of the group stage of Euro 2000 - even losing to England - in dismal fashion, it helped fuel the search for a new generation of talented players.
The likes of Mats Hummels, Mesut Ozil, Thomas Mueller, Andre Schurrle, Marco Reus, Toni Kroos and Mario Gotze - all under the age of 24 - are the fruits of the process.
Of course, Germany did make the World Cup final in 2002 as well as the semis in 2006 and 2010. And the final of the Euros in 2008.
England would relish a rebuilding process that seemed so painless.