Algeria's revolution: A child bomber with 'no regrets'
By Chloe Arnold
BBC News, Algeria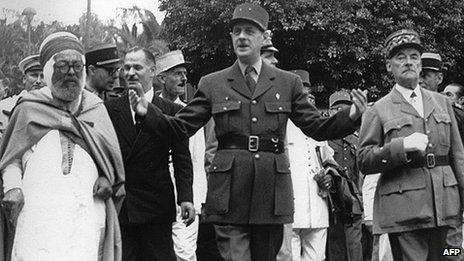 In July 1962, Algeria won its independence from France after eight years of violent struggle. Fifty years on, one revolutionary re-tells her story and says that, despite an explosion in which she lost both legs, she has never regretted a single moment.
Yasmine Belkacem was just 14 years old when she joined the independence movement. The year was 1959 and the battle was well under way.
Four years earlier, members of the fledgling National Liberation Front (FLN) had killed 123 civilians in the town of Philippeville.
Known as "les pieds noirs" - black feet - they were settlers of French origin who had worked the land since France's occupation of Algeria, more than a century earlier.
In retaliation, the French army and pieds-noirs gangs killed as many as 12,000 Algerians.
But Yasmine was just a schoolgirl with a beautiful face and long black curls, living in the Belcourt district of the capital.
It was a neighbour who persuaded her to join the cause and for months she carried messages between members of the FLN, along with money and food to the freedom fighters in prison.
Her father had died three years earlier and her mother and elder sister knew nothing of her risky activities.
"Then one day I was taken into the mountains to meet some of the leaders of the movement," she says. "They were making bombs to be placed in French cafes and police stations in the capital."
Yasmine had a fierce desire to play a bigger part in the conflict and to help oust the occupiers who, she says, had forced her countrymen into poverty and humiliation.
"I still remember the sign that hung over the entrance to one of the beaches near Algiers," she says. "It read, 'No dogs or Muslims'."
She begged the FLN to let her plant one of the homemade bombs.
Reluctant at first, they finally relented and dropped her off near a police station. With great care, she carried the bomb in a little black suitcase, towards the gendarmerie.
But something went wrong. The timer malfunctioned and, before she got the chance to deposit the suitcase, it exploded in her hands.
Two police officers were slightly injured in the blast. Yasmine, just 14, lost both her legs.
We are sitting in Yasmine's house in the centre of Algiers, sipping freshly squeezed orange juice and looking at old black and white photographs of the war years.
Outside in her garden, the bougainvillaea and hibiscus are in full bloom, and her collection of colourful canaries is chirping noisily.
The tranquillity of her life today is a world apart from the chaos that followed the explosion which injured her, when she was imprisoned for two years.
"Of course, after it had happened, I thought to myself, 'Now I will never be able to walk again, to swim or dance again'," she says, her hands smoothing her trousers which cover the prosthetic legs she had fitted in the US, two years after the bomb went off.
"But I knew that I had done the right thing."
It goes without saying that the families of those killed in attacks like Yasmine's might not agree.
Yasmine was the youngest in prison but by no means the only girl.
She was transferred to a jail in Paris. "There were more than 20 of us women in prison," she recalls. "The oldest was only 21. They were terribly kind, they used to carry me everywhere because I didn't have my new legs at that point."
In 1961, months before a ceasefire was signed, Yasmine was released and an American doctor arranged for her to be treated in New York.
"He spent $60,000 (£40,000) of his own money paying for my treatment," she says. "I was so grateful."
On 5 July 1962, after the signing of the Evian Accord which ended the hostilities, Algeria won its hard-fought independence.
Yasmine was not there to witness the celebration.
"But the following year, sitting in my chair beside the president as he raised the Algerian flag, I just cried and cried," she remembers. "I was so happy."
Fifty years on Algeria has, in some ways, disappointed the aspirations of the people who fought for its independence from France. They dreamed of building a just, democratic and peaceful state.
The 1990s saw a bitter struggle between government security forces and Islamist insurgents bent on changing the direction of the country. Hundreds of thousands of people were killed.
Today, the authorities maintain a tight grip on power and, despite the oil and gas the country exports, millions of people are unemployed and live in squalid housing.
Though she could have done, she says, Yasmine never married.
"I hated the idea that one day my husband would wake up and think, 'I married a cripple,'" she tells me.
But despite everything that has happened since Algerian independence, for Yasmine it was worth the struggle.
"It was what God wanted me to do," she says, brushing a little dust from another old photograph. "I have no regrets."
How to listen to From Our Own Correspondent:
BBC Radio 4: A 30-minute programme on Saturdays, 11:30 BST.
Second 30-minute programme on Thursdays, 11:00 BST (some weeks only).
Hear daily 10-minute editions Monday to Friday, repeated through the day, also available to listen online.