Texas death row prisoner clings to hope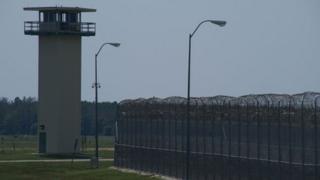 The BBC's Paul Adams visits a death row facility in Texas. There, inmates live a dreary, solitary existence, whiling away the days until they're set to die.
The Allan B Polunsky Unit just outside Livingston, Texas, is an intimidating place.
As a maximum security facility housing all the state's death row prisoners, that is hardly surprising.
But the watch-towers and razor wire are only part of it. It is the buildings themselves: bleak, other-worldly boxes, apparently windowless, that are really scary.
Look more closely and you see that there are, in fact, windows but they are narrow, horizontal slits more like something from a medieval castle than anything to be gazed out of.
Again, hardly surprising.
The reception, when I arrive to interview an inmate on death row, is friendly, polite and extremely thorough.
No mobile phones, computers or weapons, of course, but also no money - including cash, credit cards and chequebooks.
Prisoner's excitement
Nothing that could remotely be of use to a prisoner, if you were somehow able to make contact. Which, of course, you cannot.
After being accompanied through several electronically controlled doors to the visitation centre and handing over the microphone that would be used to record his leg of our conversation, I looked around, wondering where Ivan Abner Cantu was.
"He's right there," said Jason Clark, spokesman for the Texas Department of Criminal Justice, pointing to a figure in white, sitting sideways against the side of a narrow visitation booth, his face only visible in profile.
It was only when I took my own seat, a couple of feet away across the thick glass, that Cantu turned to face me, a warm smile breaking out below a pair of dark brown eyes.
For the next hour it was hard to look away. The sides of the booth seemed to press in close, leaving nothing in my field of vision but a man convicted of murder.
Such was the intensity and proximity of Cantu's gaze that even the normal business of glancing down to check recording levels was suddenly a challenge.
I spoke to him by phone but thanks to the wireless microphone he was wearing his answers rang clearly in my headphones. It made him seem even closer.
This was a man who badly wanted to talk, who craves company more than almost anything else.
He said that this encounter with a complete stranger was the most exciting thing that had happened to him in ages.
In 2001, Cantu was convicted of murdering his cousin the previous year. He was initially indicted for killing his cousin's girlfriend too, but this never went to trial.
He has always professed his innocence, saying he was framed and citing the lack of DNA testing and what he claims is evidence of shoddy work on the part of his court-appointed defence team.
Last year, he was within a month of being executed, but was granted a stay. Now his case is being reviewed and Cantu says he looks forward to being released one day.
'Oblivion'
But until that day, he must make the most of life on death row, where he spends 22 hours in a cell, reading or listening to his radio. He has no television.
He is an articulate man, but he said something I had never heard before: the longer he stays on death row, the harder he finds it to express himself.
For all his voracious reading, the lack of regular conversation, he feels, is eroding his power to communicate.
Death row is a world without colour, he told me. The buildings are grey and brown, his clothes white. That horizontal slit of a window is so dirty it is hard to see out.
When a magazine arrives in these drab surroundings, the vibrant colours leap off the page.
And while confinement is solitary, that does not make it silent. There is a constant babble of noise: inmates arguing, typewriters (not computers) chattering, prison announcements and the occasional fight.
Suicides and self-harm are not infrequent. Cantu told me about a prisoner known as Squirrel (his real name is Andre Thomas) who was moved to a psychiatric facility after tearing out his left eyeball and eating it.
Cantu said he witnessed another inmate cut himself "to an oblivion" with a razor blade.
Cantu said he has his mood swings too, but that it was easier to keep his spirits up, knowing that his case is under review.
He spoke, too, about the support of his wife, Tammy, whom he met through correspondence seven years ago. They married in 2007 but have yet to exchange even the slightest touch.
When our hour was up, Cantu wanted to keep on talking.
As I packed my gear, he kept gesturing to me to pick up the phone for one last thought. And as I made my way out through the heavy doors, I saw him, in silhouette, waving goodbye.