Was Jimmy Carr right about the Paralympics?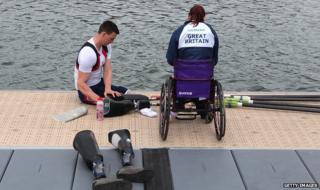 Three years ago comedian Jimmy Carr got in trouble for joking that injuries sustained by service personnel in Iraq and Afghanistan would create a great GB Paralympics team. But was he right?
It was a joke Carr told an audience of just 2,500 at the Manchester Apollo in 2009, but it created a backlash across the UK.
Col Richard Kemp, a former commander of British forces in Afghanistan, politicians, and some families of wounded soldiers condemned it as being in bad taste. Others stood up for the comedian, saying he meant no malice.
The furore prompted Carr - who had visited a military hospital in Birmingham and rehabilitation unit in Surrey - to issue an apology.
"I'm sorry if anyone was offended, but that's the kind of comedy I do. If a silly joke draws attention to the plight of these servicemen, then so much the better," he said.
The joke may have been insensitive to some, but now a significant number of serving and veteran military service personnel injured in Afghanistan and Iraq have been selected for the London 2012 Paralympics.
The numbers are notably larger than previous years, according to Penny Briscoe, performance director for the British Paralympic Association:
Beijing 2008
John Robertson - Sailing (former RAF weapons technician, paralysed from the chest down in motorbike accident in 1994)
Vancouver 2010
Sean Rose - Skiing (former RAF physical training instructor, paralysed from waist down in skiing accident in 2000)
London 2012 (already selected)
Sam Bowen - Sitting volleyball (veteran, injured whilst serving in Iraq in 2006 - paralysis of the right leg below the knee)
Netra Rana - Sitting volleyball (Royal Gurkha Rifles, injured in an explosion in Afghanistan in 2008 - left leg below-knee amputee)
Charlie Walker - Sitting volleyball (Former bomb disposal officer, contracted meningitis in 2006 - double below-knee amputee)
John Robertson - Sailing (see above)
Jon-Allan Butterworth - Cycling (ex-RAF, injured in rocket attack in Iraq in 2007 - left arm amputee)
Nick Beighton - Rowing (captain with the Royal Engineers, lost both legs in explosion in Afghanistan in 2009)
Hotly tipped for London 2012
Derek Derenalagi - Discus (Army, lost both legs in roadside bomb in Afghanistan in 2007)
Once the final teams are announced, Briscoe estimates that serving or former military service personnel will make up about 2% of the total team.
By Rio in 2016, the percentage could have risen to 5%, she says.
There has been a big rise in Armed Forces amputees, particularly from Afghanistan, with modern medicine meaning survival rates from the battlefield are far higher than previous wars.
Figures from the Defence Analytical Services and Advice (Dasa) centre show that 262 surviving UK service personnel sustained a partial or complete limb amputation resulting from injuries whilst on duty in Iraq or Afghanistan between 7 October 2001 and 31 March 2012.
The British Limbless Ex-Servicemen's Association puts the total post-9/11 amputee figure at 232. Desa includes finger amputations - while the charity does not, it says.
According to Desa figures, Afghanistan has taken the biggest toll - particularly in recent years - with 71 personnel affected in 09/10, 75 in 10/11 and 46 in 11/12.
All of the 2012 Paralympians were either injured, sick or wounded in 2009 or before. With 120 amputees from the past two years alone, all likely to be still be going through rehabilitation, there could be another bigger generation of Paralympians by 2020.
But it is not just amputees that have had an impact. There have also been a number of initiatives to encourage service personnel into sport.
Battle Back - an MoD led initiative, funded by Help for Heroes and The Royal British Legion - is run from the Defence Medical Rehabilitation Centre at Headley Court and enables wounded, injured and sick service personnel to engage in sport as part of their recovery.
The MoD says overcoming challenges is proven to enhance recovery and Battle Back is all about promoting confidence, independence and a positive mental attitude.
Major Martin Colclough, who runs the programme, says it has helped over 1,500 service personnel get back into sport since it was started in 2008.
"Sport can accelerate a more active and independent lifestyle, it makes people mentally and physically fit, and it is a device to make rehabilitation more interesting," he says.
Colclough says the aim of the programme is participation, and the Paralympic success have been an "interesting byproduct".
"Soldiers tend to have many qualities that are transferable to sport - like being athletic, having determination, self-discipline, planning skills, and knowing how to follow instructions and turn up on time.
"They have those innate traits and attributes, but they might not have the technical skill - many take up sports new to them. Some start to excel or get hooked, and make a positive choice to commit to a sport," he says.
Colclough says of the 88 service personnel that came to one of the programme's Paralympic Talent ID days, over 50 were identified as potentially talented, with 33 still actively engaged in a Paralympic sport.
The Paralympics is getting "back to its roots", notes Colclough. The games were inspired by a rehabilitation programme for British war veterans with spinal injuries in 1948.
"These are ordinary guys, who have gone through an extraordinary experience - who in many ways want to be ordinary again, but the Paralympics will be a second extraordinary experience," Colclough says.
One person who says sport has given his life new focus is former RAF technician Jon-Allan Butterworth, who lost his left arm after he was hit by rocket shrapnel in Iraq in 2007. He is now a Paralympic cyclist.
Butterworth says he went along to a Paralympic GB taster day a couple of months after he was injured, but didn't really think about doing anything for over a year.
"A Help for Heroes Bike Ride in 2008 was my first experience since my injury. I hadn't ridden a bike much - since I'd learnt how to do without stabilisers as a kid really - but enjoyed it. I also watched the Olympics in Beijing and thought it looked exciting, so I picked up the phone," he says.
The 26-year-old, who played sports like rugby and squash before his injury, says the cycling training has always been difficult, but was particularly hard in the first year, as he had put on a fair bit of weight.
After 12 months, "things started to click".
"I found I was quite good at it, and enjoyed going fast. I've got a lot of focus now. I was at a loose end, so cycling became pretty important to me, it filled a hole. The Games gives me another chance to be in front of my country, like in the way I used to," he says.
For Butterworth, training for the Paralympics also reminds him of being in the Armed Forces.
"There is similar banter, there are lots of training camps. I am often packing a suitcase and living out of a bag - it's what I know," he says.
The Paralympian says he doesn't want to inspire people, but "if one person who thinks 'what can I do, I can't do anything in life?' after an injury takes inspiration from what [he] achieved in four years, it will be a positive thing".
And what of Carr's joke?
Butterworth says he wasn't upset by it at all, although he can understand how some people were offended.
"He was only saying what some people might have been thinking - even within some of the military, I think there was some thinking it was a sure bet loads more troops would be going to the sporting Games," he says.
Certainly initiatives like Front Line to Start Line, which hopes to help injured and sick servicemen and women make the progression towards the Paralympics, suggests there is a drive to enable high-performing individuals to reach the top of their sport.
But Colclough says even though servicemen and women were generally not offended by Carr's joke, "because it was the kind of banter they'd engage in themselves", as far as he is concerned, the comedian was not correct.
"The inaccuracy in the joke implied we'd have lots and lots of soldiers in the Paralympics. When it comes down to it, these are a few extraordinary servicemen and women," he says.
The numbers may not be huge yet, and will still only be one-in-20 in 2016, but that might change in 2020 if some of the large number of amputees from the past two years do well.
But overall Paralympic success is not the most important thing. The real story is about veterans overcoming horrific injuries to excel.