Sindy dolls: Your memories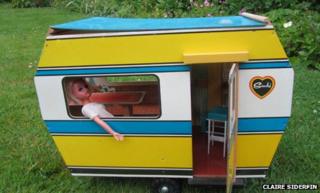 The company which created Sindy, Pedigree Toys, is looking for a firm to take her on to see if her values can work once again with the nation's girls.
The Sindy fashion doll was created 50 years ago as a British alternative to the rather more glamorous and sexy American Barbie.
She was the UK's most popular doll with about 80% of the fashion doll market at her peak in 1985 but she disappeared from the British high street altogether in 2009.
BBC News website readers who had their own Sindy doll share their memories of why at one time she was so popular.
Claire Siderfin, London
Having just spent part of my weekend going through my old toys in my parents' loft, I was transformed back to the 70s and 80s with all of mine, or mostly my two older sisters', hand-me-down Sindys.
We were always Sindy fans and not Barbie. I think we knew even at an early age that Sindys were classier and more refined than Barbie.
We used to collect the little heart tokens on the clothing packs, which we used with birthday money to buy new Sindy dolls. My eldest sister used to give them quite alternative hairstyles.
My grandmother used to make them tiny clothes - the quilted dressing gowns and flowery long skirts are particularly memorable.
Our first knitting attempts as young girls were used as Sindy scarves and blankets and we often used to swap Sindy clothes with our friends.
Last year, I gave birth to my third child, a girl, and I have to say one of my first very warm feelings in the hours and days after the birth was that I finally have a girl who can play with my Sindy dolls. Long Live Sindy - she knows a thing or two about class!
Paula Knight, Bristol
I'm 43 years old, so Barbie wasn't yet popular in the UK at the time I was playing with dolls.
I had a dark-haired Ballet Sindy and a blonde-haired Weekender Sindy.
My best friend also had a Sindy. She had a Sindy horse and couch, which I coveted.
Sindy miraculously became pregnant (we stuffed toilet paper up her dress) and had to face the stigma of single parenthood!
She was a blank canvas upon which we could play out what society expected of us as young girls growing up in the 70s.
I have written and drawn about this episode in my memoir-in-progress.
Kerry Tavener, Yeovil
I had the Sindy dolls, the house and cars when I was a child in the 1980s and it was my favourite toy.
I still have some bits even now and have bought some of the original style furniture from eBay.
My daughter is particularly into Barbie but the range is quite limiting with regards to accessories especially my daughter likes to make up houses with furniture.
There is definitely a market to appeal to kids of my daughter's age of six to seven where they can use their pocket money to buy accessories for their dolls at a relatively inexpensive range.
I will be interested to see what happens and whether they manage to get a partner to fund a new range.
Sarah Lameche, Blackburn
I remember the worst Christmas of my life as a child. I was so ill I couldn't get out of bed. Even Christmas Eve held no joy for me.
Christmas Day arrived and I had no enthusiasm at all, everything was ruined.
That was until my mum and dad persuaded me to come downstairs and to my absolute joy (there's no other way to describe it) my dad was assembling a Sindy House.
Forget a house, it was actually a multi-storey mansion with a lift! My Christmas was saved!
To this day my Sindy House has to be the best present ever! Sindy rocked! Barbie looked like Sindy's granny.
More memories
I was a Sindy girl growing up and honestly feel this could have contributed to the views I have as a 31-year-old woman. I always felt there was something very obviously fake about Barbie - the shape, the clothes, the face, the accessories. Sindy felt like more of a "real woman" to me. Rebecca John, Swansea, Wales
I had a Sindy doll in the late 60s, early 70s. It wasn't what I wanted, I wanted a Barbie doll like my friend. To me Sindy lacked something - perhaps as a child the brown hair seemed dull compared to Barbie's blonde hair. Debbie Baldwin, London
I loved Sindy's shoes more than Barbie's shoes and was always annoyed that Barbie couldn't fit into Sindy's shoes. I had far more Barbie dolls in the end as I grew older but that was due to the sheer amount of choices you had in styles and characters. Hetty Adam, La Linea, Spain
I loved my Sindy, she was my best friend. My first Sindy, the one in the plain red dress, was my favourite. She could be anything I wanted to be: she had her own business, she was Maria in The Sound of Music, she was a championship horse rider, an Olympic gymnast and a working mum. Donna, Spennymoor, County Durham
I was always a Sindy fan. I got mine for Diwali when I was eight or nine. It is easy to make Sindy popular again; model her on Kate Middleton, Duchess of Cambridge. Meera, London