The rise of Pakistan's televangelists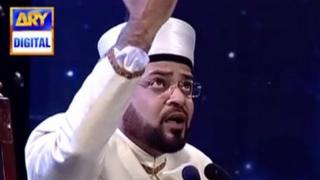 Islamic groups in Pakistan were initially hostile to cable TV because of concerns about "obscene" foreign imports, but religion now dominates the airwaves. A new breed of Islamic TV evangelist has emerged, leading to a confrontation with liberals.
On any day of the week, television in Pakistan is a potent cocktail of soap operas, fiery political debate and, increasingly, pop-Islam.
This last strand of programming has a set format. Viewers call up to ask questions about Islamic rulings on everything from hair removal to ethical mortgages. The anchors - part celebrity, part religious leaders - dish out bite-size fatwas (theological rulings) for audiences with a seemingly insatiable appetite for religion on TV.
Controversy has surrounded many of these programmes and the pious presenters that front them.
Farhat Hashmi has been accused of embezzling funds from her television show and fleeing to Canada to avoid prosecution, although she denies any wrongdoing. And Mehar Bukhari, known for her political interviews, sparked outrage by declaring the politician she was speaking to was a heretic.
Another mullah clashed with a Bollywood actress on live television after condemning her behaviour - that clip subsequently became a viral hit.
But the best-known of all the TV evangelists is Dr Amir Liaqat. From a glossy television studio above a parade of run-down shops in Karachi, he had an audience of millions for Alim aur Alam, a live one-hour show that went out five days a week across Pakistan.
The programme allowed Dr Liaqat to play the role of a religious "Agony Uncle", remedying the religious dilemmas of his audience.
In September 2008, Liaqat dedicated an entire episode to exploring the beliefs of the Ahmedis, a Muslim sect which has been declared as "un-Islamic" by much of the orthodoxy. In it, two scholars said that anyone who associated with false prophets was "worthy of murder".
Dr Khalid Yusaf, an Ahmedi Muslim, watched the programme with his family, and says he was shocked that a mainstream channel would broadcast this kind of material.
"They talked about murder as a religious duty. A duty for 'good' Muslims."
Within 24 hours of the broadcast, a prominent member of the Ahmedi community was shot dead in the small town of Mirpur Kass. Twenty-four hours later Khalid Yusaf's father, another Ahmedi community leader, was killed by two masked gunmen.
Liaqat has distanced himself from the shootings. "I have no regrets because it has nothing to do with me," he says. "I'm hurt by what happened and I'm sorry for the families but it has nothing to do with me or anything that was said on my programme."
Although Liaqat attracted some criticism within the comment pages of Pakistan's broadsheets, the Ahmedi incident hasn't damaged his career. He's being paid to endorse a brand of cooking oil and he's soon to launch his debut album of religious songs.
He continues to present his television show and has this month returned to his old channel Geo, one of the most popular networks in Pakistan.
The surge in independently-owned television channels is the legacy of General Musharraf's presidency. The opening up of Pakistan's TV networks was welcomed as a democratisation of the press, but critics now claim the industry is in dire need of regulation and that celebrity-Mullahs are peddling a message of intolerance.
In principle at least, the Pakistani television industry must adhere to a strict code of practice. PEMRA, the Pakistan Electronic Media Regulatory Authority, is a government organisation entrusted with policing the nation's TV channels. One of their stated aims is to stop the broadcast of programmes that promote "communal and sectarian attitudes and disharmony".
Critics have branded the organisation as "toothless" after they failed to take any action against Liaqat. PEMRA's general manager said he didn't want to speak about the regulation of religious broadcasters as it would be like "starting a fire".
One person who has been vocal in her criticism of television evangelists is Veena Malik. She's a native Pakistani who became a major player in Bollywood. She faced the wrath of TV Mullahs for her appearance in Big Boss, the Indian version of the Big Brother franchise.
On returning to Pakistan, Malik was involved in a live television clash with a Mullah, who declared her conduct "shameful" and "un-Islamic". Malik's unrelenting defence turned her into a hero for some and a YouTube sensation.
"I was speaking for myself when I said it is up to every woman what she chooses to wear," she says. "The struggle for women's rights in Pakistan is completely linked to religious minority rights. There are few people that can speak out like this. I can so I did."
The "Veena vs the Mullah" incident turned Malik into a symbol of struggle for Pakistani liberals. Mansoor Raza from Citizens for Democracy, a campaign group that has openly supported religious minorities, says Malik's new-found status as a darling of the left is a sign of the times.
"I know housewives who wear the hijab," he says. "They call Veena Malik a hero. She said what we all wanted to say. Our politicians are failing us and so it's left to film stars like Veena Malik to speak out."
But not everyone in Pakistan believes that there's a problem with television evangelists. The channels that broadcast religious programming claim that they are just responding to the demands of the audience, and they are providing accessible answers to complex theological problems.
Liaqat says these programmes have appeal because they educate. "I want to spread a message of love. Despite all the controversy I am still here and audiences love me because people want to learn about religion. That's why people watch these programmes. People want to learn."
Badar Alam, editor of the Karachi Herald, believes that television could be changing the way Islam is practised in Pakistan - for instance, more women wearing the niqab.
He believes that middle-class housewives who tune into the religious shows are learning cultural practices that are quite alien to Pakistan.
The flux between mainstream Pakistani Islam and a more hardline version of the faith is being fought out on Pakistani TV screens each day.
Dr Khalid Yusaf believes his father was a casualty of this battle. "I just want these people to think about what they do. For the sake of humanity, don't make programmes like this.
"My father was someone that everyone loved. We lost him because of a television programme. I hope no-one ever has to go through this."
For more on this subject, listen to Heart and Soul, from the BBC World Service.