News tweets: Kristen Stewart, Mitt Romney and the Jacksons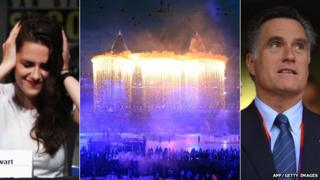 For the week ending 29 July, here is the news - condensed into 10 topical tweets, some more serious than others.
1. To everyone mad about Joe Paterno's statue being taken down - just look the other way & pretend it's not happening.
Twitter user "Bearded Stoner" (@ beardedstoner ) confronts supporters of the Penn State university football coach who is accused of covering up child molestation by a former assistant coach.
2. I am shocked to discover that Sally Ride was undermining the traditional, Biblical definition of astronaut.
Texas resident Kevin Miller (@ happywaffle ). Ride's obituary disclosed that she was a lesbian.
3. Just saw Spiderman. Every scene was so realistic and lifelike, except when the high-school student used Bing as his search engine
Journalist Bill Grueskin (@ bgrueskin ) can't suspend his disbelief during the new Spiderman movie.
4. I'm starting to think the Jackson family might have some problems.
Modern Family writer Danny Zucker (@ DannyZucker ). This week, the family of Michael Jackson engaged in a very public dispute that involved kidnapping allegations, fights caught on CCTV, and accusations levied against Twitter.
5. We all knew it couldn't last forever but still kind of sad to see Cal Ripken's Not-Having-His-Mom-Be-Kidnapped streak come to an end.
Comedian Mike Polk Jr (@ mikepolkjr ). Ripkin holds the Major League Baseball "Iron man" record for playing the most consecutive games. His mother was kidnapped - and recovered - this week.
6. Tonight! Kim Jong Un's latest scheme to get the rest of the world to throw rice at him. #DailyShow
The Daily Show team (@ TheDailyShow ) promotes their coverage of the North Korean dictator's new marriage.
7. [Doubtful] that Romney will carry Hertfordshire after this Olympics gaffe. That makes his electoral math very challenging.
Statistician Nate Silver puts Mitt Romney's London gaffes in perspective.
8. Kristen Stewart is apologizing for "everything she has done", which I'm assuming includes the Twilight series.
Director Josh Helfferich (@ JoshHelfferich ) is less upset about the actress's infidelity than her oeuvre.
9. Lots of OMG that Facebook had disappointing earning. Really? You mean vacation pictures and LOL posts aren't money?
Systems analyst Tom Petrocelli (@ tompetrocelli ) is not impressed with Facebook's revenue generating potential.
10. History of Britain according to the opening ceremonies: 1. They lived in a shire 2. Industrial revolution 3. Then everyone did a lot of drugs
Comedian Myles Morrison's (@ myles_morrison ) takeaway after Danny Boyle's extravagant kick off for the Olympics.
Some tweets have been edited for clarity