Japan and the fax: A love affair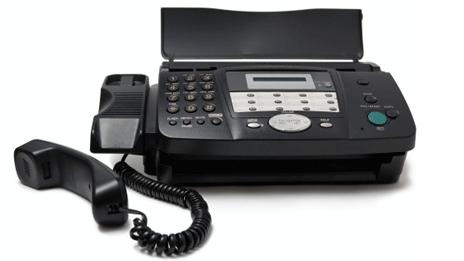 Fax machines gather dust in parts of the world, consigned to history since the rise of email. Yet in Japan, a country with a hi-tech reputation, the fax is thriving.
At Japan's talent agency HoriPro Inc, Yutaro Suzuki is busy writing up his next project proposal. Not typing, but writing by hand.
HoriPro is one of the largest and oldest agencies in the country and Suzuki publicises almost 300 singers and actors. But behind this glamorous profile, he cordially writes detailed schedules by hand.
"It takes longer but my feelings and passion come across better," says the 48-year-old public relations expert. "I find emails very cold so I prefer to fax handwritten documents."
In a country which boasts one of the fastest broadband speeds in the world, Suzuki thinks his affection for the fax may be a rare case in such a tech-savvy country. But 87.5% of Japanese businessmen surveyed by the Internet Fax Research Institute say that a fax machine is a crucial business tool.
And Suzuki's preference reflects aspects of Japanese culture which still embrace fax machines, despite their disappearance from parts of the developed world.
Firstly, the culture of handwriting is firmly rooted here. For example, the majority of resumes are still handwritten because Japanese employers are said to judge people's personalities from their writings.
For season's greetings cards, don't dare think of sending computer generated messages, says Midori's "how to write a letter" website.
"New Year's cards without handwritten messages come across as businesslike and automatic," it says.
Not surprisingly, people aspire to have good handwriting. Calligraphy remains one of the most popular lessons that parents send their children to and many adults take private lessons to improve their writings, too.
Secondly, Japan is obsessed with hard copies. People like to hold actual documents, not just to receive soft copies.
"You may miss an email but if you fax a document, it's physically there so you cannot miss it," says Setsuko Tsushima who runs a real estate agency.
"Even if I am not in the office, other staff would notice that an urgent document has come through," she adds.
For any official documents including housing contracts, they also require seals instead of signatures in Japan.
The majority of the population has a seal called jitsuin which is officially registered as theirs through a government office.
Unless original documents must be submitted in person, fax machines again come in handy because documents stamped with seals can be sent.
There is another reason Japan continues to use fax machines in the email era.
Japan is a country known to be high-tech but not everyone is. More than a fifth of the population is aged over 65.
The older generation who cannot keep up with emails still prefer to use fax machines.
That is why Supermarket Aeon has decided to take orders by fax and phone, not just on their website.
"We started taking orders online in 2008 but received quite a few requests from customers, especially in rural areas, that they prefer to order by phone or fax," says Hideo Binnaka who heads the online sales team.
"They are mainly our older customers so we also offer to check up on them if we don't receive any orders for a month to make sure that they are ok."
There are two types of Japanese consumers: those who are very high-tech and others who are still wedded to traditional forms.
The majority of Japanese households - 58.6% of them according to the government - still owns a fax machine, which also functions as a phone.
They are not necessarily clunky and old, however, because the manufacturers continue to release new models which have the latest technology including online faxing. It allows users to fax a document by using the internet.
The Internet Fax Research Institute says that more Japanese companies are keen to use e-fax (a fax sent using the internet) due to advantages such as cost reduction, business efficiency and environmental friendliness.
But for Suzuki, nothing beats handwriting.
"I draw maps, too," he says.
And there it is, on his summer party invitation, a map to the venue with every detail that partygoers need.