News tweets: Olympic edition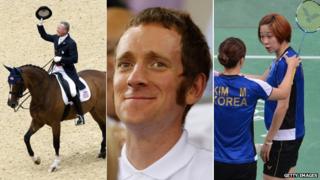 For the week ending 3 August, here is the Olympic news - condensed into 10 topical tweets, some more serious than others.
1. If this dressage business is an Olympic event, I would appreciate the Olympic committee adding "searching for a parking spot" in 2016.
Radio host Tom Scharpling (@scharpling) is just one of many with opinions about what should and shouldn't be an Olympic sport.
2. Best costume of the games goes to all those fans that I'm assuming came dressed as empty plastic seats. Totally convincing.
Australian veterinarian Dr Chris Brown (@BondiVet) has a generous explanation for for ranks of empty seats at many venues.
3. Boris Johnson stuck on a zip wire holding two GB flags is, I think, what most of us were expecting the opening ceremony to be more like.
Writer Chris Brosnaha (@chrisbrosnaha) after the London mayor found himself in a stunt gone awry.
4. Popularity of Olympic archery attributed to HUNGER GAMES influence. Difference being the Capitol televised more major events live.
Television critic James Poniwozik (@poniewozik) compares the NBC coverage of the Games - in which many events are shown on a tape delay - with those of the cruel city officials broadcasting murder-for-sport in The Hunger Games. He prefers the latter.
5. Now that I think of it, I may once have thrown a game of badminton, so as to get home in time for 'Dukes of Hazzard'.
Author Tony Martin (@MrTonyMartin). Eight athletes were disqualified for throwing matches in the women's badminton competition.
6. Will & Kate must have been very lucky in the Olympic ticket ballot. They got tickets for everything!
London resident Ben Jones (@Ben_Aspirin). While many have found it difficult to obtain tickets, Prince William and Catherine the Duchess of Cambridge have been very visible supporters of Olympic events.
7. USA beat Nigeria by 83 & is gloating about it, but the number of Americans who could point to Nigeria on a map is less than 83
Writer Will Black (@WillBlackWriter) puts the US men's basketball team drubbing of Nigeria in perspective.
8. So Michael Phelps set a record-breaking 19 Olympic medals the other day. Unfortunately, that record has been surpassed. By Michael Phelps.
Humour account Professional Heckler (@HecklerForever) after Phelps became the most decorated Olympian ever - and then won some more medals.
9. Jessica Ennis might be the face of the games but Bradley Wiggins is the sideburns.
Twitter user Meg Evans (@CaptainMeg) on the Olympic champ's impressive facial hair.
10. If you want to know why the Brits are so good at cycling, then just look at public transport prices.
Kent resident "Melissaaa" (@cheek_aay) after Team GB won a clutch of medals in cycling.
Some tweets have been edited for clarity