Olympic counties: Does it matter where medal-winners come from?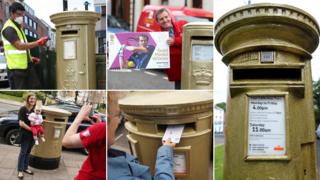 A geographical breakdown of Team GB's Olympic success reveals some areas with more prizes than others. Why is it important to people which counties fare best?
There is an accessory that every fashionable British community is sporting this summer. It is cast iron, cylindrical and daubed with bright metallic paint.
For each of the athletes who achieved a first-place finish at the Olympics, a postbox in their hometown has been re-coloured gold by Royal Mail.
Yet for all that it was intended as a patriotic celebration, the focus on localised achievement has cast a light on sub-national loyalties and rivalries.
It didn't take long, for instance, for Yorkshire-based social media users to calculate that the historic county's seven golds and total haul of a dozen medals would put it 12th on the global table were it an independent nation - a feat quickly trumpeted in adverts for tea brand Yorkshire Gold.
When a pillar box was painted gold in Harlow, Essex, birthplace of Laura Trott, the cyclist took to Twitter to protest that the marker should have been in Cheshunt, Hertfordshire, where she grew up.
And an Olympic official even demanded a tribute be sited in Norfolk to Big Star, the horse that carried Nick Skelton to showjumping victory.
Whatever one's view on whether equine and human achievement should be valued equally, the passions raised by the recognition given to different localities tells us much about the layers of regional attachment that underlie British support for Team GB.
The attachment - particularly in England - to counties, many of which were swept aside in the local government reorganisations of the 1970s, is especially notable.
For administrative purposes, Yorkshire was divided into three county councils as far back as 1888, and each of its ridings had been governed by separate lieutenancies since the Restoration.
And yet as soon as the medal table was revealed, tourism chiefs published a map to guide proud Tykes around the county via the home towns of its victorious athletes.
Of course, some counties have a much stronger identity than others. Cornwall boasts its own language and flag, while Essex folk can bond over the jokes made about them by outsiders.
But as Simon Kuper, author of Football Against the Enemy and a writer on the anthropology of sport, points out, not all counties proclaim their affiliations equally.
"If you live far from London, in a county with its own accent and traditions, you might be more likely to identify with Yorkshire, for instance," he says. "Likewise, the Geordie identity seems quite strong, whereas if you live in the south-east of England you might be more likely to identify yourself purely as English.
"But English identity and Yorkshire identity are complementary - they don't diminish each other in any way."
Certainly, other sub-national British identities are forged on a civic or a regional rather than a county basis - and are fuelled by competitiveness as much as innate pride.
The rivalry between North Wales and South Wales is a much-observed phenomenon. In Scotland, the cities of Glasgow and Edinburgh view each other with suspicion from across the central belt - just like Manchester and Liverpool along the M62.
In Olympics terms, of course, this is exacerbated by the fact that some parts of the country have more to shout about than others.
Unsurprisingly, London, the capital city with 8m inhabitants, can boast a wealth of medals.
And yet with a population of just 600, the island of Sark - which boasts a postbox repainted in honour of Carl Hester of the British dressage team - has a per capita tally to boast about.
What's more, with a population which does not always stay still, different communities can stake competing claims for an athletics hero.
Andy Murray's gold postbox is in Dunblane, where the tennis gold medallist grew up - although he was, in fact, born in Glasgow, moved to Barcelona to train at 15 and now lives near Wimbledon in south-west London.
And of course there is the complicating factor of those with origins outside the UK - such as cyclist Bradley Wiggins, who was born in Ghent, Belgium, and runner Mo Farah, who lived in Somalia until he was eight.
Of course, both men firmly identify with British communities.
Wiggins describes himself as a "kid from Kilburn", the north-west London district in which he grew up - although online debates have raged about whether he in fact belongs to neighbouring Maida Vale. Farah, for his part, reacted indignantly at a press conference when asked if he would rather represent the country of his birth: "Look mate, I'm British."
Dr Steve Garner of Aston University, who conducted a major study of social identity formation in provincial England, says that, ultimately, people's loyalties are organic - not determined by local authority boundary reviews.
"People's allegiances are generally much more local - estates, areas within estates, and at the most, a town or city," he says.
"I live in a part of Bristol that is in South Gloucestershire. I can't imagine for the life of me an identity project based on South Gloucestershire-ness, regardless of a medal haul."
Regardless of where the boundaries are drawn, the medal map will surely inspire many triumphant emails from inhabitants of well-favoured localities to their more sparsely-rewarded neighbours.
Whether it's in your county, city, postcode district or street, a gold postbox is clearly worth bragging about.
More than 100 Team GB athletes will be returning home with a medal from the London 2012 Olympics. Find out where they are from with the map and sortable table below.
Eight medal winners were born abroad and one in the Channel Islands
The map shows English county boundaries, Scottish council areas, Welsh unitary authorities and district council areas in Northern Ireland.