Fifty Shades of Grey: Are children able to buy it?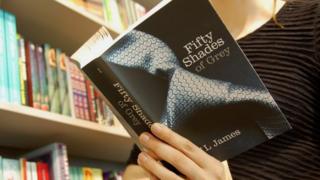 Fifty Shades of Grey's success highlights the lack of age restriction on selling erotic fiction. Why are books freely available to children when other media are highly policed?
Teenagers sneaking into 18-certificate movies featuring sex or violence - by pretending to be older than they are - has long been a rite of passage. Their efforts are attempts to avoid a long-established regulatory framework.
But for the same teenager to go into their local bookshop and buy Anais Nin's short stories, Brett Easton Ellis's American Psycho or Vladimir Nabokov's Lolita - all of which involve either explicit sex or violence - is perfectly legal.
The huge commercial success of Fifty Shades of Grey has brought erotic fiction into shops and supermarkets like never before. Last weekend eight of the top 10 on the Sunday Times bestseller list were erotic fiction.
Unlike television - with its nine o'clock watershed - and the age classification of films and video games, and even the labelling of explicit lyrics on music, there is no age restriction on buying books in the UK.
And yet there is apparently little in the way of moral panic about children getting hold of Fifty Shades, a paean to sadomasochism. Children's author GP Taylor has been something of a lone voice, arguing that EL James's novel would leave children "with a view of sex which is warped".
A trip to Daunt's, the venerable bookshop in London's Marylebone, offers a good example of the apparent double standard afforded to literature.
On a shelf behind the counter, nestling next to the latest John Banville novel, is the cellophane-wrapped Shades trilogy.
It's not on the top shelf. Nor is there any sticker warning of "adult content". So does the bookshop have a policy on selling Fifty Shades to children?
Ben Paynter, the bespectacled well-spoken bookseller on duty, says they would be "mad" not to promote Fifty Shades in this way - it's probably their top seller. But he would have qualms about children getting their hands on it.
"I haven't seen any children buying it. I've sold it to girls in their mid teens, probably about 15 or 16. With children up to the age of 13 you have more of a responsibility. And their parents might come back at you." In short, he would sell the book to teenagers but not younger children.
Waterstones has issued guidance to staff on its intranet. "In the event a child tried to buy it, our booksellers would refuse to sell it," a spokesman says. But the age at which it becomes acceptable is not spelled out and readers are unlikely to be asked for ID.
In contrast, the Foyles chain has no age policy on the sale of its books, a spokesman says. Tesco, which stocks bestsellers, refuses to comment on Fifty Shades of Grey.
Books are subject to UK laws, such as the Obscene Publications Acts and the Protection of Children Act 1978. And there are laws governing incitement to hatred on racial, religious and sexual orientation grounds.
In 1960 Penguin was prosecuted under the 1959 Obscene Publications Act for publishing the unexpurgated version of DH Lawrence's Lady Chatterley's Lover. The publisher won in what was a landmark ruling for freedom of expression.
But today it is hard to imagine a book's publication being fought over in the Old Bailey. It's not just the law. Culturally, books are seen as benign in contrast to more invasive media like film, video games and the internet.
"There's a difference to being presented with sexually explicit images and imagining what you're reading," says the children's literary critic Amanda Craig. "So in that sense it's more of an elite pursuit."
The anomaly has been highlighted by the success of Fifty Shades but goes wider. Booksellers may have an age policy on this individual bestseller but it is still possible for a curious child to walk into a bookshop and leave with a stack of violent or sex-heavy novels, with no questions asked.
Sven Hassel's war novels, Last Exit to Brooklyn, A Clockwork Orange, anything by James Herbert, Nancy Friday's The Secret Garden, Platform by Michel Houellebecq, Trainspotting, and The Story of O would raise eyebrows among many parents.
Adult books are not badged to warn children or their parents.
It is irrational, says Sam Leith, Evening Standard columnist and former literary editor of the Daily Telegraph. "There is a sort of implicit class assumption that you censor the mass media like films, that the weak-minded lower orders might have their minds twisted."
Children stumbling across "dirty books" on a dusty bookcase, because of the more middle class association, is seen as okay.
"I don't think you should censor books but there is this strange anomaly - it's common sense that films can deprave and corrupt, and that books can't."
Like a lot of "commonsense" ideas, it's totally wrong, Leith argues.
When the novel began in the 18th Century, there was a moral panic that women's imaginations would be "enflamed", says former children's laureate Michael Rosen.
But more recently a view has taken hold that words are good and pictures bad. In the 1940s and 50s the equivalent panic was over Marvel comics endangering British youth with their violent pictures. And yet literature has been given a fairly easy ride.
"I suspect it's because people think words are quite difficult. And that children who read a book are somehow incorruptible," Rosen says.
In one sense defenders of books are right, Rosen acknowledges. Children who pick up a copy of Lady Chatterley's Lover or even Fifty Shades of Grey will have to turn a lot of pages concerned with suggestion and reflection before they get to the action. "It's all in the fluttering. Perhaps these books should be labelled with 'not as racy as it sounds'."
Craig, who has teenage children, says any book seems pretty gentle these days compared with what's available elsewhere. She wouldn't leave Fifty Shades of Grey around the house. "I have read that pile of tosh. There are not many rude words. What's alarming is the conflation of sex and violence."
And yet it is nothing in impact compared to what every teenager can get on the their mobile phone, she argues.
"When you know anything about online porn, you know it's something you cannot control. It's quite astonishing what gets passed around on an iPhone. That is so much more immediate and so much more worrying."
Additional reporting by Simon Browning