Ciudad Juarez: Life as a nurse in a deadly city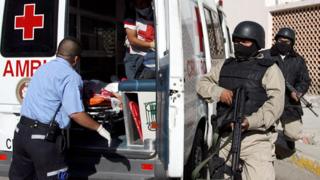 The Mexican border town of Ciudad Juarez was labelled Mexico's deadliest city, at the centre of a war on drug cartels. While murder rates have slowed, death is still a daily fact of life for nurses there, who have also found themselves to be targets.
"Every day I change my route to avoid unwanted attention. If they see us in our uniforms it make us targets of violence and kidnapping."
Auxiliary nurse Pablo Vasquez has been working the nightshift in A&E at Juarez General for six years.
Working nights means leaving the house in darkness, the most dangerous time in the city.
"A year and a half ago a fellow nurse was kidnapped so now I'm always extra careful," he says.
"When we park at the hospital we have to check all around before we leave the car."
Doctors and nurses are seen as wealthy and are a prime target for kidnappers in Juarez. Many have been held for ransom and even murdered.
Since the war on the drug cartels was launched by President Calderon in 2006, hundreds of medical staff have fled the city, leaving more than a third of the clinics and hospitals abandoned.
Thousands of troops and Federal police have attempted to crush the cartels, but violence erupted along the border and in Juarez it led to a three-way war between rival cartels and the authorities.
More than 8,000 men, women, and children have been killed in drug-related violence since the crackdown began.
Pablo admits it is not just his own safety he has to worry about - he lives in constant fear for his children. A family picnic means constantly monitoring who is around them.
And he is particularly worried about his daughters.
Over the past two decades, hundreds of women have gone missing in the city - some murdered, others never found.
"Almost everyone is touched by this situation," says Pablo. "Maybe not in your own family but your neighbours or someone you know has been affected."
A daughter of his neighbour went out to find work and never came back.
"They're women who work - students, prostitutes, factory workers, shop workers. Anybody," he says.
"They say they are investigating - but how come no one is ever arrested?"
It is estimated that 96% of all murders in Juarez go unsolved.
Head Sister Trine De La Cruz, who works with Vasquez, was so concerned about her family's safety that she moved them to the US where they have dual nationality.
They made the decision when their upmarket neighbourhood was taken over by gangs and they were caught in a gunfight.
Trine's husband, son and daughter now live with relatives just over the border on the outskirts of El Paso, one of the safest places to live in the US. In 2010 there were five murders in El Paso - and 3,075 in Juarez.
But Trine admits she feels guilty about staying behind to work.
"I have thought about leaving but this is my job. I've been a nurse for 21 years and to leave my job because of what is happening here, I don't think that's the right thing to do."
She also protects her identity at work, wearing a mask and covering her name badge when she treats patients brought in by police to their prison ward.
The hospital is patrolled 24 hours a day by heavily armed guards, after violence spilled over into the wards.
"When the violence started, some gunmen came in to take a patient away," says Pablo. "There were six of them, with pistols and rifles. I just ran away, I hid under the desk."
British emergency nurse Maria Connolly was astounded when he told her this story. She visited the hospital for a BBC documentary, spending two weeks experiencing life as a nurse.
It seemed like another world to Maria and the A&E department of the Royal Preston Hospital where she works.
"I think we'd be offered counselling if someone shouted in our face, but that? We'd shut the department you know, people wouldn't come back to work."
The first patient she helped treat was typical of many - he had no identification and had been found on the street unconscious. They were unable to save him, but with the hospital morgue full and another emergency arriving, the dead man had to be moved out of the hospital's only resuscitation bed.
In her two weeks in the hospital, she encountered patients with a range of violent injuries.
One teenage girl was shot through the neck for refusing to join a gang. Her friend was killed.
Maria spoke to one man who was kidnapped with his son and set on fire - all due to mistaken identity.
"If that happened in our department it would have been news - it would have been the first thing someone had said... this is normal I guess, it's crazy.
"I've been shocked by what I've seen. The numbers of people coming in who have been involved in violent attacks and there are so many that don't come to A&E as well - the people who are killed every night."
But after returning to the UK, it was the dedication of the nurses that stayed with her the most.
"When I was in Juarez if someone said 'would you stay or would you want to move out?' I remember thinking there's no way I'd stay. And since I've come home, I've just reflected on how dedicated they are.
"It renewed my belief in nursing and how important it is - I'd forgotten a bit of that."