News tweets: Republican National Convention edition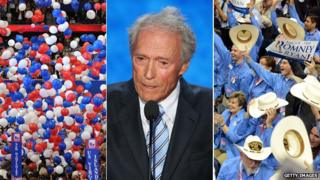 For the week ending 31 August, here is the news making waves at the Republican National Convention - condensed into 10 topical tweets, some more serious than others.
1.Fun Convention Fact: The Tampa Bay Times Forum is named after the "newspaper," a popular 20th century content-delivery vehicle.
Twitter humour account Pour Me Coffee (@pourmecoffee) offers some historical perspective to the site of the Republican National Convention (RNC).
2. If you're looking for decent public transportation in Tampa, nobody built that
Slate writer Dave Weigel (@daveweigel) finds fault with the convention host city's infrastructure.
3. I hope no one picked the word "hands" as part of a RNC drinking game
Yahoo politics writer Holly Bailey (@hollybdc). Rick Santorum spoke effusively, and often, about the hands of his working class grandfather.
4. Let's pause to honor a party with the bravery to praise love, mothers, and the United States of America. (Dems do this too.)
GQ contributing writer Ana Marie Cox (@anamariecox) finds it hard to argue with many of the themes espoused at the convention.
5. Chris Christie: "We are the United States of America." @politifact hasn't checked that yet, but I'm gonna guess "True."
Jeff Sonderman (@jeffsonderman), a digital media fellow at The Poynter Institute, finds an indisputable fact during a week of political spin.
6. The thing is, the term "Mitt Romney" doesn't poll that well. So you try to use synonyms.
New York Daily news editor (@JoshGreenman) finds a reason for the few mentions of Candidate Romney during the speeches from Republican luminaries.
7. The New Mexico governor says the words "57 magnum" and brings the crowd to their feet. (Here, that's not an ice cream)
The BBC's Mark Mardell (@BBCMarkMardell) points out some confusing Americanisms after Susan Martinez's popular speech.
8. "This is the most important election of our lifetime." -- Every speaker at every convention ever.
Bloomberg View writer Josh Barro (@jbarro) has a sense of deja vu about the convention speeches.
9. Marco Rubio: "Do you think (Obama's) watching tonight?" Perhaps, but if he is a truly representative president he may well have tuned out.
Nation writer Josh Nichols (@joshnichols) after Senator Rubio speculated whether President Obama was watching the convention. However, most Americans were not. On Wednesday night, the conventions received lower ratings than the reality show Here Comes Honey Boo Boo.
10.On the long list of reasons why I'm glad I didn't watch the RNC: I can still think that "Unforgiven" is pretty great
Blogger Josh Frulinger (@jfruh) is grateful he missed Clint Eastwood's ad-libbed speech at the close of the RNC.
Some tweets have been edited for clarity