Paralympics: 10 lesser-spotted things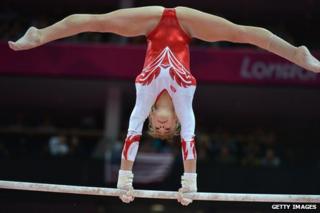 The gold medals, controversies and breathtaking finishes may have grabbed the headlines - but lots of little details have preoccupied viewers of the Paralympics.
Last week we discussed 10 things you might want to know about the Paralympics. Here are a further 10 things that may have perplexed viewers and fans.
No gymnastics
Most Paralympic events such as swimming, cycling and athletics are much the same as their Olympic counterparts, albeit split into many different classifications, and with added prosthetics, wheelchairs and human guides.
But there are some events - notably gymnastics - without Paralympic versions.
"The sports that are included have developed over time and are based on the number of athletes from a minimum number of continents," says former wheelchair racer Baroness Tanni Grey-Thompson. "Many disabled people will take part in this sport but I would imagine that there are not enough at this current moment in time."
In addition, UK Sport says the sports require regional and international championships to qualify.
According to BBC Paralympics reporter Tony Garrett, there are some events - such as gymnastics and boxing - for which it is "just not practical" to codify Paralympic versions.
But this does not apply to all sports which are absent from the 2012 Games. In 2016, Paralympics spectators in Rio will, unlike their predecessors in London, witness triathlon.
Why don't commentators introduce all the athletes?
During the Olympics, most athletes in the stadium had their names read out by the announcer before they competed.
Fast-forward to the Paralympics and, during heats, only Paralympic GB athletes are guaranteed the same honour.
Why? The sheer number of competitors taking part at any one time. As far as possible the commentators will endeavour go through the full line-up but it can be dependent on the time slot.
"If you look at the athletics, it would take forever," says Garrett.
You can come second and set a new world record
Racing in the men's 200m T44 heats, South African Arnu Fourie managed to set a new world record while finishing second. American Blake Leeper, who finished first, did not break any records.
Many spectators must have scratched their heads and wondered how this could be possible.
The fact was that, although both men were in the same race, the records apply to their respective classifications.
Single amputee Fourie's result of 22.57 seconds earned earn him a new record in his category, T44.
Although Leeper was taking part in the T44 race, as a double amputee he is in a different classification, T43. According to Garrett he would have been put with the T44s because there were not enough T43s to hold their own heat.
So although Leeper won the T44 race he did not do enough to break the T43 record.
"It's an oddity but it does occasionally happen," says Garrett.
Limbs aren't always an advantage
The row following Oscar Pistorius' second-place finish in the T44 200m final - in which the South African complained about the length of his rival's prostheses - may have given the impression that artificial limbs always confer an advantage.
Far from it. Indeed, numerous swimmers and volleyball players removed limbs before competing, and their performance was certainly not compromised as a result.
"There would be no competitive advantage if they wore prosthetic limbs in the pool - it wouldn't be practical," says Garrett. "In fact, they'd probably sink."
Why aren't deaf people in the Paralympics?
While blind and partially sighted competitors have had a high profile at the Paralympics deaf competitors have been notably absent.
The decision over which sports and impairment groups are represented in the Games ultimately rests with the International Paralympic Committee.
The British Paralympics Association says sportsmen and women who are deaf - and their representative federations - were originally part of the Paralympic movement, but decided to move away from their own associations and create their own Games, such as the Special Olympics and Deaflympics, and are therefore not members of the BPA and are not funded the same way as other national governing bodies.
However Stuart Harrison, vice-chair of UK Deaf Sport, says that is "not a very helpful point of view".
He says the International Committee of Sport for the Deaf (ICSD, also known as Deaflympics) was admitted to the IOC in 1955 as an International Federation with Olympic Standing.
It wanted to join the IPC in the 1990s to reduce costs and take advantage of the high public profile of the Paralympics, and the IOC were also keen for the partnership to take place.
But Harrison says the communication requirements - primarily sign language - of Deaflympians, the cost of sign interpreters, and the inability of the Paralympic Games to accommodate the growing number of Deaflympians, led to the ICSD deciding to withdraw.
"Fundamentally we couldn't come to an agreement," he says.
Had deaf sport not been so far advanced by the 1990s, Harrison believes it would have been a natural progression to join the Paralympics.
Baskets the same height in Olympic and Paralympic basketball
Whether in its Olympic or Paralympic format, a basketball court is the same length - 28m (91ft) by 15m (49ft). And the hoops are the same height: 3.05m (10ft) above the ground.
From their wheelchairs, then, Paralympians have further to throw - arguably making scoring a more impressive feat.
"When the sport was developing they wanted to adapt as few of the rules as possible to keep it true to the sport," Grey-Thompson says. "I think it wouldn't be the same if they lowered the baskets."
Additionally, this means the sport can be played anywhere that there is a basketball court.
Why is the ball allowed to bounce twice in wheelchair tennis?
Anyone who has watched a bit of wheelchair tennis will have noticed the most significant difference between Paralympic and Olympic tennis is the two-bounce rule, which means a player can allow the ball to bounce twice before he returns it.
The second bounce can be inside or outside the tramlines.
Garrett says the second bounce is to allow competitors to get their chair into position.
"Manoeuvring the wheelchair can be half the battle," he says.
However, most of the top players will try to use only one bounce, he adds.
Welders on the bench
Every team at every major sporting event has its support staff - trainers, coaches, medical teams, physiotherapists and so on, providing support, advice, and encouragement.
At events like wheelchair basketball and rugby, however, there is another, crucial set of auxiliaries. Their job it is to patch up and weld battered wheelchairs in between the rough and tumble of a game.
"It's like a Formula One team," says Garrett. "You can't do without them."
Sitting volleyball buttocks rule
We're used to seeing volleyball players jumping around, but sitting volleyball rules say a part of an athlete's body between the buttocks and the shoulder must be in contact with the court whenever a shot, or attempt at a shot, is made.
Grey-Thompson says the rule is essentially about levelling everything out, as if players were allowed to stand on their stumps then teams would select amputees with a minimum impairment and put others at a disadvantage.
It also prevent players pushing themselves up, according to the British Paralympic Association. But spectators should not be surprised if they see players standing to celebrate a point, as many competitors are actually able to walk about.
Toilets for guide dogs
Reporting by Jon Kelly and Vanessa Barford