Servants: A life below stairs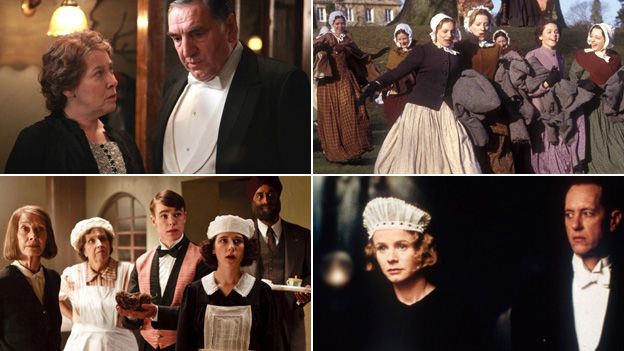 From Upstairs, Downstairs to Gosford Park and Downton Abbey, TV dramas and films have made us care about the characters below stairs. Domestic service was Britain's biggest employer a century ago, but how have things changed over the years?
"It is a form of marriage to a point as you are devoted to that family," says 78-year-old Rick Fink.
Fink has more than 55 years of experience managing estates and working as a butler. He started off in the Royal Navy in 1953, and one of the first guests he served as a young steward was Prince Phillip.
"I was petrified, but this was the Queen's husband. He just came aboard and he was tanned with blonde hair and looked fabulous and I had to ask him what he wanted to drink."
Now Fink runs the Butler-Valet School, training butlers for service in stately homes and private residencies. Some aspects of the role are timeless and governed by an unspoken etiquette and code of conduct.
"[A butler] needs to be reliable, discreet, trustworthy, and your life revolves around your employer," says Fink.
"I would never sit in the drawing room or have dinner at their dining room table. I keep myself the other side of the baize door."
There is a great deal of nostalgia surrounding the traditional notion of domestic service, with the scandals above and below stairs in ITV's Downton Abbey proving a ratings success. But life for a domestic worker has evolved.
With the help of labour-saving devices, a household can now be run by fewer people. Employers can contact staff on a mobile phone rather than have to ring a bell or track them down in the grounds of the estate.
The inventory is itemised on a computer so there is no need to count the silverware and the dishwasher takes on the burden of washing up. Although not the Waterford Crystal.
According to the Office for National Statistics from the 2012 Labour Force Survey, about 65,000 people are employed as domestic workers by households in the UK.
This includes domestic personnel "such as maids, cooks, waiters, valets, butlers, laundresses, gardeners, gatekeepers, stable-lads, chauffeurs, caretakers, governesses, babysitters, tutors, secretaries", to name just a few.
It excludes the provision of services such as cooking, gardening etc by independent service providers (companies or individuals).
The figure includes those who may work for more than one household and may live in or away from their employer. Fink is surprised at just how many job adverts he sees these days for "live-out" domestic workers.
The situation was very different in 1901 when the vast majority of the 1.5 million people employed as domestic servants in Britain would have lived with their employer to attend to their every whim, whatever the time of day.
Many aristocrats could afford a large team of live-in servants at their country estate, and there was a distinct social hierarchy in the servants' quarters.
According to Dr Lucy Delap, director of studies in history at St Catharine's College, Cambridge, servant status was reinforced at mealtimes.
"There would be a strict order of coming in to eat and strict rules about where different ranks of servants sit, and you might also have rules such as no speaking unless you were addressed by one of the senior servants," says Delap.
"The senior servants had a great deal of power, so the butler for example in some households would put down his knife and fork, and everyone else had to fit in whether you had finished or not. So servants had to learn to be fast eaters."
According to Delap, the cook and her kitchen staff were able to eat in the kitchen where the other servants always suspected they were getting better food.
Uniform was another way of maintaining rank. Servants dressed a little more individually in the 18th Century. The black dress, white apron and white cap worn by maids in the 19th Century was a Victorian creation, a way of disguising personal identities.
Servants in a country estate would have been given specific tasks that matched their station, unlike today, where Fink says he has seen some instances of multi-tasking and the expectation that a butler may also, for instance, be asked to do the cooking as well.
In the Victorian era it was not just the aristocracy who employed servants, new wealth had trickled into the cities and led to a burgeoning middle class. Employing a servant was a sign of respectability, but for the lower middle class, where money was tighter, they could only afford one servant - the maid of all work.
According to the Victorian author Mrs Beeton, in The Book of Household Management, the maid of all work was to be pitied.
"The general servant or maid of all work is perhaps the only one of her class deserving of commiseration. Her life is a solitary one and in some places her work is never done."
This relentless drudgery played a part in dwindling servant numbers and there were new opportunities in factories and shops where workers received something unheard of in domestic service - evenings and weekend offs.
"If we look at the 1891 and 1911 census we see a really interesting fact emerging. In 1891, the number of indoor domestic servants is 1.38 million, which is a pretty high number," says Dr Pamela Cox, senior lecturer in sociology at the University of Essex.
"If we jump to 1911 it has gone down to 1.27m. The population is expanding, the middle class is expanding therefore the demand for service is expanding, but the supply of servants is shrinking."
Employing young people from the Victorian workhouses was thought to be one way of resolving the servant crisis. Poor and destitute orphans were "rescued" from a life in the gutter, educated and sent to work as servants.
"They were legally employed but this was child labour," says Cox.
The numbers of servants continued to dwindle in the 20th Century, particularly for the middle classes, and World War I and II had a profound effect.
With the men sent off to fight, women dominated traditional male working roles in munitions factories, making aeroplanes and uniforms. After World War II, many women did not return to their domestic service roles.
Gradually the "modern home" of the middle classes was updated with new equipment to accommodate the shortage of servants - the introduction of flushing toilets, washing machines and microwave ovens.
The 21st Century domestic workers now tend to be self-employed entrepreneurs, running their own ironing businesses from home or their own cleaning service franchise.
The master/servant relationship has become less defined. Whatever would Mrs Beeton make of that?