News tweets: Paris Hilton, Jesus's wife and the iPhone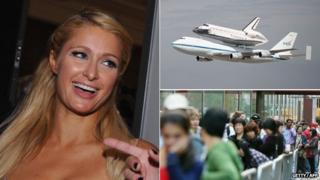 For the week ending 21 September, here is the news making waves in the US - condensed into 10 topical tweets, some more serious than others.
1. Dear hipster doing Snoopy dance in front of Apple Store. You are being mocked by people in the future.
ABC News journalist Bill Weir (@BillWeirABC) takes a gentle jab at the euphoria surrounding the release of Apple's iPhone5.
2. Whatever you did or said in the past, just know that somewhere Jimmy Carter has a grandson working on finding it out.
Twitter jokester pourmecoffee (@pourmecoffee) after it was revealed that the controversial secret video of Republican presidential nominee Mitt Romney emerged thanks to some internet-sleuthing by James Carter IV, one of President Carter's grandsons.
3. Wait, Paris Hilton is homophobic? Why do all my heroes let me down?!
Modern Family executive producer Danny Zucker (@DannyZucker) after the heiress/party girl Hilton was caught on tape making slurs against gay men. She has since apologised.
4. Apple super-swears that Maps will get better. I believe them as going the other way would be very hard.
Product manager Luca Candela (@theluckymethod). Upgrades to Apple's iPhone replaced Google Maps with Apple's in-house system, which has led to many complaints.
5. 16 Amish found guilty of beard-cutting attacks. And now, the community must pitch in to raise a prison.
Stand-up comedian Matt Goldich (@MattGoldich) predicts the next step in the saga of the bizarre Amish beard-cutting attacks in Ohio.
6. You think your mother is so special. #jesuswife
Blogger and professor Jeff Javris (@jeffjarvis) has fun with a hastag that developed after it emerged early Christians may have believed Jesus had a wife.
7. NFL just announced small error in tonight's officiating crew. Three guys are from Foot Locker.
Sports Illustrated columnist Rick Reilly (@ReillyRick) has noticed a difference now that the National Football League needs to use replacements to stand in for striking referees.
8. Space Shuttle just flew over my house!!!! And now I wanna be an astronaut again. Or at least be in a Spaceballs remake.
Actor Zach Braff (@zachbraff) is enthusiastic about the space shuttle Endeavour's final trip to become a museum piece in Los Angeles.
9. Hope the British soldier who gave birth in Camp Bastion without knowing she was pregnant isn't in the intelligence corp
Daily Mirror associate editor Kevin Maguire (@Kevin_Maguire) on the first birth by a soldier in Afghanistan. The woman gave birth to a baby boy after suffering what she thought were stomach cramps
10. Area dermatologist: I will never convince 47% of my patients to take responsibility for their hives.
Bloomberg writer Josh Barro (@jbarro) puns on the Romney footage in which he says 47% of Americans won't take responsibility for their lives.
Some tweets have been edited for clarity