Ireland's optimism at beach races and cow dung bingo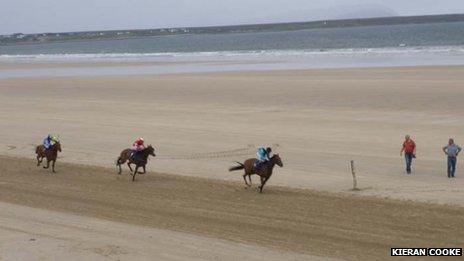 Ireland, like several other countries in the eurozone, is struggling under a heap of debt. Yet many refuse to give in to the doom and gloom - a constant round of activities feeds people's optimism and sense of fun.
It's not exactly the Derby or, come to that, much like any other horse meeting. No top hats, no fancy ladies' day outfits. Not a bottle of champagne in sight.
"Come to Gweesalla and see the races on the Strand" - that is, along the seashore - said the notice in the local paper. Excitement and fun were promised. There would be bookies, a bar, plenty of entertainment. First race at 1pm.
Only it was not. Time in the West of Ireland tends to be a highly flexible, sometimes an extremely vague, concept. The first race finally got under way well over an hour late. Which was just as well.
Getting to the remote community at Gweesalla, overlooking Blacksod Bay in County Mayo on Ireland's west coast, took some time.
Miles of bog land had to be crossed, occasional stunted trees bent sideways with the wind, mighty puffs of cloud skittering across a threatening sky.
"Strictly 10 euros each per entry" said a sign at the entrance. The ticket man leaned in the car window. "One, two, three, four - that'll be 20 euros," he said. In the west of Ireland you are never sure who is kidding who.
Ireland might be on its economic knees - up to its tonsils in debt - but people certainly have not lost the capacity for enjoying themselves.
The bookies at Gweesalla are doing a roaring trade, fistfuls of notes going in and out of big leather bags suspended beneath the betting boards.
The race crowd, perched high on sand dunes above the Strand, watches intently as the horses race along the ocean's edge. Hooves kicking up spray, legs silhouetted against the blue of the sea - truly a magical sight until, that is, the horse I've backed decides not to turn for home but carries on running into the far distance.
A stall sells locally-caught mackerel that melts on the tongue. "It clears the veins - no better food for you," says a passer-by with a bloodshot wink.
Time to move into the bar tent as racing is interrupted by a torrential downpour moving in from the Atlantic.
My son is in conversation with a man who has had a handsome win. Only the lucky tipster, leaning on the tent side, keeps disappearing from view, engulfed by canvas and then magically emerging again, drink still in hand, to happily chat away.
Outside, a rather sad-looking, half-inflated bouncy castle is threatening to break its moorings in the wind and lollop its way across the Atlantic, perhaps all the way to New York.
Almost every day, all summer long and indeed for a lot of the rest of the year, there seems to be a festival of some form or another in Ireland as people come up with ever more imaginative ideas for having a good time - and raising much needed funds in the process.
As well as the frequent musical gatherings up and down the country and the earnest meetings held in memory of various Irish writers, there are the more eccentric events: swimming and snorkeling in the bogs or the donkey derbies or the races, not for horses, but for hens.
My particular favourite is the Cow Dung Festival, also held in County Mayo. It is clearly an occasion for anyone with a taste for the bizarre.
A Cow Dung Festival Queen is selected - not perhaps an accolade you would readily put on your list of accomplishments. Then there is the highlight of the day - cow dung bingo. A field is divided into squares. When names are gathered and bets placed, Betsy - the festival cow - is ushered in.
And yes, it is the squares on which Betsy decides to drop her cowpats that are the winners. It is all highly scientific - laser-measuring devices are used. The tension can be intense.
Last year it took Betsy - obviously playing to the gallery - an hour-and-a-half of wandering before deciding where to do her business.
This year blood pressures were eased, with Betsy lifting her tail after only 15 minutes and a lucky cow dung bingo-player walking away with the 1000-euro prize.
Unfortunately I won nothing at the races on the Strand. For all I know, my horse is still out there, trotting along the seashore. But no matter, it was a special day, everyone exhilarated by the wind and the fresh ocean air.
"Safe home," says the man on the gate. "You'll be back to win next year." That is more than likely. In fact, I'll put a bet on it.
How to listen to From Our Own Correspondent:
BBC Radio 4: A 30-minute programme on Saturdays, 11:30 BST.
Second 30-minute programme on Thursdays, 11:00 BST (some weeks only).
Hear daily 10-minute editions Monday to Friday, repeated through the day, also available to listen online.