Algeria: A nation yearning for change
By Chloe Arnold
BBC News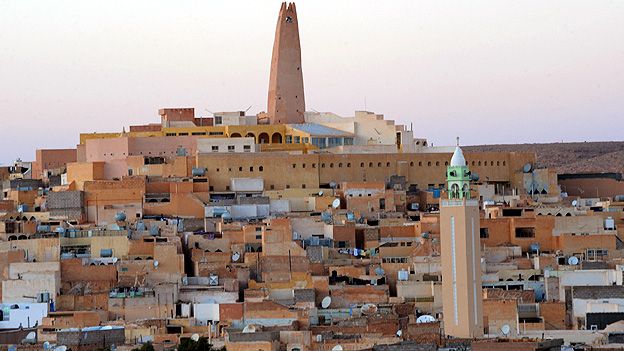 The story of Sister Colette, a French nun who lived at a convent in the Sahara desert, speaks volumes about the vast enigmatic nation of Algeria.
Some weeks ago, a Polish priest came for dinner. Father Chris is a "Pere Blanc" - a White Father - one of a tiny handful of Catholic missionaries living deep in the Sahara desert. He comes to the capital Algiers every once in a while to meet friends and to talk.
We asked him how had the last year been in the oasis town of Ghardaia, as we tucked into our Chinese takeaway - it was nice to take a break from couscous, he admitted.
Things were good, he said. People were kind. Sometimes they would come into his tiny mission to drink tea and chat. But last Christmas had been tricky, because of Sister Colette.
Sister Colette lived in Adrar, even deeper in the desert, with a clutch of other nuns. On Christmas Eve, Father Chris had travelled the 600km (370 miles) south to take mass at the monastery there. He had spent a happy week in the company of the sisters and, on New Year's Eve, he had said his farewells.
Sister Colette, a sprightly woman in her 70s, accompanied him to his bus - even insisting on carrying his bag, though she was a little under the weather. Half a day later, Father Chris reached home and received a telephone call - Sister Colette had passed away that very morning.
Immediately her fellow nuns had set about finding a coffin and making preparations to transport the body to the Catholic cemetery in Ghardaia. But Muslims are not buried in coffins and it took some time before they found a carpenter who could put one together. It took even longer to track down the right sort of nails to pin down the coffin lid.
There were further delays when the ambulance carrying the coffin - the only vehicle suitable for the job - was forced to return to Adrar, after they discovered they had been given the wrong body. Then, the next day, the carpenter said he wanted the coffin back because he needed the wood.
Father Chris said he had not known whether to laugh or to cry. They managed to negotiate the cost of keeping the coffin - and the nails - and there was more waiting, as they prepared the extensive paperwork to bury a foreign national on Algerian soil. Sister Colette was French.
She is now peacefully buried in Ghardaia, her death as colourful as her life must have been.
For me, the story encapsulates all the contradictions about Algeria today.
The staggering bureaucracy - to go for a swim in Algeria, you must provide a clean bill of health, a blood-group certificate and your passport, all translated into Arabic and signed and stamped by the mayor, and eight photographs.
But it also shows that, with a bit of ingenuity and improvisation, you can get most things done.
It is a country where, 16 years ago, at the height of a bloody civil war, seven Cistercian monks were murdered, allegedly by Islamist militants, in the town of Tiberine. But it is also the place where, two years ago, the Basilica of Notre Dame d'Afrique reopened, decades after it had slipped into disrepair.
The words above the altar read, "Pray for us, Our Lady of Africa, and for all the Muslims."
It is a country that missed out on the Arab Spring. That civil war - in some ways the precursor to the region's unrest - has left a population traumatised by violence. But it is a nation yearning for change. The leaders, now in their seventies, have been around since Algeria won independence from France 50 years ago.
It is a nation stuck in the past. Children still write on slates with chalk at school and banks use a creaky pneumatic system to move money around the building.
But it is a country pushing the boundaries. A recent parliamentary election saw the highest number of women MPs win seats of anywhere in the Arab World. So many, they had to build new bathrooms overnight - previously there had been just one cubicle for women in the whole of the parliament building.
And it is a country in search of an identity. Arabic is the official language, but a generation of Algerians who were educated under French colonial rule cannot read it or write it. Newspapers, books and television broadcasts are in classical Arabic, a language that most people struggle to speak. Instead they use an improvised version of Arabic, rich in French, Spanish and Berber - the language of the small non-Arab community living to the east of the capital.
Father Chris gets up to leave. He has to catch a bus back to Ghardaia early the next morning. It is a long journey, he says, but it gives him time to mull over the contrasts and paradoxes of this vast enigmatic nation.
How to listen to From Our Own Correspondent:
BBC Radio 4: A 30-minute programme on Saturdays, 11:30 BST.
Second 30-minute programme on Thursdays, 11:00 BST (some weeks only).
Hear daily 10-minute editions Monday to Friday, repeated through the day, also available to listen online.