Meeting a rebel commander in Aleppo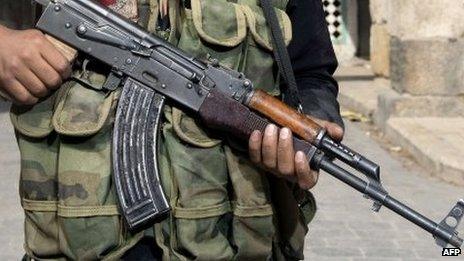 Since the conflict in Syria began 18 months ago, more and more civilians have been drawn into the fighting - and in Aleppo I met a businessman whose experience of torture in custody has turned him into a determined rebel commander.
"The question shouldn't be 'Were we tortured?' it should be 'When weren't we?'"
Dr Abdul Raouf used to be part of Aleppo's successful and wealthy business elite.
But as the Syrian revolution started to grip the country he turned his attention to politics, meeting secretly with others to call for change.
That was when he was arrested.
I met three members of his secret group on the outskirts of Aleppo this week.
Syria's second city has gone from being a bystander in a growing protest movement, to the key battleground in a vicious civil war.
What drives these men is the six months they spent in the hands of the feared Air Force Intelligence unit.
"Let's start with Al Khazouk," says Dr Raouf.
He went on to describe this particular form of torture, which involved having a stick forced into him.
The other men nodded."Every Syrian knows what Al Khazouk is," they agreed.
He then demonstrated having electrical wires attached to his chest and genitals. He talked about the beatings, having his ribs broken.
These methods appear to be so frighteningly common that the way they described them was almost casual.
In fact, between swirls of smoke from the doctor's pipe, the men joked and chuckled while telling the most horrific stories.
But at one point he lost his temper, jabbing the air with his finger, crying, "Wallahi" - "I swear to God".
He was describing being forced to watch a woman prisoner being raped in front of him and being told by the guards, "We'll do this to your wife unless you tell us what we want to know."
Dr Raouf said that before they were arrested, the group had long discussions about whether they should get some sticks to defend themselves during protests.
"But when we were released, we decided to buy every weapon we could afford," he said.
Today the civil protest movement has become a civil war in which as many as 30,000 people have been killed, according to opposition activists.
The violence has continued to escalate with September being the bloodiest month so far. Desperate times have bred desperate men.
We were sitting in front of one rebel base in the south when a fighter jet roared overhead.
We went around the back of the building to try to film the plane.
Several fighters were gathered there and they eyed us suspiciously.
"Who are you? What are you doing here?" they asked.
This was a tight-knit group that kept itself apart from the others.
Some had long beards and flowing robes, a few appeared to be foreigners and they were clearly unhappy to see foreign journalists.
We were escorted back to the front of the building where we were told we should not film the men, not even talk to them.
We discovered later that this was Jabhat al-Nusra, a radical group of armed jihadis suspected by some of having links to al-Qaeda. They claim to have carried out a number of large-scale bombings across Syria.
There are no reliable figures for how many members they have, nor how many extremists and foreign jihadis have entered Syria altogether.
Some estimate they make up as much as 10% of rebel fighters in Aleppo.
In reality there are probably just a few hundred of them but they operate in the most dangerous areas. They use the uncompromising tactics of militant groups elsewhere and their numbers are growing.
While we were in Aleppo there was a series of massive co-ordinated bomb attacks against government buildings that left dozens of people dead and many more injured. Jabhat al-Nusra said they did it.
"The Islamist groups are helping us get our rights while the West is just watching," says Dr Raouf.
He has made a pact with the militants and believes they will accept a secular, democratic government and lay down their weapons when the conflict is over.
Some may be sceptical of that.
The doctor then left to visit his men on the frontlines.
Commanders on both sides are now actively targeted for assassination and what he did not know was that someone was tracking his vehicle. Someone wanted him dead.
As he drove on to an open stretch of road, a fighter jet moved in and opened fire on his car leaving him badly wounded.
The West chose not to arm the Syrian opposition for fear of the consequences.
But in many ways the worst of what it sought to avoid has come to pass anyway - massive displacement of civilians, spiralling violence, a significant loss of life, a radicalised opposition and an influx of foreign fighters.
Moderate voices face increased competition.
And the longer it has gone on, the bloodier and more extreme the conflict has become and the greater the threat it poses to an already fragile region.
BBC Radio 4: Saturdays at 11.30am and some Thursdays at 11am.