Tweets of the week: Sandy strikes, the election looms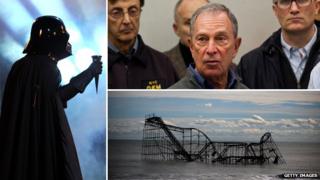 For the week ending 2 November, here is the news causing a stir in the US - condensed into 10 topical tweets, some more serious than others.
1. Um actually, "Frankenstorm" was the name of the mad scientist who created it.
Mystery Science Theater 3000 Rifftraks creator Bill Corbett (@BillCorbett) was the first to make the obvious joke about the "Frankenstorm". The storm, a combination of a hurricane and a nor'easter, hit the east coast this week.
2. For Halloween my husband asked me to dress up as a nurse, cause that's one of his fantasies: That we have health care
Comedian Wendy Liebman (@WendyLiebman) prepares for Halloween.
3. This is a big day for the verbs Batten, Hunker and Surge.
Graphic designer Ben Schott (@benschott) on the day the Frankenstorm, aka Superstorm Sandy, finally hit the east coast.
4. CAN'T BELIEVE METEOROLOGISTS USED MATH AND SCIENCE TO PREDICT THIS STORM. THEY MUST BE MAGIC WIZARDS.
Political stats guru Nate Silver (@fivethirtyeight), who's method of aggregating state polls and predicting the US election result drew criticism from pundits who said the race was too close to call. Silver says his method is sound, and similar to that used by weather professionals to track the path of Hurricane Sandy.
5.With Gmail down, who's laughing at my AOL account now? Everybody still? Oh, never mind...
Editor at the Daily Caller Jim Antle (@JimAntle) after a Gmail failure this week led to panic on Twitter.
6. Nothing like a Lear Jet traveller citing his concerns about global warming!
Matt Nesto (@MattNesto) is less than convinced by Mayor Michael Bloomberg's endorsement of Barack Obama due to climate change issues. Bloomberg, who according to Forbes is the 10th-richest person in America, does fly on a private plane but it is not confirmed to be a Lear Jet.
7. Disney owns Marvel, Star Wars and Indiana Jones. If they buy Farrah Fawcett, D&D and my parents' divorce they'll own my entire childhood.
Drudge Retort (a left-leaning parody of the Drudge Report) creator Rogers Cadenhead (@Rogers Cadenhead) after Disney bought George Lucas' Lucasfilm for $4bn.
8. How many runners do you think are just horrified by all the carbs they've eaten and no longer need?
Reuters journalist Atossa Abrahamian (@atossaaraxia) after New York City's decision on Friday night to cancel the upcoming marathon in light of the ongoing Sandy cleanup effort.
9. HURRY HURRY HURRY WITH MORE POLITICAL POSTS ON FACEBOOK AND TWITTER, I'M ABOUT READY TO DECIDE
Twitter comedian Tim Sidell (@badbanana) makes a final plea for partisan social media postings before the election on Tuesday.
10. Having the power back is like taking acid: suddenly everything's in color and fun!
The writer Sean Kennedy (@slicksean), who lives in New York City's East Village, celebrates having the lights back on.
Some tweets have been edited for clarity