Edgar Feuchtwanger: A Jewish childhood on Hitler's street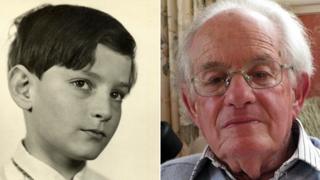 Very little changed for a young Jewish boy, Edgar Feuchtwanger, when Hitler moved into his street in an affluent Munich suburb - until the night of 9 November 1938, when the onslaught against German Jews began in earnest.
More than eight decades have gone by, but Feuchtwanger can still recall the first time he caught sight of the unmistakable figure of Adolf Hitler.
It was the early 1930s when the eight-year-old, out for a walk with his nanny, saw the Nazi leader, dressed in his emblematic belted mackintosh and Trilby hat, coming out of a large second-storey apartment.
"He looked straight at me, I don't think he smiled," Feuchtwanger recalls. A few people stopped and shouted "Heil Hitler". In response, he raised his hat, "like a democratic politician might do" before driving off in an awaiting car.
"Of course I knew who he was, even as a little boy," says Feuchtwanger in slow but clear English. "As chancellor he was dominating the whole scene."
But at that stage, he says, seeing him up close did not instil fear. "Perhaps if I had thought about it I might have been scared, but it wouldn't have done me any good," Feuchtwanger says. "I was just curious to see him there."
The 88-year-old recognises that it may seem odd to talk about the author of the Holocaust as just another neighbour.
"It all sounds so cosy when I talk about how I lived in the same road as Hitler, like it was not a big deal," he says, calmly. "But it's so difficult to think that people you saw almost on a daily basis were responsible for turning the world upside down."
Though only five years old when the future fuehrer moved into the area, Feuchtwanger remembers his mother remarking that "we haven't got much milk today, because the milkman has left so many bottles" at the Hitler residence.
Passing in front of Hitler's luxurious apartment at Prinzregentenplatz 16 became part of the youngster's daily routine as he walked to and from school. He would often stop to see if he could catch a glimpse of the man himself. On one occasion he dared to go right up to the front door to see whether the door-bell carried Hitler's name.
"Hitler would come to Munich at weekends. You could tell he was at home because of the cars parked outside," Feuchtwanger says. His arrival was heralded by the screeching of tyres of a three-car motorcade carrying him and "a posse of bodyguards".
The sound of jackboots clattering on the pavement would fill the air. Passers-by would stop to cheer him. Young Edgar would also stop and stare.
"The whole Nazi stuff was being inculcated into us at school," he explains. One of his teachers had made pupils draw a large swastika in pencil on the first page of their exercise book. On another page they had to draw up a list of Germany's enemies - chief among them, Britain, Russia and the US.
By the mid-1930s, with the scope of the Nazi project becoming increasingly clear, many German Jewish families were still finding it hard to accept they were under threat.
"We knew that Hitler coming to power was a danger for us as Jews," says Feuchtwanger, whose father's elder brother, Lion Feuchtwanger, was a renowned anti-Nazi playwright. Lion Feuchtwanger's apartment had been ransacked as early as 1933, while he was abroad - and he never returned to the country. But Edgar's parents clung to the idea that they had somehow escaped notice.
On Hitler's orders, other Jewish families had been moved out of the neighbourhood to make way for his servants and bodyguards. But no-one had come knocking on the Feuchtwangers' door.
On 10 November 1938, however, that false sense of security was crushed. Early in the morning, the 14-year-old Edgar heard officers from the feared Gestapo arrive at the family home. The previous night had seen the first wave of organised Nazi violence directed against Jews across Germany and parts of occupied Austria.
In the course of the pogrom, known as Kristallnacht, or the night of broken glass, 91 Jews were murdered, tens of thousands more were arrested and thousands of Jewish homes, businesses and synagogues were destroyed.
Feuchtwanger remembers watching, terrified and helpless, as his father was taken away. "They did not mistreat him," he says. "My mother was terribly brave." Later, the Gestapo came back with removal vans and boxes to seize the most valuable books in his father's extensive library. "They called it, in German, 'making the books secure'," Feuchtwanger says.
It was a turning point for the young boy and his family. He could no longer go to school and spent days huddled with his mother and other close relatives in the house, not daring to venture out. "We just felt so helpless - that someone could come and knock us down dead and no-one would do anything."
For six weeks the family waited for news, fearing the worst. All they knew was that Edgar's father and one of his uncles had been taken to Dachau, the infamous labour camp on the edge of Munich. Then, out of the blue, his father was released, exhausted, sick and badly frost-bitten, but alive.
He later told his son that the only way of surviving the camp's harsh regime had been "not drawing attention to yourself". The minute you couldn't keep up with the work, or collapsed from lack of food, he told his son, you were finished.
By the time he returned to them, the family was convinced they had to leave Nazi Germany. With the help of relatives already abroad they obtained visas to travel to the UK.
In February 1939, Edgar boarded a train bound for London. His father accompanied him as far as the Dutch border and then returned to Germany to finish arrangements for him and his wife to follow. In May of that year the family was reunited in England.
As a family they never returned to their old home in Munich, though Feuchtwanger did make a first visit back in the 1950s, after the end of World War II. He went to take a look at Hitler's old second-floor residence. It was still standing, he says. But today there is nothing to indicate that a man who made such an impact on world history had ever lived there.
Mike Lanchin's report airs on the BBC World Service's Witness programme on 9 November. You can download a podcast of the programme or browse the archive.