Gift cards: Why are they so popular?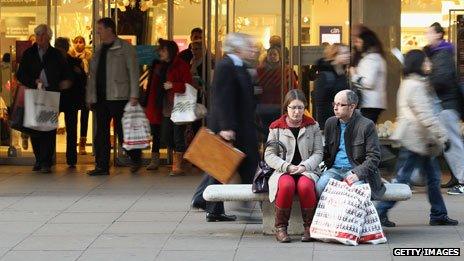 They restrict your choice, can expire without you noticing and - as customers of UK electrical retailer Comet are finding out - can be worthless once a company hits financial trouble. So why are gift cards still on so many people's Christmas shopping lists?
Eighty years ago this month, the first book tokens went on sale in the UK - in time for the Christmas rush of 1932.
The brainchild of publisher Harold Raymond - who questioned the "capacity for giving pleasure" of many festive gifts - it inspired a new form of giving.
Four years later, Boots issued the first individual store vouchers in the UK. Via Green Shield Stamps and High Street Vouchers, their popularity increased until - by the mid-1980s - a voucher in a Christmas card was a standard get-out for uncles bereft of inspiration.
So it remains in their modern incarnation - the gift card - sales of which totalled more than £4bn last year.
However, the pitfalls of their purchase were highlighted after the electrical retailer Comet entered administration.
"Gift cards are essentially IOUs, but if a company goes bust, or into administration, whoever has the gift has no rights at all," explains Paul Lewis, presenter of BBC Radio 4's Money Box.
"The only hope is that if the purchaser has bought it with a credit card or debit card, they can get it back from the bank."
Alternatively, if a buyer is found for a company, the new owner might decide to honour gift cards - as happened with the Game software chain.
Even so, in the current retail environment, Lewis views buying gift cards as "quite a risk". He adds that many people are caught out by cards expiring after a year or two.
"It will be from the date it was purchased - not from the time the gift was given - and it often won't give a date on the card."
But the market continues to grow.
The UK Gift Card and Voucher Association estimates people will fork out a total of £4.4bn on the products this year, up from £2.7bn in 2003. Businesses account for about half of this - many using them as rewards, such as for staff performance or long service.
The association's director general Andrew Johnson says the value of gift card sales has grown by about 10% annually over five years, thanks largely to the card format reinvigorating the market.
"Whereas vouchers had to be locked in a safe, cards can be displayed in-store because they've no value until they're charged up at the till," he says.
Designs also target specific markets - from youngsters wanting the latest toys to newlyweds kitting out a marital home - while supermarkets have increased convenience by stocking other stores' cards.
The popularity of gift cards in the US was underlined by a recent National Retail Federation survey which found 60% of 8,899 respondents hoped to receive them this Christmas. Research firm TowerGroup predicts the market will be worth $200bn by 2021.
Consumer psychologist Cathrine Jansson-Boyd says their appeal is simple.
"A gift represents both you as a person and also what you think the person you're giving to is like. People don't want to be seen as giving the wrong thing; as misinterpreting someone's personality.
"People won't give cash because it can be seen as an insult; like you can't be bothered. Even if a card isn't a great effort, it still seems like you've made an effort of some kind."
For example, if someone's a tech enthusiast but you don't know what the latest gadgets are then a voucher for an electrical store is a safe bet, she says.
Jansson-Boyd says it's a question of history and culture.
"The night before Greek weddings, people throw money onto the marital bed. But in the UK, we aren't comfortable giving money. When it's too obvious how much a present is worth, it's seen as vulgar."
People often don't specify how much a card is loaded with, she points out.
Retailers love the cards because they pull people into stores, where they often spend more than the value of the card, according to Richard Perks, director of retail research at market analysts Mintel.
In essence, they amount to an interest-free loan from consumers to businesses, he says. If the average time between purchase and redemption is two months, he estimates, retailers effectively save about £65m a year in loan interest.
Technological developments may soon make electronic vouchers on mobile phones common, says Perks. But, despite their popularity, he says gift cards remain a small segment of the £300bn retail sales market - a "nice to have" for retailers in the UK.
For Dimitrios Tsivrikos, a lecturer in retail psychology at London Metropolitan University, the gift card habit is a sign of our digital times.
"Shopping behaviour is changing with the way we communicate," he says.
"Because we minimise the meaningful time we spend with each other, we don't know people as well as we used to or develop an understanding of their preferences."
Instead of simply asking what somebody might like - with the associated awkwardness of not wanting to ask for something too expensive - people are researching their gifts by seeing what people "like" on social networking websites - and buying a card for the relevant store, says Tsivrikos.
This method of research has its own shortcomings, however - as someone's online persona reflects how they would like to be seen - rather than their true character, he says.
Retail consultant Clare Rayner says many consumers feel a gift card will definitely be spent on a treat, whereas cash might be used to pay for the mundane.
"The giver wants to know their investment in a gift went on something desirable, but they've attempted to leave the choice of item up to the receiver."
But she adds: "Personally I favour cash - it's the one universally accepted gift card."
Related Internet Links
The BBC is not responsible for the content of external sites.