The race to save Italy's Renaissance treasures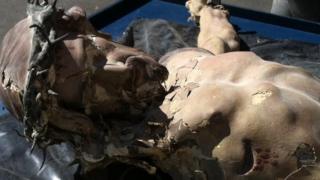 When the first earthquakes for half a millennium hit the northern Italian region of Emilia Romagna in May, they cut a swathe through some of the country's most beautiful Renaissance architecture. Six months on, the fight to retrieve and restore those treasures before winter sets in has become a race against time.
Architect Andrea Sardo gasps and stops in mid-sentence, at a loss for words. "Excuse me," he says. "I'm meant to be used to this sort of thing, but I'm always…"
He is standing on a pile of rubble, looking into the skeleton of the Church of San Francesco in Mirandola, one of the towns worst hit by May's twin earthquakes.
San Francesco - once the personal basilica of the local ruling Pico family - is arguably the most historic of all the churches in Mirandola. But little remains.
A makeshift scaffold prevented the facade from collapsing. Beyond that, there are a handful of columns and a couple of Pico family tombs embedded in one of the few walls left standing.
A similar scene awaits at the cathedral, or Duomo. "I'm really shocked when I see this kind of thing," Mr Sardo says.
"Can you see from the hole in the window there that there is no more roof or vault inside and big cracks all along this facade?"
Mr Sardo, who works for the Italian Ministry of Culture, is one of the experts tasked with assessing the damage to historical buildings in the region.
He is a veteran of the earthquakes at Assisi and Aquila, but this, he says, is the worst he's seen. The vast area over which the shockwaves rolled included some of the finest Renaissance townscapes in the world.
San Francesco and the Duomo are two of some 2,200 churches and other historic buildings that were damaged or destroyed by May's twin earthquakes.
The bell towers - like that of Mirandola's Duomo, ravaged by gaping cracks - are in some ways the most poignant architectural victims of all. Much of Emilia Romagna, nestling in the vast plains of the Po Valley, is pancake flat.
In such a landscape, bell towers are landlocked lighthouses. Italians have a word that reflects their importance. To this day "campanilismo" - from the Italian for bell tower, "campanile" - signifies the call of home, loyalty to one's home town above all else.
Ever since May, the race has been on to retrieve thousands of delicate artworks from damaged buildings before the rains and frosts of winter destroy them forever.
Teams of experts and specially-trained fire fighters have been scouring the area, cataloguing in minute detail every building that needs attention, every statue, painting or crucifix that needs protection or restoration.
Antonio Cuttitta of the fire brigade describes it as a triage operation - assessing priorities, then focusing on protecting and saving what's most at risk.
"We've been given a huge list of items to collect from churches, castles and other buildings. It's a case of deciding what's most vulnerable, most in need of protection," he says.
Months later, they are still recovering their treasures from Mirandola's damaged civic museum - everything from a complete medieval tomb to tiny fragments of a shattered wooden baby, probably an angel or a cherub.
The rescued, battered artworks are taken to the Baroque but solid splendour of the Palazzo Ducale at Sassuolo, south of Modena, to be cleaned and patched up by some of the country's top conservation experts - Italy leads the world in this kind of work.
The estimated bill for fixing Emilia's architectural and artistic heritage could be up to $3bn. To put that in perspective, the European Union has just offered 670m euros ($856m) to help rebuild Italy's latest earthquake zone. The Italian government has pledged almost 8m euros ($10.3m) to restore the region's damaged cultural heritage.
Grazia de Cesare of Rome's Institute for Conservation and Restoration is the first to acknowledge that at a time when many Italians face a struggle just to make ends meet, the fate of damaged artworks doesn't count for much. "No-one is very interested in this," she says. "It's not a priority."
The cost worries architect Andrea Sardo, too. We are looking up at the damaged bell tower of Mirandola's Duomo - which looks as though a gust of wind could blow it over.
"I don't know where the money's going to come from," he says. "The government's promised to help - but we'll need private sponsorship too, from the banks perhaps. But these days, even the banks are strapped for cash."
Fireman Antonio Cuttitta puts it more succinctly: "It was not the best time to have an earthquake."