The football dads kicking off on the sidelines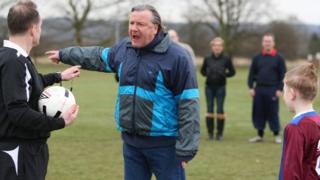 Anyone who regularly watches their children play competitive football will have seen the phenomenon of the Aggressive Football Dad. There's a fine line between parental enthusiasm and the dark side, writes comedian Ian Stone.
Most Sunday mornings, while you're lazing around in your pyjamas eating croissants and drinking tea, I'm dragging myself out of bed and driving to some windswept playing field to watch football.
Why? Well, because I've played football since I was a kid and by a process of osmosis, my 10-year-old son has picked up the same love for the beautiful game.
It's not just me, of course. There are something in the region of 200,000 volunteers - mostly fathers and mothers - involved in children's football. And this is relatively new, emerging over the past couple of decades.
You shouldn't feel sorry for us. It may not look like it but we love being there. My dad came to all of my games and now I see why.
Having said all that, I try to keep a lid on the maelstrom of emotions that I go through watching my offspring play football. I do this because it's the right thing to do but also because my father, on occasion, struggled with the concept of self-control.
He once ran on the pitch at an amateur game in front of 500 people and offered the referee his glasses. That was 38 years ago and I'm still not sure I'm over it.
There's a bit of me that sympathises with my father's behaviour. Only by watching your child play football can one truly understand how involved you get.
Shouting encouragement from the sidelines is good - "Come on boys!" and that sort of thing. But when behaviour goes beyond that, there's a problem.
There's inappropriate shouting like "get in hard" or "break his legs", which is bad enough when shouted at adults, but when it's directed at eight-year-olds it rather stops me in my tracks.
Some parents go in for excessive tactical instruction, call it coaching if you like, from the touchline. It's confusing for the kids, who don't know whether to listen to their coach or their parent.
Bad language is not uncommon - I see parents swearing at children, not always their own, or shouting abuse at the referee. And there are occasions when things go too far and become physically violent.
On the sidelines, I've heard horror stories like the dad who offered to fight any of the parents of the opposing under-10s on the touchline when the decision went against his son.
Or the mother who marched onto the pitch, swore at all the opposition, and then dragged her boy off. On Mother's Day.
One friend told me how his kid was basically assaulted by a very aggressive opponent. When my friend ran on to the pitch to see if he was OK, the dad of the offending child swore and told him to get back.
The child then assaulted three or four other kids, with his dad shouting at any parent who tried to intervene.
But mostly we're proud parents who do it just for the joy of seeing our children outside, exercising, and in a team. The miniscule possibility that our child might just be the one who makes it all the way to the top of the game - and enables us to retire and live in elegant splendour - can send some parents over the edge.
Because of that small minority, some coaches - my son's included - adopted the FA's Respect campaign, a grass-roots initiative to encourage parents to behave in a respectful manner towards officials, the children and each other.
You may remember an advert featuring Ray Winstone watching his child play football and rapidly losing his mind. This wasn't uncommon behaviour.
Now, in the new world of Respect, we stand behind plastic barriers and bite our tongues. In children's football, at any rate, it's said to have made a difference.
It's clear there's something deeper going on. Take league tables. Every fan loves a league table. But for kids under 11, it's felt the constant analysis of their team's status engenders a pressurised environment that's detrimental to their development.
If you don't believe league tables feature large in the world of little children's football, have a look around the FA's Full Time website. The number of hits on the page for the Under-7 North section of the North Wiltshire Youth and Minor League? It's at 8.5 million.
Now for under-11s downwards, league tables are being phased out over the next few years. This represents a huge cultural change.
The FA has changed goal, team and pitch sizes to reflect the age of the participants. Anyone who's seen an eight-year old standing in a full sized goal knows why.
As an internal FA email I've seen notes: "People are starting to get to grips with the fact a 10-year-old isn't half a 20-year-old."
At the very least, it's hoped these changes help kids retain the joy in playing that attracted them to the game in the first place, and that teenagers continue to play football through their lives.
In the meantime, it's on with the thermals, jumper, gloves, scarf, hat and heavy coat. I'm off to watch some football. Enjoy your lie-in.