David and Victoria Beckham: Was America won over?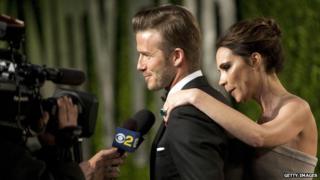 David Beckham's move to Los Angeles was supposed to transform the status of American soccer. He and his wife Victoria arrived as the UK's biggest celebrities. Now he has played his last US game, did Americans really fall for the allure of Brand Beckham?
As he sat on the tarmac at Los Angeles International Airport one evening in July 2007, David Beckham knew what was expected of him.
His new employers, the LA Galaxy, had committed a huge sum - reportedly $32.5m (£20m) over the next five years - for the benefits of his footballing services.
But it wasn't just his playing skills that made him such a valuable commodity.
The then-32-year-old and his erstwhile pop-star wife Victoria were among the world's most recognisable faces. Back home in the UK, they were by far the country's biggest celebrities.
The expectation was clear - as the Beckham glitter entranced the US, Major League Soccer (MLS) would be elevated from minority sport status to become a national game on a par with American football, baseball and basketball.
Beckham had said as much himself at a press conference during his unveiling as a Galaxy player-to-be six months previously. "Soccer is huge all around the world apart from America, so that's where I want to make a difference with the kids," he told reporters.
Back in the UK, the Daily Mirror proclaimed that he was on a "one-man mission" to be a "success in a country where even Pele had failed". The Brazilian legend had proved unable to win the US over to the Association code despite his signing by the New York Cosmos in 1975.
So expectations were high. And, as the couple emerged from the plane at Los Angeles airport nine days before David's first game, the Beckhams were swamped by photographers and news crews in a scene more in keeping with red-carpet showbusiness than the arrival of a sportsman.
Nancy Armour of Associated Press began her report of the occasion: "It's safe to say no athlete, no matter how famous, has ever gotten a welcome quite like David Beckham."
And so it continued for Beckham's first Galaxy game - a friendly against Chelsea, which the home side lost 1-0 - watched by such luminaries as Tom Cruise, Katie Holmes, Jennifer Love Hewitt, Eva Longoria and California governor Arnold Schwarzenegger.
Unfortunately for all concerned, what followed did not quite live up to the billing. Due to injury, Beckham played only five league games for Galaxy in his first season.
"It was a bit of a mess for the first couple of years," says Kyle McCarthy, who writes about MLS for FOX Soccer, the Boston Herald and Goal.com. "Galaxy couldn't really get itself sorted out on the field.
"Plus, it was always going to be difficult because David Beckham made so much more money than anyone else."
In his first two seasons with the club, the LA Galaxy failed to make the end-of-season play-offs.
Beckham was booed by Galaxy fans after he missed the start of the MLS season to extend a loan spell with AC Milan in 2009. Team-mate Landon Donovan, from whom Beckham had taken the captain's armband, publicly questioned the Englishman's commitment.
Off the pitch, by contrast, the Beckhams' celebrity status was in the ascendant.
Though David may have played in a league most Americans did not follow, and Victoria's chart peak with the Spice Girls was a decade old, the US paparazzi regularly followed them from their $18.2m (£11.3m) Beverley Hills mansion and their faces became ubiquitous in gossip magazines.
Tim Teeman, US correspondent of The Times, says their status was elevated by two principal factors, neither of them football-related. One was the couple's high-profile friendships with Hollywood aristocracy like Tom Cruise and his then-wife Katie Holmes.
The other was a series of adverts, prominently displayed in American cities, of David modelling underpants.
While the pair may never quite have entered the US A-list, Teeman believes their brand was perfectly pitched for American consumption.
"I don't think they've changed the image of Britain abroad in the way that someone like Kate Middleton has," he says. "I don't think many people would say Britain is the Beckhams.
"But they've carved out their own niche. They appear a happy family and they are pretty. These are things Americans like."
While David's performance with Galaxy may have been less than all-conquering, his wife was re-inventing herself as a fashion designer.
When she moved to the US, Victoria was "regarded not just with suspicion but with ridicule", according to the couple's biographer, Ellis Cashmore. Her Spice Girls days were behind her and David was seen as the driving force.
But through sheer industriousness and canny recruitment of underlings, Cashmore adds, she began to be taken seriously as a player in the fashion world.
By 2011, sales of Victoria's clothing were worth around $12m (£7.5m). She has become a regular fixture at top fashion weeks around the world. In the Middle East and Asia she is now much better known as a style mogul than as a pop star.
"The single biggest beneficiary of the move by some way has been Victoria," says Cashmore.
"She's now a legitimate, credible designer. She's emerged from it quite triumphant."
And, for David, things began to fall into place on the pitch, too.
The arrival of coach Bruce Arena settled the Galaxy squad. Beckham's final game saw the team win its second consecutive MLS Cup.
The MLS has become a healthier league since his arrival. Average attendances across the division have risen from 15,500 per match in 2006 to 18,800 in the current season. The number of clubs has expanded from 13 to 19.
Big-name players from the English Premier League such as Thierry Henry and Robbie Keane followed Beckham to US clubs.
Television viewing figures for MLS games remain modest, however.
And, Kyle McCarthy argues, the league had been on an upward trajectory even before Beckham. His arrival, the writer argues, was verification of soccer's rising status, not a catalyst in itself.
"Signing David Beckham was a huge landmark for MLS - to be able to bring in Beckham to a league that was already developing," McCarthy adds. "It was a confirmation of growth."
In retrospect, it appears it was too much to hope that the glamour surrounding the Beckhams could single-handedly transform Americans into a nation of soccer fanatics.
As the couple plot their next move, however, their brand has been burnished by the Galaxy episode - and in times as celebrity-obsessed as these, perhaps that will be seen as the more significant achievement.