South Tyrol's identity crisis: Italian, German, Austrian...?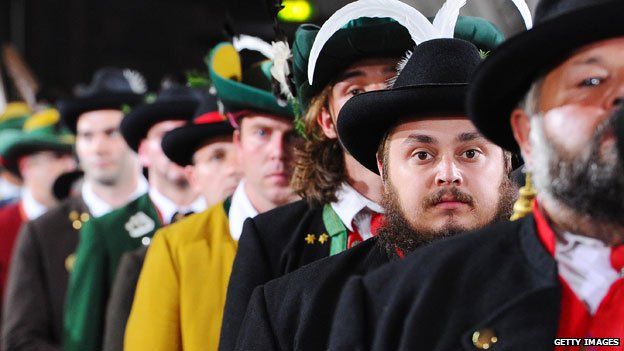 Nestled in the mountains of the Alps, it's Italy's richest province, and has been part of the country for almost 100 years - but some in South Tyrol just don't feel fully Italian.
A few years ago I had to ring up the War Graves Association in South Tyrol.
An Alpine glacier near the Austrian-Italian border was melting and had revealed the bodies of three soldiers, killed in the bloody mountain battles of the World War I.
The phone was answered by a man who spoke German with a strong Tyrolean accent.
"Were these soldiers from the Austrian army or the Italian army?" I asked.
"They were part of the Austrian army," he said.
"And where were they found?" I asked.
"In the Ortler Alps," he replied. "It used to be Austria, but now it is Italy - unfortunately."
South Tyrol, once part of the Austro-Hungarian Empire, was annexed to Italy in 1919, at the end of the World War I. The Italians wanted to have control of the Alps, south of the Brenner Pass.
Many people here are native German speakers. And a few of them, like the man from the War Graves Association, are still not reconciled to the fact that the province has been part of Italy for almost a century.
In the 1920s and 30s, the fascist dictator Benito Mussolini encouraged Italians from the south to settle in the region.
German was widely banned, in schools, in courts and in public offices, and place names were "Italianised".
It all contributed to what one local author described to me as the "longstanding hostility" between the two language groups.
Tension increased sharply in 1939, when Hitler and Mussolini agreed to give the German speakers a choice - stay in South Tyrol and become forcibly integrated into Italian language and culture, or emigrate to the German Reich and give up their ancestral homeland.
The outbreak of World War II meant that the agreement was only partially implemented - but it left a painful legacy.
"It was hugely divisive," one woman from the provincial capital Bolzano told me. "If you stayed, you were called a traitor, and if you left, you were seen as a Nazi. Even now, you can see splits in families, in my own family, over who decided to stay or to go."
Today, however, South Tyrol is thriving. It is the wealthiest province in Italy - and being bilingual is a fact of life.
"My boyfriend's first language is Italian - and mine is German," Barbara, a young public relations consultant, told me as we sat drinking cappuccino in a medieval courtyard in Bolzano.
"It gives us a huge advantage in business," she said. "We have intimate knowledge of both the northern and the southern European markets."
Relations between the German and Italian speakers eventually started to improve in the 1970s, when South Tyrol was granted autonomy. Under the agreement, 90% of taxes paid here stay here.
But these days, Italy's looming financial crisis is inflaming old resentments.
Rome wants South Tyrol to contribute millions to help bolster Italy's national budget - a demand which politicians here say goes against their autonomy agreement.
And this has given new life to the small separatist movement, headed by the Federation of Historic South Tyrolean Riflemen, known as the Suedtiroler Schuetzenbund.
The Schuetzen, who organise marches in Tyrolean national dress and feathered hats, have long campaigned for reunification with North Tyrol in Austria.
"The worse the economy gets, the better it is for us," the leader of the Schuetzen, Elmar Thaler, told me excitedly. "People are starting to realise they have not got anything to do with Italy."
But Franz, another Bolzano resident, was sceptical.
"The Schuetzen are a minority," he told me. "Most people do not want to leave Italy. But it is true that our history is still very raw - just look at our architecture."
As I wandered through Bolzano, I began to see what he meant. The old city feels very Tyrolean, with its narrow Gothic arcaded streets, and picturesque squares dominated by statues of Germanic heroes - like the medieval minstrel, Walther von der Vogelweide.
But cross over the river and you come to a very different part of town, filled with monumental buildings, erected by the Italian fascists.
"It is somehow ironic," Franz had told me. "One of Bolzano's most controversial buildings is its tax office."
Severe and geometric, it was built during World War II, as the Fascist party headquarters.
A huge stone frieze on its facade chronicles the regime's achievements. And in the centre, on horseback, is a large chiselled image of Benito Mussolini.
In South Tyrol, old European fault lines are still under strain.
BBC Radio 4: Saturdays at 11:30 and some Thursdays at 11:00.
Related Internet Links
The BBC is not responsible for the content of external sites.