Tweets of the week: Pregnant Kate and driving dogs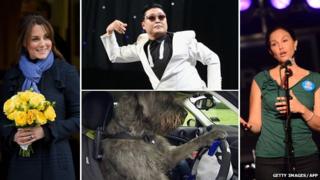 For the week ending 7 December, a look at the big news in America, presented in 140 characters or fewer.
1. This child seals a fragile peace between the House of Windsor and the House of Middleton after centuries of intrigue and bloodshed.
National Review Online news editor Daniel Foster (@DanFosterNRO) laments that they don't make royal babies like they used to.
2. "Oh yeah? Well maybe I'LL play Marilyn Monroe in a movie!" -- Mitch McConnell, upon hearing news that Ashley Judd might run against him.
Daily Show writer Chris Regan (@ChrisRRegan). The actress Judd is considering pursuing McConnell's Senate seat in 2014.
3. Congratulations to Belize for being the first people to successfully uninstall McAfee.
Comedian Stephen Grant (@stephencgrant). The millionaire software developer John McAfee fled Belize after being accused of murder there.
4. For what it's worth, I will consider taking the DeMint seat, if asked nicely.
National review writer Jonah Goldberg (@JonahNRO). Speculation ran wild this week after Republican Senator Jim DeMint said he would resign his Senate seat to take over the Heritage Foundation, a conservative think tank.
5. There are people in New Zealand trying to teach dogs how to drive cars. It's official. We've run out of things to do.
Texas Twitter user @BurroughsBrogan in response to a story about a doggie driving school that made international headlines.
6. Not judging Psy for rapping about killing Americans until I get a look at the accompanying "Kill All Americans" novelty dance.
Staff writer for someecards.com Bob Powers (@bobpowers1). The Korean super pop star - famous for his hit Gangnam Style - apparently recorded an anti-American rap in 2004.
7. New poll finds Hillary Clinton is already the next president.
Wall Street Journal politics reporter Neil King (@NKingofDC) after a preliminary poll showed that Clinton was the overwhelming choice for presidential candidate in 2016.
8. If pot becomes legal tomorrow, are the Seattle doughnut vendors ready for the wake and bake onslaught?
Seattle Twitter user @twistedmonk after Washington state made marijuana (and gay marriage) legal this week.
9. If using my iPad can bring down a plane during takeoff and landing maybe we should design better planes.
Social media manager of CNET Nathan Bransford (@NathanBransford). This week the Federal Communications Commission encouraged the Federal Aviation Authority to allow electronic devices to be used during all portions of a flight.
10. That John Travolta and Olivia Newton-John reunion video was emphatically NOT the one that we wanted.
London Twitter user Chris P (@scoobschris) is one of many disappointed by the music video for "I Think You Might Like It", the Christmas single by the reunited Grease duo.
Some tweets have been edited for clarity and style.