Royal baby: What are the odds of twins?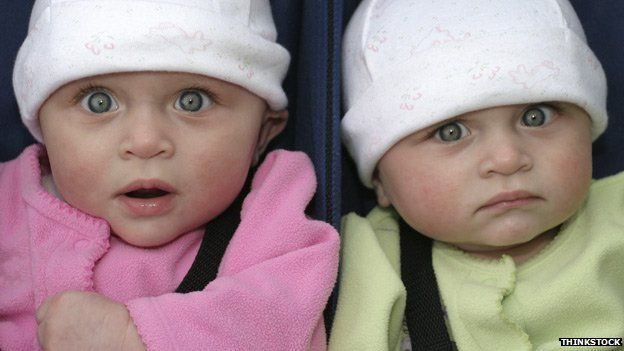 Since the Duchess of Cambridge was admitted to hospital with acute morning sickness - hyperemesis gravidarum - there has been a great deal of speculation about the possibility of her having twins. But what are the chances?
There has been a flurry of bets on the possibility of not one royal baby, but two at once.
The bookies have all already slashed their odds. Ladbrokes had odds of 50-1 last week and they are now 10-1.
"We have had to slash the odds on the bet because of the sheer volume of money coming in," says spokeswoman Jessica Bridge.
The betting has been intense because there is an association between the duchess's medical condition and the chance of having a multiple birth.
Evolutionary biologist Dr Yan Wong has analysed the data available. If you look at births in the UK, about 1.5% are twins.
Another factor is IVF treatment, which increases the numbers of twins, but there is no suggestion that the duchess has had this.
When you subtract the number of IVF births, the chance of twins falls to 1.34%.
But just how much does hyperemesis gravidarum increase the chance of the royal couple having twins?
"The number of people who suffer from morning sickness acute enough to require hospital admission is also fortunately very low. It's also about 1%," says Wong.
With numbers as small as these, it can be difficult to spot whether there is a correlation.
But in Norway, Denmark and Sweden, they are good at collecting data about births, as well as women who suffer acute morning sickness. There is a Norwegian data set of almost a million births between 1967 and 2005.
There is also extensive data from Denmark and Sweden. It is these figures that Wong has looked at.
There is somewhere between a 50% and 100% increase in the probability of having twins suggested by the acute morning sickness, he says.
"That actually means that the chance of having twins goes from 1.34% if you don't have acute morning sickness, to 2.5% if you do have the condition. It's still pretty low," he concludes.
But the figures do suggest an outcome that is far more probable - that is the suggestion that the duchess will give birth to a girl. Birth statistics in the UK show slightly more boys are born than girls.
According to the Scandinavian data, the standard chance of giving birth to a girl is 49%. But mothers with severe morning sickness have a 55% probability of giving birth to a daughter.
"Despite its poorly understood causes, morning sickness does have a loose association with heightened levels of a hormone called chorionic gonadotrophin. This hormone is also increased when the child is female," says Wong.
On the point of twins, a look at the family tree might help.
Royal historian Robert Lacey has looked at the prevalence of twins in both William and Catherine's families.
"William's uncle Charles Spencer has identical twin daughters and his grandfather Lord Fermoy was an identical twin," he says. "On Kate's side, her paternal grandmother had a twin sister and Kate's father Michael had twin Middleton great-aunts.
"I can't think of any senior members of the royal family or heirs to the throne who have had twins."
And it is only a predisposition towards having non-identical twins that is passed down through families.
"There is some indication that non-identical twins run in families. The studies have concentrated on cases where there are very close relatives who have non-identical twins, a woman's mother or a woman's sister having non-identical twins," says Wong.
Lacey doesn't know if the duchess's distant relatives are non-identical or not. And St James' Palace won't comment.
"But having identical twins, there does not seem to be a genetic predisposition. It's just a fluke," says Wong. So the identical twins in William's family won't have any impact on whether he and his wife will have twins themselves.
There is plenty of misleading information on the internet about a single gene that produces twins, says Wong.
"There isn't one gene that increases the probability of having non-identical twins. People have done studies, genome-wide association studies, and it seems like there is a number of different factors on all sorts of different chromosomes that are inherited equally through the male and female lines. But it's very difficult to pin down."
So the statistical chance of William and Catherine having twins is slightly raised because she has suffered from acute morning sickness, but only very slightly. You might say it isn't worth betting the house on.