Charles Dickens: My year with four million words of the master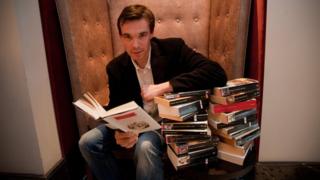 Almost a year ago I took up the challenge of reading all of Charles Dickens's novels in 2012, documenting my progress by filing a daily quotation for the BBC News Magazine. So, 12 months and some four million words later, was it worth it?
(Spoiler warning: Key plot details are revealed in this piece)
For the average Booker Prize judge or even a first-year English literature undergraduate, reading 15 chunky novels and a few short stories in a year may not be a Herculean task.
But for this news editor and father of two young children, squeezing the requirement to digest 11,000 words a day around everything else a journalist needs to take in - work, family and life in general - was something of a challenge.
By my reckoning, I've spent about 36 minutes a day on the reading alone - never mind choosing the quotations for the Magazine - snatching the chance to read a few chapters on the train to work, at lunch, or last thing of an evening.
With an assumed reading speed of 300 words a minute, that's roughly 13,333 minutes this year. Or 222 hours. Or even nine and a quarter days of solid, matchsticks-holding-up-the-eyelids Dickens time.
Sleeping aside, I may have spent more time alone with the inimitable Victorian in 2012 than I have with my wife. As one of his characters exclaims: "Gracious Powers!" That is quite a thought.
The idea was to pay tribute to Dickens in his bicentenary year - and for the tweetable snippets to be a modern echo of the way the original novels were serialised.
I read them chronologically, skipping Dickens's sketches of London life and beginning with the book that in 1836 launched him to fame and fortune, The Pickwick Papers.
From there, I pushed on through four decades of prolific creativity, ending with the work that Dickens left unfinished at his death in 1870, The Mystery of Edwin Drood.
The long list is as follows:
There are also a few short Christmas books which I have been finishing off with:
All of that represents an evolution of style, philosophy and imagination across a lifetime - a world of forgotten wills, lost fortunes, poignant deaths, virtuous self-sacrificing women, grotesques, noble paupers, wicked scheming misers and ever-memorable characters.
Condensing it into 250 mini-quotes (unlike Dickens I took the weekend off) has at times seemed a little inadequate.
You might see it as something like the literary equivalent of one of those YouTube sequences documenting ageing - a photograph a day, sped up to show growth from birth to 10-years-old.
Yet while these little nuggets were never going to do justice to the richness and variety of Dickens's sprawling plots, vivid characters, comedy and social commentary, pretty much every day it felt like I was stumbling across some real gems.
My particular favourites include this, from Oliver Twist, which is Dickens cutting to the heart of the pomposity of officialdom:
"Strip the bishop of his apron, or the beadle of his hat and lace; what are they? Men. Mere men. Dignity, and even holiness too, sometimes, are more questions of coat and waistcoat than some people imagine."
For sentimentality's sake you can't go far wrong with the closing line of Little Dorrit, which sees its principal characters united at last as lovers:
"They went quietly down into the roaring streets, inseparable and blessed; and as they passed along in sunshine and shade, the noisy and the eager, and the arrogant and the froward and the vain, fretted and chafed, and made their usual uproar."
And for social satire, Dickens's description of the social-climbing Veneerings in Our Mutual Friend is priceless:
"Mr and Mrs Veneering were bran-new people in a bran-new house in a bran-new quarter of London. Everything about the Veneerings was spick and span new. All their furniture was new, all their friends were new... And what was observable in the furniture, was observable in the Veneerings - the surface smelt a little too much of the workshop and was a trifle sticky."
Sometimes it was hard enough to find quotes short enough, as Dickens frequently works himself up into a head of steam across many paragraphs or whole scenes.
There is an amazing chapter in David Copperfield, where a storm builds and ends in the dramatic death of Ham Peggotty, which could be quoted in its entirety.
Dickens decamped to Broadstairs in Kent to prepare himself for the writing of it, and he loved to perform it to audiences. If you read nothing else today, read this:
"And now he made for the wreck, rising with the hills, falling with the valleys, lost beneath the rugged foam, borne in towards the shore, borne on towards the ship, striving hard and valiantly. The distance was nothing, but the power of the sea and wind made the strife deadly. At length he neared the wreck. He was so near, that with one more of his vigorous strokes he would be clinging to it, - when a high, green, vast hill-side of water, moving on shoreward, from beyond the ship, he seemed to leap up into it with a mighty bound, and the ship was gone!"
One pleasant but unforeseen benefit of the project - and a reason for buying editions with decent footnotes - is that I am now a repository of a mass of arcane, but interesting, knowledge about life in the Victorian era.
As well as appreciating the logistics and dramatic possibilities of travel by stagecoach, I can tell a pint of flip from 568ml of smoking bishop. The former is warm ale mixed with spirits, sugar and eggs, the latter is a steaming Christmas concoction of port, wine and oranges.
Equally, I recognise Pope Joan as a card game, as well as the mythical stained-glass ceiling-shattering first female leader of the Catholic Church; and a shuffler is a shifty person, not a player in the aforementioned hand of cards.
The bad boy who became food for lions is, of course, a reference to a cautionary tale in an 18th Century spelling book. A bagman is a commercial traveller carrying samples in a bag. Temple Bar was designed by Sir Christopher Wren and marked the western limits of the City of London.
And as for pettifogging, I now know it when I see it.
So far, so illuminating. But does any of this make it relevant to read Dickens today?
Claire Tomalin is author of the recent biography, Charles Dickens: A Life.
She puts my labours in context by pointing out that in preparation for writing her book, she edited and annotated all 12 volumes of Dickens's lifelong correspondence.
"Why are we still reading him today, and is he relevant, are really two separate questions," she says.
"He creates amazing characters, who speak through voices so memorable, that you don't forget them and you return to them throughout your life. But you are also reading about a world which with today's eyes is fairly quaint."
Dickens is talking about what matters in our society, Tomalin suggests.
"The 'hungry forties' background to A Christmas Carol and The Chimes, for instance, was a period of recession, unemployment and starvation - you don't need to look far for contemporary relevance."
Stagecoaches and funny hats aside, there is plenty in Dickens that is timeless. Love and loss, making it in the world, greed and selflessness, pride, pity and pomposity - none of that goes out of fashion with the headgear.
So as New Year approaches, reading Dickens in 2013 would not be a bad resolution to make.
But I would also heartily recommend the principle of doing one thing each day for an entire 12 months, and basking in the satisfaction of a year's worth of endeavour.
That should, however, be taken with the proviso that if you see me anywhere near a copy of the complete works of William Shakespeare, you have my permission to hit me with it. If my wife hasn't beaten you to it.