Vegetarian roots: The extraordinary tale of William Cowherd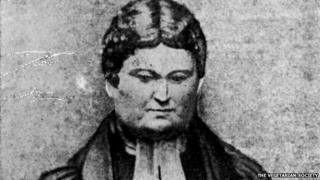 The Beefsteak chapel hardly sounds like a place where vegetarians would be welcome, but more than 200 years ago, this tiny chapel in Salford was the British birthplace of the meat-free diet.
In an even greater twist, the cleric who preached the moral virtues of vegetarianism was the Reverend William Cowherd. His Beefsteak Chapel was the country's first vegetarian church.
Cowherd, born on 16 December in 1763, demanded his congregation eat a meat free diet.
At this time the poor would eat the cheapest meat. This meant a diet featuring a great deal of offal - sometimes stomach or intestines.
Cowherd believed that God inhabited every animal and as such it was a sin to eat meat. His followers - aptly named Cowherdites - went on to form the Vegetarian Society.
The health effects of a meat-free diet were unknown and many feared they would be catastrophic. A fellow minister of Cowherd, Robert Hindmarsh, blamed deaths among Cowherd's followers on their meat-free diet.
Cowherd's civic duties made him popular with the public. He provided free medical services, a lending library and free vegetable soup.
It was a time when many new religious movements were developing, says Derek Antrobus, author of A Guiltless Feast.
Cowherd was born in Carnforth, Lancashire and his mother died when he was 10. He spent some time in Yorkshire training to be a priest and teaching at Beverley College before moving to Manchester at the end of the 18th Century. There he became a curate.
Much of Cowherd's novel social outlook appears to have been influenced by 18th Century Swedish theologian Emanuel Swedenborg.
Swedenborg had a series of visions which led him to believe that God wanted him to interpret the Bible. He came to believe that everything in the physical world had a spiritual value.
Swedenborg's influence spread to a small number of ministers in England, with Cowherd translating some of his work.
"Cowherd was obviously very intelligent, he was a man of enormously strong principles, but you get the impression from the records he couldn't get on with anybody," Antrobus notes.
"He fell out with the Church of England and set up a Swedenborgian church in Manchester and fell out with them and set up his own Swedenborgian church in Salford in 1800."
Ever the maverick, Cowherd then fell out with the Swedenborgs completely in 1809 and started the Bible Christians from his chapel in Salford.
It is unclear how Cowherd made his money, but it is evident that he was relatively wealthy. He was able to fund the building of the church and continue to be a philanthropist during his lifetime.
Abstinence from meat became part of the church's creed. Cowherd told his congregation it was a sin to eat meat and it could make them behave aggressively.
The Vegetarian Society quotes him saying: "If God had meant us to eat meat, then it would have come to us in edible form as is the ripened fruit."
During the rise of industrialisation, goods were cheaper to buy and communities grew, but workers faced greater uncertainty.
The situation for the working classes at that time was "horrendous", says Dr Julie-Marie Strange from the University of Manchester.
"It was a very brutal, very harsh life. Disease is rife, the quality of food is pretty awful, so people are eating rank meat, the very cheapest cuts of meat, that we wouldn't have available today. Like stomachs and intestines."
Cowherd's chapel became a working class institution in Salford. Beyond being a place of worship, it was a school, a science academy, a library and had its own printing press.
In a city like Manchester, with people removed from daily, rural reminders of animals being slaughtered for food, intellectuals for the first time began to debate the ethics of eating animals.
After Cowherd's death in 1816, Joseph Brotherton became the Beefsteak Chapel's minister and continued his mission. Along with other Cowherdites, Brotherton helped form the Vegetarian Society in 1847.
There were more vegetarian restaurants in Victorian Manchester than there are today.
The society had its own gentleman's club in Manchester city centre - an establishment that had little in common with modern vegetarian restaurants and cafes. It had a smokers' room, snooker rooms and several dining halls.
In the early days vegetarians were catered for by temperance hotels and dining rooms, says Dr Samantha Calvert, who has researched the vegetarian movement.
"But by the end of the 19th century, vegetarianism was thriving and in 1889 there were 52 vegetarian restaurants in Britain with 34 in London."
In the society's archive there are examples of menus from Victorian vegetarian restaurants. There's a certain "beige" theme at one establishment, with a menu of macaroni omelette, fried omelette, white omelette or savoury omelette all on offer.
Vegans may well have struggled.