Ultrasound mosquito repellents: Zapping the myth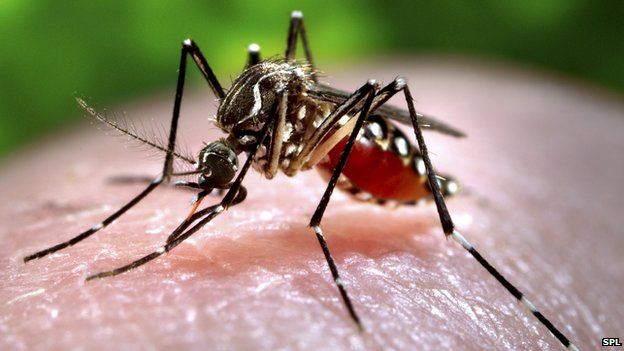 One of the world's top advertising awards went this year to a campaign in which a radio station broadcast ultrasound along with its programmes to repel mosquitoes. But does it work? Definitely not, say scientists.
It was a beautifully simple idea. No more need for smelly lotions, chemical gases, smoke or rolled-up newspapers, listeners to Brazilian station Band FM were told - all you need to do to beat mosquitoes is to stick close to the radio.
The station broadcast a high-frequency 15kHz tone under its music in April this year. Inaudible to most adults, the tone was supposed to repel mosquitoes, allowing listeners to relax in the open air without fear of getting bitten.
The broadcasts were sponsored by the magazine GoOutside, as part of a radio marketing campaign which went on to win the Grand Prix in the radio category at the Cannes Lions in June - perhaps the most prestigious awards in advertising.
There's just one problem. Scientists say it's nonsense.
Bart Knols, an entomologist who chairs the advisory board of the Dutch Malaria Foundation and edits the website Malaria World, claims that there is "no scientific evidence whatsoever" that ultrasound repels mosquitoes.
A 2010 review article examined 10 field studies, in which ultrasonic repellent devices had been put to the test, and concluded that they "have no effect on preventing mosquito bites" and "should not be recommended or used".
It goes on: "Given these findings from 10 carefully conducted studies, it would not be worthwhile to conduct further research on EMRs [electronic mosquito repellents] in preventing mosquitoes biting or in trying to prevent the acquisition of malaria."
A video advert for the prize-winning "repellent radio" campaign makes the claim that "studies have shown that this frequency imitates the sound of a dragonfly, the mosquito's natural predator, thus keeping them away".
In fact dragonflies have a wing beat frequency of between 20 and 170Hz - a much lower frequency than 15kHz. But Bart Knols says this lower frequency is equally useless at driving mosquitoes away or stopping them biting.
Following the awards, one of the Cannes judges, Bob Moore, was quoted in Advertising Age as saying: "We did our due diligence and, as far as we know, it worked. It's a fantastic idea."
The radio jury president, Rob McLennan, was reported as saying that the members of the jury had voted with their "gut", and were keen to take the idea to countries where malaria and other mosquito-spread diseases were rampant.
Neither responded to the BBC's requests for an interview.
But Knols, who has campaigned on this issue for years, argues that relying on ultrasound technology in such countries is madness. People need to protect themselves with bed nets, lotions and anti-malarial drugs, he says - if they put their faith in ultrasound, and stop taking these precautions, they are putting themselves at risk.
Band FM was not the first station to broadcast supposedly mosquito-repelling frequencies, but it's not an idea that has widely caught on.
Far more commonplace are electronic ultrasound gadgets, marketed as repellents in many countries.
One, the Lovebug, a ladybird-shaped gadget designed to be clipped on to a baby's cot or child's pushchair - was singled out as a particular cause for concern, because of the likelihood that parents would trust it to keep mosquitoes away, and their children would be hurt as a result.
The Lovebug is still readily available in Europe, though it was withdrawn from the US market after manufacturer Prince Lionheart was reprimanded by the Federal Trade Commission.
One popular online store claims it is a "safe and easy way to keep mosquitoes away from your baby".
In a statement, the president of Prince Lionheart, Kelly McConnell, told the BBC that the Lovebug is "still used successfully around the world".
"Prince Lionheart believes the consumer testimonials from real-life experiences with the Lovebug are the truest testament to the efficacy of our product."
A spokesperson for Moziban - another of the devices tested and found wanting by Holiday Which? - also insisted thousands of satisfied customers had written letters of gratitude. However, she said it would be "stupid" to rely on it in countries where mosquito-borne diseases are a hazard.
One of the latest products to come equipped with ultrasound marketed as a mosquito deterrent is an air-conditioner from the Korean electronics giant LG. It went on the market in Indonesia in 2009 and has just been launched in Nigeria, after laboratory tests in both countries.
The company claims tests show the "Anti-Mosquito" air conditioner deters "on average 64% of malaria-transmitting female Anopheles mosquitoes within 24 hours and 82% overall". It does not recommend that the machine is used as a sole preventative measure against malaria.
A spokesperson for the company told the BBC that the air conditioner uses a very wide frequency range, between 30kHZ and 100kHz - a lot higher than the 15kHZ of the "repellent radio".
Bart Knols says it is impossible to know whether the product works without additional information about the tests it was put through.
"It is well known that air conditioners, because of the airflow they produce, dry out insects and kill them," he says. "So what was the add-on effect of the sound? Was that discerned?"
Ultrasound has also been moving in recent years on to telephones. As far back as 2003, a South Korean firm launched a downloadable ultrasonic signal that could be played on a mobile phone and was said to be effective against mosquitoes within a radius of one metre.
Today, dozens of apps claiming they can turn smartphones into mobile mosquito repellents are available to download for Apple and Android handsets.
Knols has filmed himself using an iPhone app to generate an ultrasound signal at 15kHz. In the video, he is seen reaching with the phone into a cage of Dengue-fever-carrying mosquitoes. The mosquitoes are seen eagerly landing on his gloved hand, visibly undeterred by the ultrasound signal.
The app which Knols uses in this demonstration does not advertise itself as a mosquito repellent. However, the developer behind one free app which does, called Anti-Mosquito - Sonic Repeller, says his company experimented with different frequencies in creating the technology.
"We are based in Finland and Finland is really the home of mosquitoes," says Niklas Karlstrom from Pico Brothers, whose app is available on several different operating systems.
"There are a lot here in the summer.
"Based on reviews, there's a lot of people who think it works and a lot of people who don't and are annoyed by the frequency."
The app is free, but since users are potentially being lulled into a false sense of security, they are still, in a sense, being stung.
The misconception that mosquitoes are deterred by ultrasound has been around for nearly 40 years - at least one scientific review of an electronic repellent was published in 1974.
The story about the frequency of the dragonfly's wing beat is not the only rationale that is put forward for the technology. It is sometimes claimed that the ultrasonic signal replicates the male mosquito. Females who wish to take a blood meal from humans have usually already mated and will therefore, it is suggested, wish to flee from these male mosquitoes.
Knols points out that this explanation also fails by its own logic because male mosquitoes only produce a sound of 700Hz, far lower than an ultrasound frequency. In fact, it is thought that female mosquitoes have a very weak sensitivity to sound in general.
He has suggested that the Cannes Lions should rescind the award given to the "repellent radio" campaign and give it to the runner-up instead.
But in a statement, Terry Savage, executive chairman of the Cannes Lions, says that whether or not the campaign was accurate is a matter for the winning advertising agency, Talent, and the advertising regulatory body in Brazil.
Talent - which is part owned by Publicis Groupe, the parent company of Publicis USA, where one of the Cannes Lions judges, Bob Moore, is chief creative officer - refused to comment.
The Brazilian advertisers' self-regulatory body, Conar, told the BBC its members were currently deliberating whether the campaign was in breach of the industry's code of practice.
A spokesperson for Band FM, meanwhile, said it bore no responsibility for checking whether the signal it broadcast really had any effect on mosquitoes.
Related Internet Links
The BBC is not responsible for the content of external sites.