Flocking to Finland to visit Santa Claus in Lapland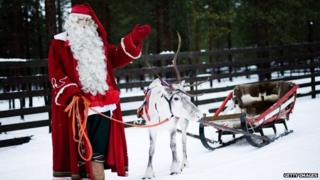 As all children know, there is only one Santa Claus. So many people travel all the way to Lapland in northern Finland to see Santa in his own home - but it is not just the youngsters who are excited.
As soon as I land at Rovaniemi airport, a giant screen informs me that I am at the official airport of Santa Claus.
At the baggage carousel, toy reindeer and bears form a winter's scene, while fluffy snowy owls stare down at the passing suitcases as if they were prey.
The rustling sound of waterproof jackets fill the air as families in the latest winter gear prepare to step outside into temperatures of -20C.
People from all over the world are here - the UK, Spain, China, Japan, Australia, and Mexico. Like me, they all want to see Santa Claus.
The official Santa Claus Village - a 10-minute bus ride away - is a collection of buildings made of stone and local pine wood, straddling the Arctic Circle.
A long queue of excited and expectant children - and adults - wait outside Santa's Grotto for the chance to meet him. Others have already seen him.
"Santa was like a ginormous giant," yells 5-year-old Lily. "He had big shoes and he ate porridge for breakfast."
Lily and her mum, Tania, are Australians living in London. Tania says she feels like a child again. "It is like living a dream through my daughter's eyes. It is something I would have wanted to do as a child."
Then 39-year-old Esmond from Hong Kong emerges from the grotto with his girlfriend, Tiffany, who is beaming.
She holds up her hand to reveal a ring on her wedding finger. "This has been my dream for a long time," she says. "But I did not realise Esmond was going to propose in front of Santa."
Esmond tells me that Santa Claus has always had a special meaning for him, which is why he got down on one knee in the grotto.
The proposal was captured on video by an elf so - for 50 euros (£40) - the happy couple have bought a memory stick of the moment, which they plan to show their future children.
In the early 1900s, Rovaniemi bustled with loggers and lumberjacks who stopped over in its bars and restaurants.
Towards the end of World War II, retreating German soldiers destroyed the city, burning every building in sight.
Famous Finnish architect, Alvar Aalto redesigned the city in the shape of reindeer antlers - although it is impossible to distinguish these at ground level.
The first sign marking the Arctic Circle was erected in the 1920s, but it was not until the former American First Lady Eleanor Roosevelt visited in 1950 that local tourist bosses realised the money spinning potential of the line.
Santa Claus is big business in Rovaniemi. The local gym is called Santa Sport, there is the Santa technology park and the local football team, FC Santa Claus, play in red and white. You can sleep at the Hostel Rudolf or Hotel Santa Claus.
Inside the Santa Claus Village post office, tourists write postcards home while "letter elves" organise beautifully decorated letters into piles of the countries they came from.
Some are addressed to Father Christmas in the North Pole, others to Mr Santa in Lapland. But they all find their way here.
One letter elf, Heidi, tells me Santa receives 30,000 letters a day at this time of year. By Christmas they expect to get more than half a million from around 200 countries. The main correspondents come from the UK, Italy and Poland.
"They are not only gift lists," says Heidi. "Sometimes they are thank you letters, or if some people have problems or sorrows, they want to share it with Santa."
On my way to the grotto, I meet Santa's little helper Elfiina, who claims to be 79. I remark that she looks like a normal 20-something woman from Finland.
"I am Elfiina," she says. "That is who I am. I am an Elf - Elfiina. But Santa is ready to see you now."
I am led through to the dimly lit "corridor of secrets" which is lined with presents. Bells chime and water runs underfoot. I go up a flight of stairs, turn the corner and there he is.
"Ho, ho, ho! Welcome to Lapland and the Arctic Circle," booms the portly bearded man who is sat on a large wooden chair, nestled between a map of the world and a bookcase.
"So, have you been a good boy this year?"
I tell him I have, and I ask for a warmer hat and thermal socks for Christmas. But what does he wish for?
"A lot of people here ask for more time to spend with family and friends," he says. "So I would like us all to give and receive more time."
I ask him if he minds me being in his grotto, instead of a child.
"Definitely not," he says. "Most of the visitors here are grown ups. I myself live in the world of dreams and fairytales and you are never too old to believe in them."
The queue for the grotto is long and my time is already up. But before I leave, I ask Santa Claus if he has a message for the BBC listeners. So this is from Santa: "With all my heart I wish each and every one of you a very happy and merry Christmas."
How to listen to From Our Own Correspondent:
BBC Radio 4: Saturdays at 11:30 and some Thursdays at 11:00.
Listen online or download the podcast.
BBC World Service: Short editions Monday-Friday - see World Service programme schedule.